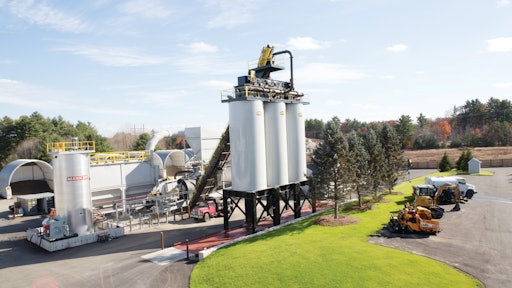 When Steve Bevilacqua decided to get back into the asphalt business, he knew he wanted to do a number of things differently this time around. He had plans to steal a page from the ready-mix playbook and add an asphalt-on-demand component to the new operation. He wanted to keep operating costs down by protecting his aggregate from the elements. He wanted to be a smaller yet more responsive company than his previous undertaking.
In spite of all this desire for change, however, there were some things that had proven so positive in the past, so tried-and-true that, to change them would simply be counter-productive. His choice of asphalt plant (a 300 tons/hour ADM MileMaker) and crushing plant (an Eagle 1200-25CC) were two of those items that are back for an encore. Knowing what to change and what to keep intact, coupled with a great relationship with his equipment dealer, has resulted in Bevilacqua Asphalt, one of the most successful, innovative, asphalt plants in southeastern Mass. 
Second time around
Located on 27 acres in the town of Uxbridge, Mass., Bevilacqua Asphalt is the product of the ever-active imagination of its owner and president, Steve Bevilacqua. Fresh off a retirement shorter than most Hollywood marriages, Bevilacqua decided he had far too much unfinished business and set to work building a new operation. 
"I guess I'm just not one to sit around for very long—it's not in my DNA," he says. "So after three years of fishing and relaxing, I started putting together plans for a new asphalt operation,  and one of the first people I mentioned it to was Seamus Crotty, from Capitol EQ2 (Mechanicville, NY), the Eagle Crusher salesman who called on me at my previous business. Not long afterward, he contacted me to say he had a great deal on a used Eagle crushing plant and it was the same model I had been using for years. I immediately told him I'd take it."
It's important to note that, at this point, Bevilacqua had yet to apply for the permit for his new operation. But his preference for that crushing plant—based on its performance at his previous operation—and the trust he placed in Crotty's judgment was so strong, there was no hesitation.
"We had it sent back to Eagle for a full refurbishing, had it painted my colors, and at that point, without turning a shovelful of dirt, I guess was officially back in the business."
Best fit possible
The Eagle 1200-25CC plant was of particular interest to Bevilacqua, not just because it had already proven itself, but because he knew his new business would have a sizeable focus on RAP. Many of the 1200's strengths, he says, are geared for that application.
"The 1200 is a closed-loop impact crusher and it's definitely the best tool for the job I had in mind," he says. "Because it has a double-deck screen and offers such a long screen deck—16 feet long by five feet wide—it screens out the highest volumes of material possible before sending it back for recirculation. I've seen other similarly-sized crushers and demoed some, but none of them compare in terms of efficiency or performance."
Minimizing the amount of recirculated material, he says, has also paid dividends in lowering associated maintenance costs—particularly wear parts. 
"Blow bars are one of the major wear part components on this machine and I've been getting some outstanding life out of mine—roughly 30,000 tons of material per set. That comes out to just pennies per ton in costs. I'm certain that is a direct result of the fact that so much material is getting screened out before entering the recirculation loop."
Capitol's Crotty sheds some additional light on why that particular crusher was the ideal fit for Bevilacqua's needs. "Though he doesn't do a lot of it, Steve does crush asphalt and concrete to sell as a base material," he says. "With the 1200, he has the ability to so with only minor modifications to the plant. It is an extremely versatile piece of equipment, capable of doing rock, gravel, recycled materials, and so on. But right now for Steve, producing feedstock for RAP is its biggest strength and I know he's getting a consistent 150 tons per hour of 3/8-minus material."
A different path
The RAP component looms large in Bevilacqua's new venture, particularly as he branches out from the more traditional role of asphalt hot mix supplier. With an offshoot division of the company called "Hot Mix Onsite Delivery," Bevilacqua—using his own trucks—now offers small- to medium-batch hot mix delivery to paving customers.
"The concept is very simple and it's modeled after things on the concrete ready mix side: you call to order how much asphalt you want when you want it, and we make it happen," he says. "In this way, we are not competing against the smaller paving firms—the ones doing parking lots and driveways—we are helping build their businesses. We currently have five tri-axle Kenworth trucks—with plans to purchase a few more—that are all equipped for paving, and we have qualified drivers skilled at feeding a paver. This part of the business has really taken off for us, but we still have to work to keep overall costs in check. That's where our reliance upon RAP and the crusher that makes it happen for us, comes into play."
Bevilacqua says there are alternatives to the approach he's taken for RAP production. In fact, he says he's tried a few such alternatives himself in the past. But, because his experience with this particular Eagle plant during the last five years of his previous business showed him the key role it played in generating a steady supply of RAP material, he simply never looked elsewhere again.
"To me this is like all of your processing needs addressed in one single unit," he says. "It's deceivingly simple: we dump milled up debris from roads and parking lots and it gives me 100% properly-sized material for use in our ADM plant. How much better can it get than that?"
Success by design
The largest single-pull crusher currently available, Bevilacqua's 1200-25CC is powered by a 335HP diesel engine and, by nature of a vibrating grizzly feeder and double-deck screen, produces two cubical products in a single pass for use in his operation: ¾ inch and 3/8-minus material. Crotty says that closed-circuit design is paying nice dividends for the Massachusetts producer.
"Most of the limitations on any RAP plant will generally be found in the screen—that's typically the bottleneck in any such equipment. In Steve's case, however, at the end of an eight-hour run, he is getting in the neighborhood of 1,200 to 1,500 tons of 3/8-minus—with an 85-90% efficiency. Those are really nice numbers—he's extremely pleased with them—and the bulk of the reason for that  success can be found in the crushing plant's closed-circuit design and extended screen deck."
While his sale of the crusher to Beviacqua was a fairly cut-and-dried affair, Crotty adds that it was based on a lot of history between the two individuals.
"The first thing an equipment supplier like us has to do is manage the expectations of the prospective customer and we did all that with Steve a long time ago at his previous business. As a result of that, he learned that we had his best interests in mind and that we stood behind every unit we sold. At Capitol, we truly believe that if you do a good job the first time, that customer should have no reason to look elsewhere and Steve bears that out. His operation has taken off nicely (again) and we couldn't be happier."