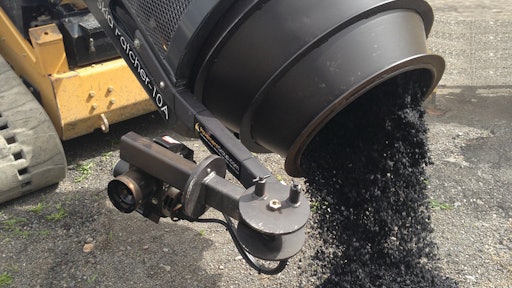 Each year, Mother Nature leaves her stamp on highways, roads and parking lots in the form of potholes. Born from both harsh, cold winter and dry, hot summer weather, potholes show up many times throughout the year and in all regions and climates — no area is immune.
Something else we've learned about potholes is there's no surefire way to stop them. All those seemingly small holes littered throughout our streets and parking lots pack a lot of punch. Potholes potentially cause major damage to vehicles and management is key. Cities, counties and states are faced with developing plans to manage pothole repair.
So what can your company do to profit from the growing "pothole problem"? If your company already owns a skid steer or two, it may be easier than you think to get in the pothole repair game, and fast. Purchasing attachments that can patch and repair potholes and cracks can expand your business and help improve your bottom line.
HMA on Demand
Many will argue that repairing potholes is a pain because hot mix asphalt (HMA) is expensive to transport and not readily available year round. Producing your own HMA can open the door to creating repairs on demand.
The SkidPatcher10A from Pavement Technologies International Corp. is a mobile asphalt recycler that attaches to a skid steer using a quick-attach plate. Millings can be shoveled, dumped or mechanically loaded into the mixing drum, which heats and recycles reclaimed asphalt pavement (RAP) millings. RAP can be recycled into a 300° F hot mix that's ready for laydown in just 10 minutes.
"Most contractors and municipalities already have a skid steer," says Mark Reeves, president, Pavement Technologies International Corp. "The asphalt recycler implement adds versatility to the skid steer, allowing HMA to be quickly produced and delivered anywhere on the jobsite."
Reeves adds that asphalt can be recycled for approximately $20 per ton, compared with conventional HMA, which cost upwards of $70 per ton. "More importantly than the $50 per ton savings is the opportunity cost advantage," Reeves says. "For a very small capital investment, the 10A allows hot asphalt to be recycled and produced at any time of year, without relying on a large-scale asphalt plant. Hot mix can be used in place of cold patch, reducing callbacks and providing higher quality, longer-lasting repairs."
Repairs in Place
Along with RAP, infrared is another "green" buzzword surrounding pavement repair, and it is gaining strength due to its being both economically valuable and environmentally friendly. The process involves using a heater to heat up an area of asphalt that is cracked or damaged and in need of repair. This process goes one step greener than RAP by recycling and reusing the asphalt that's already on the ground.
Last year, Bobcat introduced its Infrared Asphalt Preservation Tools (APT) system, which uses two attachments to create seamless repairs on location. The AH30 Asphalt Heater attachment is a generator equipped with three infrared heating elements that heat an area as large as 30 sq. ft. to 300° F to soften and recycle damaged asphalt. The heater is then removed and the AP40 Asphalt Processor is attached to mill the hot asphalt; an asphalt rejuvenator is manually added to the hot mix. The AP40 is also able to screed the asphalt into place for compaction.
"One huge benefit of this type of repair is that you're not using as much material as a traditional repair," says Katie Altoff, attachment product specialist, Bobcat. "You recycle the damaged asphalt surface right there on the spot, so you're not bringing in virgin asphalt. You're using what's right on location." This saves on costs to buy, stockpile and transport raw materials.
This type of repair is also suited for jobs in remote locations or where a HMA plant is not readily available. "You're not having to wait for that hot mix delivery," says Altoff. "You can make repairs in March when a plant might not be open.
"The end result on these patches is a seamless repair," she adds. "By creating a seamless repair instead of a patch or throwing hot mix in a hole, you're going to create a more long-lasting and durable repair that won't let in water. That's the biggest benefit to using these attachments."
Dave Dworsky, president of Dr. Pave, which also uses this technology, agrees. His company is currently on a mission in California to fix roads for free all over the state, conducting demos with Heatwurx Asphalt Preservation Tools for media and city organizers, including CALTRANS, the City of Los Angeles Water & Power, San Diego County, Los Angeles County Public Works, the City of Chula Vista, San Bernardino County and the City of Carlsbad.
"These patches save an enormous amount of time in repair," Dworsky says. "The patch is also known to last three times as long, which is an enormous cost savings."
All in One
If your company is ready to go all in doing pothole repairs with a skid steer, than maybe the PaviJet MiniPaver should be on your wish list. This hydraulic attachment is able to accept aggregates or hot asphalt into the auger, lay it down and then screed it into place with an automatic leveling system.
"This system is a fully functional paver," says Shane Sommers, sales consultant, MiniPaver. "It has a hopper that feeds through an auger and a vibratory heated screed for paving, making it great for those in-between size jobs.
"If you're going out to do a shoulder or a trench or even road repair patch work, it doesn't make sense to haul those big machines out. You want something that's faster, can spread more and is an actual paver," he continues. "We found a lot of contractors and city crews are still doing patch work by hand or with a drag box. Those systems don't have a screed so they're not getting that initial compaction for a smoother finish. This is an attachment that allows you to get a paving quality finish that you couldn't get from a spreader or drag box."
Some may argue that the initial cost of purchasing these attachments may not be sufficiently beneficial to their business. Yet, by adding a few more pieces to your attachment arsenal, you can easily offer your customers the additional service of repairing asphalt surfaces quickly and efficiently year round.
Companies in this article