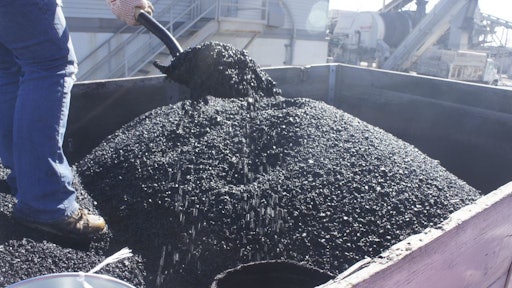 Ground tire rubber (GTR) has made significant headway around the world for use in asphalt applications, but there still exists a limited understanding – and even a hesitation - around GTR. One company, however, has introduced a new product and is trying to spread the good word about the benefits of GTR.
Lehigh Technologies, a specialty materials company that produces high-performance micronized rubber powders (MRP), has commercialized MRP by transforming end-of-life rubber material with its proprietary process into a lower cost, sustainable specialty chemical that replaces oil-based materials to reduce costs, provide performance benefits and reduce waste.
The company produces two products for the asphalt rubber segment: MicroDyne, which is a MRP produced from end of life tires; and Rheopave, a proprietary formulation of polymers and other components designed for applications in the modification of asphalt binders and for stabilizing ground tire rubber in RMA blends.
According to the Rubber Pavement Association, engineers and chemists have been trying to incorporate rubber into asphalt since the 1920s. In the 1960s, Charles McDonald, a former Federal Bureau of Highways (now FHWA) employee and later the Engineering Supervisor Materials Testing Section for the city of Phoenix, AZ, developed the first successful time/temperature formula for incorporating scrap tire rubber into an asphalt paving material. 
"Rubber-modified asphalt (RMA) is growing and is here to stay," says Ryan Alleman, sales director for asphalt, with Lehigh. "We're working with both public and private stakeholders to advance the understanding of GTR and its benefits in asphalt applications, specifically for highways and roads."
Benefits of MRP
Lehigh's products feature micronized rubber powders (MRP), explains Alleman. "These products offer the asphalt industry proven methods of improving PG performance in an environmentally friendly way and without the dependence on SBS while providing suspension of rubber powders in asphalt formulations," he says.
"MRP, particularly our 40 mesh, 80 mesh and 140 mesh products, contains a finer particle distribution and genetic advancements versus traditional crumb rubber that allow the user to experience trouble-free discharge of product during loading which effects time and safety, and to be worry free concerning insoluble contaminates such as metal and fiber," he continues. "MRP brings with it pigment and antioxidants which helps a RMA pavement resist breakdown from oxidation/degradation and also produces a quieter ride for drivers vs. polymer modified asphalt or concrete."
Other benefits of modifying asphalt with rubber powders include:
Increased durability. Using RMA makes roads more durable, improving rutting and crack resistance, which means less maintenance.
Increased safety. Some studies have shown that using RMA boosts traction and reduces the risk of skidding.
More cost-effective. Asphalt is an oil-derived product. Using a RMA in road maintenance reduces reliance on oil-based materials, keeping costs stable and affordable. RMA also helps maintain a blacker surface — which retains heat better -- lowering salt and sand use in winter months.
Reduced traffic noise. Studies have shown that roads made with RMA are significantly quieter than those made with regular asphalt surfaces.
Reduced environmental footprint. Using MRP in a productive and beneficial way reduces use of virgin materials and diverts end-of-life tires and post-industrial rubber from landfills.
Traditionally, there have been some downsides to RMAs that have created bad experiences and made some agencies and contractors reluctant to give the product a second look.
Suspension problems was one of the issues that tainted the GTR reputation.
"One of the greatest troubles of an RMA binder is the fact that rubber powders will settle to the bottom of a liquid binder causing a multitude of issues for a blender/contractor," says Alleman. "Rheopave's polymer functionality bonds with asphaltenes in a bitumen binder to form a stable network ideal for suspension of solid particles affording long-term rubber powder field storage stability (up to weeks at a time), added elasticity (Elastic Recovery, MSCR and Phase Angle) and increased rut resistance."
The Rheopave product also helps with the "stickiness" issue that has attached itself to GTR. "This product has waxes incorporated into it that help with this issue," he explains.
Trials
While RMAs have been around for years, MRP's effect on performance and chemistry in asphalt systems was previously unclear. To better understand the interaction between MRP and asphalt, Lehigh Technologies embarked on two studies with the National Center for Asphalt Technology (NCAT).
"We organized a study to include industry partners and DOTs to research the effect of a rubber powder's (GTR and MRP) particle size and grinding method (cryogenic vs. ambient ground tire rubber) on asphalt binder properties," says Alleman.
This objective was completed by blending 11 unique crumb rubber and MRP samples with a singular asphalt binder at a singular loading of 10% rubber. These RMA binders were then tested using the performance grade (PG), multiple stress creep recovery (MSCR), cigar tube test, and softening point methodologies.
The conclusions reached are that environmentally sustainable RMA binders when properly formulated performs equally to polymer modified system. As well grinding temperature (ambient versus cryogenic) had no influence on the results due to additional surface area of the cryogenically ground material and that surface area and particle size of the rubber powders had the most influence on increasing the critical high temperature grade of the modified binder.
"As DOTs move toward performance grading it becomes more and more important to choose products that help meet specifications while saving communities' money and protecting the environment," says Alleman.
Currently, RMA is being trialed or actively employed in over 70% of the United States, including Georgia, California, Arizona, Texas and Florida. The movement is commercial and expanding rapidly, says Alleman. "The technology is definitely improving for RMAs," he says. "Agencies and DOTs should give it another chance."