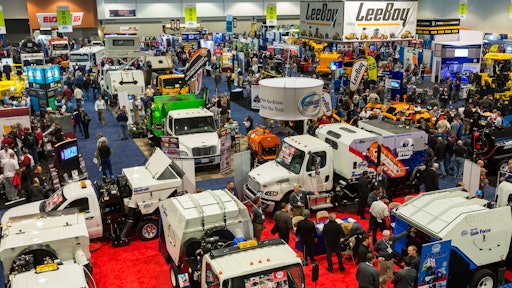 With attendance up 76% from the 2014 show, National Pavement Expo has solidified itself as the foremost pavement trade show for vendors and contractors who make their living in the asphalt pavement industry.
One hundred and thirty-four exhibitors displayed products over three days at the Nashville Music City Center.
Several exhibitors waited until the show floor opened to let the industry see what they have been working on to help you improve your business.
Ray-Tech introduced their new Total Maintenance Vehicle, (TMV) to the industry at the show. The combination reclaimer and infrared pavement heater enables the user to make year-round, permanent restorations.
The 2-ton TMV is mounted on a Ford 550 chassis making it smaller than typical maintenance vehicles. The smaller size means operators do not need a CDL to drive the unit. "This vehicle is great for municipalities that need to make repairs on smaller city streets, but do not have CDL staff on hand at all times," Wes Van Velsor of Ray-Tech.
Always an innovator in the industry, Carlson Paving Products introduced a new Joint Density Attachment for pavers as one solution to the never ending joint density dilemma.
Through the use of a higher angle of attack and an electrically heated element, the 4" bolt-on attachment forces increased material into the side cut, greatly reducing voids and yielding higher density numbers at the joint. This enables contractors to hit specific job requirements by increasing the overall density of the joints, to create a longer lasting and more dense joint while maintain consistent heat with the main screed and extensions.
The universal attachment is easily adjustable and can be fitted on the right or left hand side.
Carlson also introduced the LED Blade Light. Utilizing an innovative mounting system that allows simple adjustments to direct light to where it is needed, the LED Blade Light eliminates shadows and extends the distance for delivering light so operators of machinery are able to better see their surroundings while the dangers of approaching drivers distracted by flood lighting is significantly reduced.
Also introduced was the RAP-100-SM from Heat Design Equipment. The skid mount model asphalt recycler is based on HDE's powerful infrared heat, rather than conventional torch technology.
This model is designed for small- scale production of recycled asphalt for pothole repair. The 100,000 btu propane fired infrared heater emits high intensity infrared heat from it's 4' x 16" full surface infrared heater, allowing re-heating RAP or waste chunks of asphalt at the rate of 1-2 ton per hour.
A half ton batch at a time can be processed, and with full heating capacity and minimal moisture conditions of the rap a batch can be re-heated in as little as 15 minutes.
The unique HDE infrared heater needs no battery or blower for operation, naturally fueled by propane pressure in a standard propane tank. The unique feature of the heater is the ability of adjusting the degree of infrared emission for jobsite control by simply adjusting the regulator from the propane tank.
The no flame technology of infrared is controlled via a certain gas pressure through a standard size orifice so gas consumption can be accurately predicted. Gas consumption for the 100,000 btu capacity heater is rated at 3 US Gallons per hour. 
The show floor closed with Case Construction giving away at DV26 roller. The lucky winner was John Pond from Forest City Paving in Rockford, Il.
[Learning from Industry Professionals]
Meanwhile, attendees could also participate in 53 conference sessions, including 11 three-hour workshops and 42 90-minute seminars over four days (Jan 28th-31st).
Conference manager Allan Heydorn said 37 of the 53 sessions were new (including four new paving sessions). Conference sessions covered a variety of topics including cracksealing, paving, repair, sealcoating, striping, sweeping and business management.
The 2016 National Pavement Expo will be held in Charlotte, NC. Jan. 27th-30th.  Mark your calendars to attend and visit NationalPavementExpo.com for more details.