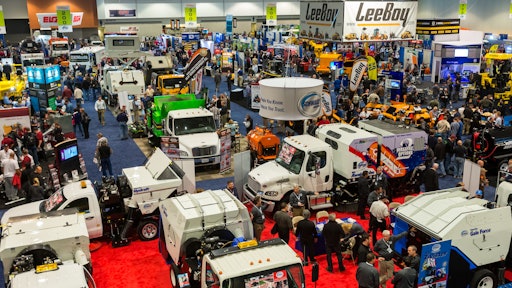 New topics and new speakers will highlight the conference program of the 31st annual National Pavement Expo, Jan. 27-30, 2016 in Charlotte, NC.
Allan Heydorn, NPE conference manager, said the four-day 2016 program features 53 seminars and workshops, 13 of which focus on paving and five of those are first-time sessions at NPE.
"We update the entire program every year and for 2016 we will offer 41 new technical and management sessions including five new paving topics," Heydorn said. "We are bringing back nine additional paving-related sessions from 2015 because they attracted a high level of interest and received extremely high ratings."           
The new paving sessions are:
The Truth about Intelligent Compaction, which will not only outline the benefits of this newest paving technology but discuss the technologies limitations and where it should and shouldn't be used. Presented by John Hood, Bomag Americas.
Solving the Paving Puzzle: Video Solutions Show How a Job Fits Together will cover each phase of the paving process and show how they all need to fit together for an efficient, safe, successful job. Presenter John Ball, Top Quality Paving, will use his library of on-the-job videos to take apart an entire paving job, then put it back together so you will learn not only all the elements of a successful paving job but how those elements come together.
Compaction of Asphalt: What's Known & What's New will cover how to provide clients with a quality, cost-effective and long-lasting asphalt pavement by making sure you can attain the density needed. In addition to covering the newest technologies Timothy R. Murphy, P.E., Murphy Pavement Technology Inc., will discuss the importance of mix temperature, rolling patterns, roller operator responsibilities and the specific steps you need to take to achieve density. And learn new findings in compaction research that will help you in the compaction phase.
Paving Tennis Courts & Running Tracks, also presented by Murphy, who authored the new American Sports Builders Association guidelines for athletic surfaces, will explain why recreational surfaces require paving efforts different than those of a driveway or parking lot and will explain how to construct a surface that will accept and perform when coated for tennis courts and running surfaces, how to avoid failures and ensure successes.
"Best Practices" for Installing Paving Synthetics in which Mounque "Monk" Barazone, Geotextile Apparatus Co., will explain why parking lots, airports, city streets, highways, mountain roads, mobile home parks and even tennis courts all have different fabric installation needs. He'll explain how to avoid costly mistakes, increase profits by reducing installation costs, increase project efficiency, prevent injuries, and maximize the synthetics' long-term benefits.
The highly rated paving topics being offered again include:
Applying "Best Practices" to Your Paving Operation, John Ball, Top Quality Paving (3 hours)
Materials Selection: Quality + Efficiency = More Profitability, Part 1, Wayne Jones, Senior Regional Engineer, Asphalt Institute (90 minutes)
Pavement Evaluation and Repair: Quality + Efficiency = More Profitability, Part 2, Wayne Jones, Senior Regional Engineer, Asphalt Institute (90 minutes)
Understanding Pavement Defects & Repair Options, Wayne Jones, Senior Regional Engineer, Asphalt Institute (3 hours)
Effective Compaction of Hot Mix Asphalt, Jim Scherocman, P.E., Consulting Engineer (90 minutes)
Identifying, Preventing, and Solving Mat Problems, Jim Scherocman, P.E., Consulting Engineer (90 minutes)
Troubleshooting HMA Joint Construction, John S. Ball, Top Quality Paving (90 minutes)
How to Execute Parking Lot Sealcoating & Paving Jobs Profitably, Janice Potter, The Paving Lady (90 minutes)
Heydorn said that in addition to the paving-related topics NPE offers a variety of other pavement maintenance technical topics to help contractors diversify and add services to their operation.
"One thing we've learned over the years is that while some contractors really prefer to specialize in one area, most contractors are intent on diversifying," Heydorn said. "NPE offers a perfect opportunity for contractors to introduce themselves – and their crews – to new service segments such as sealcoating and striping and to bone-up on the basics of pavement maintenance."
Among the other new technical sessions to be offered are:
Becoming a Sealcoating Pro: Professional Sealcoating from A to Z, Steve Young, Young Sealcoating (3 hours)
Basic Sealcoating Principles, Jeff Cayton and Tony Heffernan, Neyra Industries (90 minutes)
Succeeding in Commercial Sealcoating, Nick Howell, T & N Asphalt Services (90 minutes)
Preparing and Sealing Joints and Cracks in Concrete and Asphalt, Mick Vinckier, Miktom Parking Lot Maintenance (90 minutes)
Improve Striping Productivity Using Today's Technology, Chad Jung and Scott Langton, Superior Striping (90 minutes)
Heydorn said that among its 53 sessions are 30 management-related sessions, 27 of which are new in 2016.
"The great thing about our management sessions is they cut across all types and sizes of paving and pavement maintenance contractors," Heydorn said. "It doesn't matter the type of work you do or the size of company you are, there are management sessions that can help you improve productivity, job quality and ultimately your bottom line."
Among the new management sessions are:
The "Good, Bad & Ugly" of Buying and Selling a Business: Learning by Example, Mark Herbick, Pursant LLC (90 minutes)
Hiring and Developing Your Labor Force, Randy Larson, Purpose Contracting Asphalt (90 minutes)
Temporary and Contingent Workers: The Weak Link in Your Safety Chain? Adele L. Abrams, Esq., CMSP, Law Office of Adele L. Abrams PC (90 minutes)

How to Use Today's Technologies to Manage Your Contracting Business, Guy Gruenberg, Grow Consulting (90 minutes)
How to Avoid Lawsuits … What to Do if You Can't, Joshua Ferguson, Kent/McBride (90 minutes)
Building Teamwork that Drives Greater Quality, Safety & Profits, Brad Humphrey, Pavement Development Group (90 minutes)
How to Stop "Selling Price"… and What You Should Sell Instead, Brad Humphrey, Pinnacle Development Group (90 minutes)
Confronting 2016's Critical Issues: Operational Efficiency, Employee Compensation and Team Development & Management, Guy Gruenberg, Grow Consulting & Brad Humphrey, Pinnacle Development Group (3 hours)
How to Set Up and Run an Effective Safety Program, John Meola, CSP, ARM & Danny Dennis P.E., Pillar Engineers (90 minutes)
For information including complete descriptions of all 53 sessions visit www.nationalpavementexpo.com.
[captions]
In addition to its conference program NPE 2016 hosts an expanded exhibit floor (the floor sold out in 2015 in Nashville) on Jan. 27-29 and equipment giveaways by Case Construction (SV 280 skid steer) and KM International (KM2-18X Infrared Asphalt Recycler).