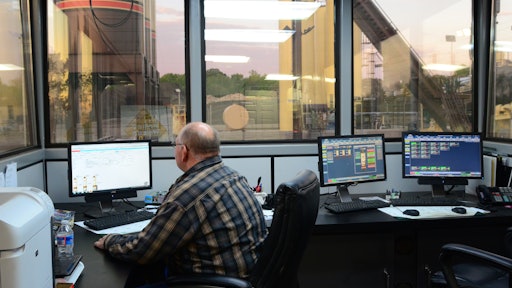 The asphalt industry is more competitive and complex than ever before. From the demands of a quality mix to the ever growing desire for sustainability, asphalt plants need to have every tool at their disposal to reduce costs and grow profits. With the use of new technology and plant automation, asphalt producers have more options available for them to do just that.
Total System Control
Having complete control over your plant is what automation was built for. In 2002, the first asphalt automation system with highly configurable software was introduced to the industry. PC/PLC based systems provide complete control and monitoring of an entire facility on any type of plant. Motor control, flows, temperatures, sensors and all other components of the plant are monitored, controlled, trended and alarmed to individual needs.
This gives plant operators the ability to constantly monitor all their values – watch the numbers move – and tell if there is a problem before there is wasted mix. Automation lets you watch targets, actuals and movement. If you see where the equipment is trying to adjust, it can help you pinpoint the problem and diagnose it. Automation helps you stay on top of the quality of your mix and minimize waste.
"Systems control centers like these are designed specifically for the asphalt industry with an emphasis on rugged construction, operator comfort and logical integration of the plant controls" says Kenneth Cardy, president of Libra Systems. "These systems run and monitor all plant functions from a standard PC, including blending operations, plant motors, motor currents, mix and plant temperatures, material inventory, silo levels, energy usage and alarm status."
"A conscious decision to use industrial grade computers for the central user-interface is a step in meeting the overall objective of automation," says Lien Gangte, controls engineer at Astec Inc. "In addition to meeting rigorous technical specifications, the advantages of using these machines lie in their production stability and long-term availability. In a world of constantly changing computers and its operating systems it is extremely important to offer systems that can be controlled more effectively to avoid any surprises."
Producers also have the ability to mold these systems to their unique business processes. This includes the ability to add fields, layout printing on delivery tickets, add or modify reports, add special logic, create their own pricing schemes, etc.
"These systems are designed to primarily provide a solid platform that supports the most robust, flexible and dependable automation architecture," Gangte says. "The modular design allows the upgrade or integration of components (burner, silos, motor control, blending, tank farm, double barrel green, etc.) in stages or all at once. This means that we only move when the customer is ready; there are no forced choices. Consistent emphasis on backward compatibility in the design process means that all of the new developments can be retrofitted with older modules even as new ones are added." 
Whereas custom software of years past had the effect of locking producers out of new versions, the configurable and modular design of today's software allows users to receive new releases and features, while maintaining the configuration settings that make the software unique for their specific business requirements.
Mix Design Driving Innovation
The latest innovations in asphalt plant automation can be attributed to the demand for more mixes using more types of ingredients that need to be carefully blended together in the process. "A reliable controls system is an absolutely necessary component in producing high quality mix today," Gangte says. "It is not sufficient by itself but without it quality becomes a dicey game at best."
Since some of these mixes are being designed for government agencies that require strict compliance, automation systems assist the plant operator in keeping the plant running and also to the company owner to combine all the ingredients and ensure the mix is in meets the required specs.  
"The major developments in plant technology have more to do with the increasing number of ingredients that are now being required by both contractors and governmental agencies to make a variety of mixes and the ability of the plants to blend all the ingredients in a consistent homogeneous manner to make a good asphalt product," says Gregg Gilpin, Director of Electronic Control Systems for Stansteel/Hotmix Parts.
"In recent years, we've seen the addition of fractionated recycle with multiple feed bins along with recycled asphalt shingles (RAS).  The growing use of multiple liquid A.C.'s have necessitated the need for modifying the A.C.'s at the plant with inline blending and mixing.  A large number of chemical additives are now being used to condition the liquid A.C. to make foamed and warm mix, allowing for lower energy asphalt, and to meet environmental requirements to aid in sustainability and recycle ability."
Monitoring all these ingredients is vital to the reputation of your mix. "With the advent of in-place density or end result mixes, it can potentially be a costly practice to risk making mix that is not in compliance," Gilpin says. "There are many systems that do not have the capability to combine all of the necessary materials.  In previous times, it was common to only blend two or three aggregates and one RAP with the liquid A.C. This could easily be accomplished with a basic control system or almost manually if the plant operator was well trained and adept at timing sequences. Now, there are often eight to ten or even more ingredients that must all be accurately combined at the right point to achieve the proper mixture, making manual or simplistic controls obsolete.
"Astec's controls platform helps the quality of mix by controlling the entire production process with precision and accuracy," Gangte says. "This design empowers the user to set up the system for optimal blending and provides numerous tweak points to achieve desired goals. If any deviation is detected from the calibrated targets it has the ability to immediately notify the operator through audio and textual messages. The meticulous tracking of data from the raw material bins to the storage units also enables the user to reject mixes and exercise tight quality control."
"Total plant control must not only coordinate the blending of the numerous ingredients, it must offer closed loop control features that independently monitor the plant components to ensure the equipment is operating correctly," Gilpin continues.
"For example, if a control signal is sent to a material feeder that is not functioning correctly, the contractor can unwittingly make a large quantity of mix without blending the right ingredients.  With closed loop control, the feeder is monitored to make sure the conveyor is turning at the proper speed and the material is flowing and, in fact, combining with the other ingredients."
Total plant control monitors other critical plant components to give alarms, alerts, or plant shutdowns based upon the complexity of the out-of-tolerance condition. In addition, the operator can set up a procedure to store or print at timed intervals the statistics on how the plant is operating.
Business Process Integration
The ability to monitor and track all the moving pieces of your asphalt plant creates a lot of data. What your company does with that data however, is what's important to improving your bottom line.  
"The plant automation must support real-time management decisions by providing up-to-the-minute company-wide data, accessible from anywhere in the enterprise," Cardy says.
This means plant automation must allow office and IT personnel to control business data in real-time, while allowing operators to concentrate on running plants. It must mold itself to fit the unique business processes of the producer without requiring the custom programming that has stunted the agility of past systems.
"Yes, plant automation for the asphalt industry has come a long way to be sure," Cardy says. "Long a staple of the ready mix industry, dispatch software is now available that is uniquely designed for asphalt producers, helping them to forecast, organize and manage job/truck scheduling to make the most efficient use of resources and thereby improve the bottom line.  The dispatch software is integrated with the controls and self-service kiosks, so operators benefit by knowing the plant production requirements for the day, scheduled jobs, and when each truck will arrive."
New business integration software is also available for transaction review, mass-edits of transaction data, advanced pricing for account customers, management dashboards and help desks.
More Data = Less Work:
Today, we are accustomed to receiving what we need immediately. With the introduction of smartphones, the world and all its' information is legitimately at your fingertips. Data about the operations of your asphalt plant should be no different.
"The information technology revolution and the age of the internet have brought with it a huge craving for more and more data," Gangte says. "A younger generation that has grown up with hyper-connectivity all around them naturally insist on being able to gather, store and move data at the click of a mouse or a finger tap! This demand for data has a very compelling effect on plant automation, for there is no other way to satisfy it then to address it at the most elemental level."
Until recently, operators were asked to put in more and more data, when what they really needed to concentrate on was keeping the plants running and making good asphalt.
"New developments in centralized management software have changed all that by giving the people responsible for the accuracy and timeliness of the data the ability to control it," Cardy says. "The great benefit to operators is that they now merely pick the data from lists rather than keying it in.  The learning curve for operators is very fast because they have less data to maintain and the software is much more intuitive.  Inherently, the time-consuming task of correcting mistakes prior to invoicing is virtually eliminated."
Centralized management software has opened the door to allow real-time access to company-wide data – anywhere, anytime.  Up-to-the-minute information is available via wide area network or the web.  Web alerts may be configured to send texts or emails to portable devices – even to end-user customers, thus eliminating time-consuming phone calls.
Thoughtful Throughput
Even with all this data to keep your plant running smoothly, it will all be for nothing if you have no customers to sell asphalt to. This means quickly and economically fulfilling customer demand is a must.
New automated ticketing kiosks and silo load out and truck ticketing systems are an outstanding combination that can be used to achieve exceptional productivity improvements. These new automation solutions help operators more efficiently manage points-of-sale and increase capacity without having to assign more plant personnel.
"Self-Service Kiosks allow producers to increase revenue by handling more truck traffic without increasing the number of operators," Cardy says.  "The kiosks increase customer satisfaction by reducing in-yard times, and by allowing the extension of site operating hours."
Outdoor printer terminals are generating greater profits for producers by keeping drivers in their trucks and sending them on their way. The plant software allows virtually unlimited flexibility, such as the ticket layout, number of ticket copies, as well as the capability to retract tickets if not taken. The printer terminals are also designed to withstand the harsh environment.
Cameras are also being utilized to identify trucks and eliminate the delays and other costs of paper signatures. Key ticket text is superimposed on the images and the resultant picture is digitally stored along with the transaction. If a billing dispute, or other need for proof of receipt, arises, a billing clerk can automatically retrieve the picture and email it to the customer. The cameras require absolutely no action by the driver, provide more information than a signature, stores the images electronically, and provides easy access to each transaction's image. When camera Identification is coupled with a remote printer terminal, post-ticket times are slashed. The driver simply pulls forward to the printer, takes the waiting tickets and leaves.
Ease of Operation
Along with saving operators time, automation can also assist in employee management. In the past, at a typical asphalt plant, there would be at least three plant personnel on site to maintain and monitor the plant; the plant operator, loader operator and a ground person. Today, it is increasingly more common to have only two people operating the plant, with no ground person.
"We have seen some plants that get by with only one person at the plant," Gilpin says. "In such cases, it is imperative to use AI (Artificial Intelligence), which is a computer system, to take over and electronically operate the plant. AI can easily monitor the feeding of the baghouse fines and very expensive liquid chemical additives, along with monitoring the filling of the silo system to ensure the bintop conveyors are running and in the correct position to receive a new mix design. The quality and integrity of an electronic control system with AI will permit the plant operator to interface with the outside world of truck drivers, telephone calls, ordering of materials, and much more."
Eliminating personnel may lead to a negative view of these automation systems however. "Contractors may be concerned these systems would threaten their job," Gilpin says. "It would be a tough task for an operator to manually combine all of the ingredients that are being used in modern mixes without any mistakes though. With the numerous amount of materials used to make asphalt today, and the complexity of calculating varying amounts of RAP, RAS and A.C. percentages, the need for quality plant automation is a must."
Cost can also play a factor in implementation hesitation. "To install a new automation system requires a substantial investment and a good understanding of the benefits you get in return," Gante says. "If one has had the experience of working with an unreliable controls system it quickly becomes clear why the choice to install new automation is obvious."