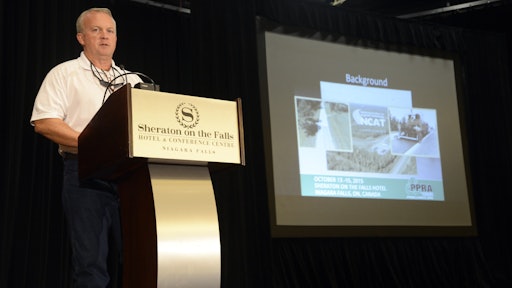 This week, over 300 pavement preservation specialists descended on Niagara Falls, ON, Canada for the PPRA (Pavement Preservation & Recycling Alliance) Fall Conference. The final registration count set a record for the conference at more than 330 people from at least six countries.
PPRA is the unifying voice of the preservation industry. Throughout the three-day conference, contractors, agencies, manufacturers and consultants attended informative and engaging sessions offering new ideas and perspectives from the three main associations representing PPRA: ARRA (Asphalt Recycling & Reclaiming Association), ISSA (International Slurry Surfacing Association) and AEMA (Asphalt Emulsion Manufacturers Association). 
Attendees listened to presentations from transportation agencies, contractors, suppliers and other industry experts.
Buzz Powell with the National Center for Asphalt Technology (NCAT) discussed the most recent NCAT Pavement Preservation Research and Results. Powell also updated attendees on the NCAT partnership with MnRoad and discussed reviews of the Pavement Test Track, Lee Road 159 and US 280 WB outside lane which are the sites for testing various types of preservation treatments. For more information and updates on the progress of the track, information can be found at: www.pavetrack.com.
David Peshkin with Applied Pavement Technology presented The Role of Preservation in Managing Pavements and began with a review of the benefits of integrating pavement preservation into existing pavement management systems. Becca Lane from the Highway Standards Branch of Ontario's Provincial Highways Management offered her Summary of Performance Data over the Last 25 Years for Recycled Pavements in Ontario. Lane detailed the history of the use of the recycled processes and their increased use over the past 25 years.  The processes identified were CIR, CIREAM (CIR with Expanded/Foamed Asphalt), FDR and FDREAM (FDR with Expanded/Foamed Asphalt).  Since the mid 1980s, there have been 669 projects completed in her district with PCI ratings over 85 and minimal rutting. 
There was also a panel of six members discussing Owner's, Contractor's and Equipment Manufacturer's Perspective on Method vs. Performance Specification. Both Method Spec and Performance Spec perspectives were represented and the benefits of each were identified and examined.  The overall indication at the end of the discussion seemed to be that what has proved most common to date has been a combination of the specification types and that it is most likely for the immediate future that this practice will remain as such.
Other presentation included:
Chip Seals & Surface Treatments – A Northern Experience with Antoine Boucher, director of Public Works and Engineering for East Ferris.  While the northern climates could prove challenging in trying to find ways to apply and maintain chip seals, East Ferris has found a way.  Through an approach that utilizes different chip seal "systems" based on the existing conditions, anticipated traffic loading and performance expectations, the municipality has created a program that has successfully endured the harsh winters.  Components of their program include RAP emulsion mixes over granular surfaces, implementation of geotextile fabrics and recycled asphalt mixtures.  Upon review in 2014, the rehabilitated road surfaces were in excellent condition.  It seems that East Ferris has demonstrated that with a little ingenuity and a pressing need, you can create your own success and a system to maintain it. 
Stephen Lee of the Ministry of Transportation of Ontario spoke of the Evaluation Manual on Recycled Pavements – What We Need to Know.  This presentation was intriguing as a manual has been developed to identify and assess the types of distresses associated with HIR, CIR and FDR.
During Recycling Around the World Including Ayrton Senna Highway Brasil & USA, Mike Marshall of Wirtgen America detailed the work on the Ayrton Senna Highway in Sao Paulo, where prior to recycling, the surface had to be replaced as frequently as every three months. He also discussed using milling machines, CCPR with foamed asphalt, multiple lift placements on the successful VA I-81 project. 
Gary Foux of Suit-Kote presented Cold In-Place Recycling: NYDOT's Success where he identified how his company frequently uses add rock and the types of emulsions (high floats) that are commonly used. 
Randy Dobson from Caterpillar discussed Fine & Micro-Milling – High Performance Specifications – A Perfect Pavement Preservation Technique.  Dobson reviewed the places where micro-milling may be most effective within pavement management programs and the benefits that the planing processes provide.  
Tom Wood from the Minnesota Department of Transportation reviewed the MN DOT Microsurfacing Program and discussed how MnDOT has implemented microsurfacing in conjunction with micro-milling as a means of repairing pavement inconsistencies and rough rides.
The 2016 AEMA-ARRA-ISSA Annual Meeting will be held Feb. 23-26 in Bonita Springs, FL. For more information, visit ppralliance.org.