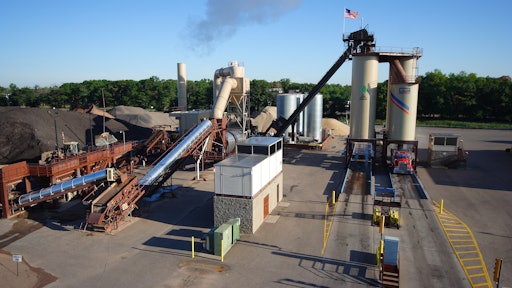 Commercial Asphalt Co. has 10 plants located strategically throughout the Twin Cities in Minnesota. The company produces high quality mixes designed for residential driveway customers to mixes necessary to pave state highway systems. 
Last year, Commercial Asphalt Co. decided to upgrade its Blaine, MN, facility from a 500-tph to a 600-tph plant, and in the process, made ecological choices to increase its economic benefits.
All of Commercial Asphalt Co.'s plants are recipients of the Diamond Achievement Award from the National Asphalt Pavement Association (NAPA). Recipients of this award are assessed in six separate categories including: appearance, operations, environmental, safety, community relations and permitting & compliance. Only those sites that excel against each of the standards are granted this recognition.
"We are very pleased to have received these awards," says Christina Morrison, land use and permitting coordinator with Commercial Asphalt Co. "Our goal is to be a leader when it comes to demonstrating safe and responsible environmental practices. We recognize that we are part of a larger community and with that comes a level of responsibility to perform at a higher standard."
Ecological upgrades
Added capacity wasn't the only goal for the upgrade at the Blaine plant. More efficient technologies were implemented as well, including a warm mix foaming system, two new recycle bins, one shingle bin and a "smart" capacitor bank to help keep the power factor above 90%.
Todd Laubis, vice president of asphalt operations, notes that there was a reason for each ecological choice that was made.
Warm mix foaming system requires a lower temperature rate to heat the mix, which reduces fuel consumption
Two recycle bins were added to increase capacity to reclaim asphalt materials and reuse these materials in mixes.
One shingle bin added to increase the company's capacity to reclaim shingles and reuse these materials in mixes
Frequency drivers, which are electrical savings devices, achieve energy reduction on the exhaust fan, drum and slat conveyor
Laubis adds the frequency drivers on the exhaust fan, drum and slat conveyor have been an energy saver even with the added capacity. "Even with the upgrade from a 500-tph plant to a 600-tph plant, our electrical usage has been reduced by 11%," he says.
One benefit that cannot be overlooked by increasing an asphalt plant's ecological strategy is how much more competitive it can be. Components such as energy efficient motors and keeping the natural gas burner tuned for maximum efficiency makes the plant more efficient bringing up the bottom line.
Other components of the new upgrade included:
Gencor 600-tph counterflow drum
A sixth Gencor 250-ton silo was added for a total of 1,400 tons of storage
600-tph slat with fume capturing capacity
Four additional virgin bins; new total is 12 virgin bins
Fourth asphalt cement tank
Being part of the community
Commercial Asphalt Co. recognizes its unique responsibility to the environment and the communities in which it operates. "We do this by implementing environmentally sustainable technologies, being a good neighbor beyond the fence line, and maintaining best management practices," says Morrison.
Examples of best management practices include controlling fugitive dust, lowering operation noise and storm water management.
To control fugitive dust at the facility, the plant area and all traffic and parking areas have been hard surfaced or paved. Paved surfaces are swept with a vacuum assisted sweeper on a daily basis and washed on a regular basis. Unpaved portions of the facility in the stockpiling area are watered or may receive dust control applications as necessary to control fugitive dust.
As far as noise reduction, the Blaine facility was strategically planned to include berms and/or distance to separate the plant from neighboring land uses, says Laubis. Therefore, the potential for noise impacts on sensitive receptors is greatly reduced.
"Neighbors can appreciate the use of broadband backup alarms on company equipment, which effectively reduces noise levels," he explains. "The technology behind the broadband backup alarms allows us to maintain a high level of safety on-site, while reducing potential noise impacts off-site.
"In addition, we implement the use of mufflers on all of our compressed air cylinders and the burner associated with the counterflow drum," he adds.
Storm water is also contained on-site in designated storm water ponds. Inspections are conducted on a regular basis as part of its Storm Water Pollution Prevention Plan (SWPPP).
Last but not least, Commercial Asphalt Co. pays special attention to its landscaping and its outward appearance to the community in which it resides.
"Neighbors and customers of our facility appreciate the well-maintained landscape that provides a welcoming introduction to our facility," says Morrison. "A variety of trees, shrubs and flowers are featured along the entrance as well as aesthetic signage clearly indicating the facility, company name and logo."
Going beyond the fence line
Commercial Asphalt Co. takes its role as a good neighbor very seriously. In addition to its best management practices, it employs a full-time staff of environmental, regulatory, and land use specialists.
"Community relations are encouraged company-wide with a group of 10 to 15 employees regularly participating in outreach activities and engagement," says Morrison.
The Blaine facility also features a 4,200 square-foot design laboratory and quality assessment/quality control (QA/QC) building that provides Commercial Asphalt with a great opportunity to showcase the unique dual usage facility to various government agencies and local academic institutions.
"Tours are regularly provided to state, county and local officials including the Minnesota Department of Transportation," says Morrison. "Academic institutions such as local universities, technical colleges and high schools visit the facility to engage students in civil engineering, civil technology applications and materials education.
"Being recognized as a leader in our industry, the facility has had the opportunity to host a group sponsored by the U.S. Department of Commerce for a number of years," she continues. "Special American Business Internship Training Program (SABIT) promotes partnership between the U.S. and Eurasia and provided an opportunity for transportation officials from former Soviet republics to visit the facility and gain exposure to asphalt production methods in the U.S."
Why customers care
Christopher Benson, P.E., director of sales and marketing at the company, feels environmentally conscious customers appreciate the efforts companies like Commercial Asphalt Co. make and want to align themselves with those companies that perform sustainable practices.
"We believe that by setting the bar high, we are encouraging our employees to achieve well maintained and pleasing aesthetics, exceptional environmental compliance, energy efficiency and most importantly, high quality mixes," says Benson. "These achievements are appreciated by our customers and neighbors alike and the benefits extend well beyond the plant itself."
Marketing its ecological benefits to customers is also another way Commercial Asphalt Co. sets itself apart from competitors.
"We promote our environmental advantages by discussing the usage of recycled materials whenever we talk to customers," says Benson. "We point out that asphalt is the number one recycled material in the nation and using it promotes environmentally friendly practices. Those practices can enable a contractor to achieve LEED credits.  Our plant facilities have all received National Diamond Achievement Awards and we are proud to promote that via our website and marketing materials."
It's clear through its actions that Commercial Asphalt Co. demonstrates strong commitment to the environment, its communities and its customers.