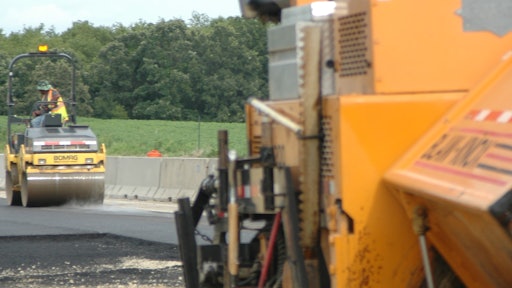 At the time of this writing, the Senate was in conference with the House about a compromise on a long-term highway funding measure.
Lawmakers were facing a Nov. 20 deadline for renewing federal infrastructure funding. Both chambers had passed bills that would guarantee at least three years of highway and transit spending. 
The highway bill that approved by the House, the Surface Transportation Reauthorization and Reform (STRR) Act, called for spending $261 billion on highways over six years, but only if Congress can come up with a way to pay for the final three years. 
The Senate passed similar legislation, the DRIVE Act, in July that contained three years' worth of guaranteed highway funding. Lawmakers in both chambers were eager to get to conference.  
Congress has not passed a transportation funding bill lasting longer than two years since 2005.
Will we have a long-term funding bill in 2016? Will it be longer than three years? Again, those of us in the asphalt road building business are faced with a cloudy crystal ball. In light of all this uncertainty, what will 2016 hold? We've gathered our experts together and asked them to peer into the future to give us an idea of what might lie ahead in the next year.
HIGHWAY FUNDING
Q: In an ideal world, what would a long-term highway funding bill look like? What would it contain?
Mike Acott, president, National Asphalt Pavement Association (NAPA): First and foremost, NAPA is advocating strongly for a fully funded, multiyear transportation reauthorization bill that provides increased investments in our highways. Years of continued underinvestment in the nation's highways and bridges have taken a tremendous toll on the ability of people and goods to move freely across the country; maintenance has been neglected and safety compromised.
Congress' inability to provide an adequate, predictable source of funding for the Highway Trust Fund has made it impossible for federal, state, and local agencies to ensure the performance and drivability the public expects and depends upon from our roads.
The gas tax was set at 18.4 cents per gallon in 1993, but inflation, rising construction costs, and improved vehicle fuel economy mean that same 18.4 cents pays for about 35 percent less road work in 2015. Absent a long-term solution, the Congressional Budget Office estimates the Highway Trust Fund Highway Account will experience a shortfall in funding of $125 billion over the next decade.
In an ideal world, the highway bill would contain at least a 25 cents per gallon gas tax increase, indexed to inflation, along with provisions that lay the groundwork for new funding mechanisms that provide guaranteed, reliable funding sources for the federal-aid highway program. With gas prices close to $2 per gallon, this would be the perfect time to increase the user fee to revitalize America's roads, highways and bridges.
Dr. Alison Premo Black, senior vice president & chief economist, Deputy Director Contractors Division, American Road & Transportation Builders Association (ARTBA): Ideally, a long-term federal highway and transit bill would provide a robust boost in investment aimed at fostering stronger U.S. economic growth and making us more competitive in global markets.  We'd also like to see continued progress to the environmental and regulatory review process so that transportation projects are built quickly and more efficiently.
Ryan Essex, P.Eng., MBA, president, Asphalt Recycling & Reclaiming Association (ARRA) and vice president with The Miller Group:  First and foremost the hope is that the next highway bill contains increased annual funding and is committed over a much longer period of time. Within the bill, provisions to maintain the existing transportation network needs to at the top of the list. This network is essentially bought and paid for and with maintenance costs far less expensive than reconstruction, these assets must be maintained at the right time to preserve their value and use.  It is the proper and prudent approach and when balanced with network growth it is the best use to stretch precious transportation dollars. 
It is very important that the new bill contains language that addresses and ensures the maintenance of the transportation network.  Another topic worth tackling with the new transportation bill would be looking for ways to stretch the allotted dollars. This may be accomplished with less federal oversight and environmental regulation as it is currently estimated that the costs of federal funded projects are 40% higher due to regulations imposed.
Rusty Price, president, International Slurry Surfacing Association (ISSA) and Intermountain Slurry Seal: Long-term (5 years +) with an increase in funding to actually make a difference from previous years. The highway trust fund was established in 1956. The 18.4 cents-per-gallon gas tax has been the main source of federal transportation funding since this was established. The tax has not been increased since 1993 and it continues to lag behind construction expenses and funding needed today as cars have become more fuel efficient. The highway funding bill would need innovated mechanisms other than raising the gas tax to make this difference.
Mark Ishee, vice president, Asphalt Emulsion Manufacturers Association (AEMA) and Ergon Asphalt & Emulsions Inc.: Primarily, increased and sustained funding. After that, ideals likely vary among the industry participants depending on their area of participation. Heavy construction might have one opinion while maintenance contractors might have another. The taxpayer will likely have one that differs from all others. While new construction related to increasing capacity is desirable, the maintenance and preservation of existing routes is absolutely critical to the functionality of the system. A funding bill that recognizes this in its language would be beneficial to those charged with implementing the program.
Q: What would be the benefit of having a long-term bill versus the numerous patches we've been seeing?
Acott, NAPA: Over the years, Congress has passed 35 short-term fixes to shore up the Highway Trust Fund and to ensure the states can continue to fund their necessary road maintenance, improvement, and construction activities.
Unfortunately, these short-term patches (and the political impasses that typically precede them) create a great deal of uncertainty for state departments of transportation and other agencies, which leads them to hold back on letting necessary work out less they cannot afford to complete projects.
A fully funded, multiyear highway bill with guaranteed funding provides states the ability to plan, budget, and manage their highway program beyond the fits-and-starts of temporary patches.
In addition, a long-term highway bill with increased federal investments will allow states to begin work on large-scale projects that could significantly reduce congestion, improving pavement performance, economic output, and air quality in addition to creating millions of new jobs in America.
Premo Black, ARTBA: More than 30 short-term funding patches is no way to build a railroad, pun intended, or to build a 21st century U.S. transportation network.  A long-term bill would provide funding stability for state programs, but increased investment at the federal level is critical to supporting real market growth in 2016 and beyond. 
Although there have been positive developments in recent years at the state and local level such as 15 states raising their gas taxes and sluggish improvement in the U.S. economy, this has not been enough to spur overall market growth for highway construction. 
The real value of pavement and related work, adjusted for material prices and inflation, is on track to be down over 20% in 2015 compared to investment levels in 2009.  It once again underscores the importance of the federal-aid surface transportation program to jumpstarting long-term market growth.
Essex, ARRA: Long-term transportation funding -- that is dedicated funds that all levels of government can depend on, can plan on having every year -- helps the entire industry, the public and the nation's overall quality of life. This certainty allows for improved planning and overall better maintenance and preservation of the transportation network.
Price, ISSA: The U.S. has a strong network of interstates and highways. It's obvious that many important transportation infrastructure projects are in urgent need of repair. The situation is not good for developing budgets and planning projects that are needed.
A long-term authorization highway bill would allow states to plan highway, bridge preservation and construction projects with certainty. This would benefit and support the construction industry. The Highway Trust Fund means real jobs with real money for real families and the economy with growth while retaining and creating jobs. The lack of long-term highway funding policy creates uncertainty for construction companies and material suppliers and this uncertainty makes it difficult for affected businesses to make hiring decisions.
Ishee, AEMA: Among the many casualties of continual funding patches are research, development and innovation. Industry can't evolve without the prospect of return on investment. An uncertain funding environment stunts the willingness and the ability to improve the materials, processes and equipment used by industry. Additionally, patchwork funding by extension typically doesn't account for annual increases in the cost of doing business. Stagnant funding in the face of rising costs means less work can be accomplished assuring an associated decrease in the network's overall health. 
Q: If a long-term highway funding bill is actually passed by the end of 2015, what impact would it have on our industry?
Acott, NAPA: In 2014 we saw for the very first time since 2006 an uptick in asphalt pavement tons produced nationally. For 2016, I think you will see another slight year-over-year increase in the production of asphalt pavement tons, mainly in the private sector.
If Congress is able to pass a long-term highway bill this year, it will certainly make for a more robust bid-letting season and increased work for all highway contractors next year. The scope of the impact on the asphalt pavement industry really relates to funding issues.
The 3% per year funding increase in the Senate-passed DRIVE Act is barely enough to address well-documented needs to modernize the nation's roads, highways, and bridges. Congress can and should do better than simply maintaining the status quo with respect to highway funding.
Premo Black, ARTBA: The market impact of a long-term highway and transit funding bill will depend on the investment levels in the final legislation. Although the stability of the program would help state programs, the impact will be minimal if there is not an increase in overall funding. 
Essex, ARRA: The single biggest challenge facing our industry in the upcoming year is the lack of certainty in funding.  At all levels of government it is unclear what their transportation budgets will be for 2016  and beyond and this makes it very difficult to plan and forecast what we can expect in 2016 – except to say we are certain that 2016 will be uncertain.
Price, ISSA: That would depend on the details of a long-term bill.  A long-term bill would definitely be better than short term extensions, however if a new bill does not have a mechanism for increased funding, it will not have a big impact on the industry.  It also puts agencies in a difficult situation, not knowing if, when and how much dedicated funding is available, projects still need to be designed, advertised and contracted. This may help in future years, but may be a challenge for growth in the industry for 2016.
Ishee, AEMA: It would depend on what the actual bill looked like when passed. The amount funded, the duration of funding and the allocation mechanisms would be evaluated by industry participants. Both potential and existing companies would likely assess their ability to be involved in the industry considering both their current position and that of an elevated position. For those who recognize the bill as an opportunity to expand, they will begin doing so. Labor and equipment are likely areas to see an immediate, positive impact. Increased productivity in the construction and maintenance industry affect numerous segments of our economy, all of which would benefit in a relatively short time.
Q: What is the outlook for the industry if there is no long-term bill passed?
Acott, NAPA: The lack of a fully funded six-year highway bill will make it harder for asphalt pavement contractors to make necessary investments in equipment and manage the work force efficiently given the fits-and-starts nature of the current federal-aid highway program. Having said that, the fact is most of the highway dollars spent today are on the type of projects that have high asphalt intensities and that would likely continue. Barring a complete meltdown in Washington, I would expect the market to increase slightly in most areas of the country in 2016.
Premo Black, ARTBA: That's a pretty easy answer.  Without a long-term federal highway and transit bill, it is likely that pavement investment levels will continue to show minimal growth in 2016.   
Price, ISSA: More of what we have been going through, extensions or short-term patches are not the right solution. There have been 32 extensions and five revenue shortfalls in transportation funding in the past eight years. The nation's infrastructure will continue to deteriorate and our quality of life will be affected.
Ishee, AEMA: Most importantly, our industry will continue to serve the taxpayers, but kicking the can down the road is a costly strategy. There are consequences to what equates to a long term reduction in funding in any industry and ours is no different. The number of participants will likely dwindle in direct proportion to the prospect of participation. Individuals as well as companies will focus available capital in other areas where opportunities to succeed are more attainable. Of greater overall significance is the continued decline of the overall condition of the transportation infrastructure which ultimately results in much higher cost per mile to repair or reconstruct in the future. 
Q: What do you think the key is to getting a long-term bill passed?
Acott, NAPA: Preserving and improving the investments made by previous generations in America's transportation infrastructure appears to have declined as a national priority. In addition, many congressional lawmakers fear losing their next election if they vote to raise any tax, even one as narrowly crafted and dedicated as the fuel taxes that support the highway program. This fear is unfounded.
State legislators who have supported such legislation have been met little to no pushback at the polls. In fact, in the most recent election cycle, 98% of the lawmakers up for re-election who supported new funding for transportation investments won the primary following their vote.
Premo Black, ARTBA: Two words: political courage. We need the President and Congress to stop dithering and do their jobs.
Essex, ARRA: We remain hopeful that a long-term solution to sustainable transportation funding can be found.  It should be a real focus of any solution as it allows industry to plan for the future, to invest for the future and allow employees within the industry to have a more secure future. More funding emphasis needs to be placed on maintenance-type projects to take care of the existing infrastructure system.
The future of highway funding requires a long-term commitment by the Federal government to sustainable transportation funding. Patch work bills do not allow for long-term planning by agencies, industry participants or employees within the industry. 
Price, ISSA: Taxpayers, industry and agencies communicating to elected officials that the situation is dire; the need to work together and find a solution to pass a long term highway bill with increased funding is the responsible decision to make. Preserving,  maintaining and rehabilitating our ability to move services, feel safe and sustain the best transportation system in the world will create jobs, add tax revenue and be money well spent.
Ishee, AEMA: Education of the voting public who can then hold their elected representatives responsible is the ultimate leverage. Increasing public discussion and thereby awareness of the importance and impact that our transportation system has on the individual citizen's daily life can result in powerful changes.  
Q: Some argue the federal gas tax doesn't provide enough funding … what are some solutions that could fix our funding issues? What do you see as the future of highway funding?
Acott, NAPA: I agree the federal gas tax does not provide enough funding to meet our needs. Unfortunately, America may not be ready for a vehicle-mile tax, and there is really no other source of revenue that is easy to administer, tied to the usage of the roads, and raises the monies needed to maintain our highway network.
Once we get past this legislative cycle, I think it will be necessary for policymakers and stakeholder groups like NAPA to sit down and develop a plan — with funding — to make America's highways great again. The cost of neglecting American infrastructure is too high, especially in a global economy, and the benefits are huge if we can get our act together and focus on this problem.
We need to remember the analogy of fixing a roof — it you don't fix it, you risk the structure and contents. If you don't preserve, maintain, resurface and rehabilitate our pavements, it will be too late to prevent reconstruction.
Premo Black, ARTBA: The federal motor fuels user fee works just fine.  The problem is that it has not been increased since 1993 and has not kept up with changes in the price of material, project costs, wages and other factors. Gas prices have dropped dramatically in the last year. It's like a Christmas gift waiting under the tree. 
Congress and the President could increase the federal gas tax now and the impacts on motorists would be minimal. Other solutions policymakers could implement include tolling, congestion-pricing, public-private partnership, and new freight-related user fees to help goods movement. 
Essex, ARRA:  A federal user-pay model could be supported to ensure that users are contributing to the networks they use to a scale relative to the required maintenance and operating costs of the network.  There is a role for P3s as it has been proven to be a very successful model in parts of the world and can be utilized to fund and build projects ahead of conventional schedules. 
Tolling is part of the user pay model that with the right "scale" applied can be a sustainable resource for additional funds.  Alternative sources could be pension funds and wealth management groups that are looking for stable long-term returns on their investment that could align with long-term government commitment and funding.   
Price, ISSA: There is broad agreement from politicians regarding the importance of infrastructure and the Highway Trust Fund, but little consensus on how to pay for it. This political gridlock, and overall federal and state belt-tightening, means there's a need for new ways to pay for our transportation infrastructure. The 18.4 cents-per-gallon gas tax has been the main source of federal transportation funding since 1956.
The gas tax has not been increased since 1993, however, and it has lagged behind construction expenses as cars have become more fuel efficient. Currently the federal government typically spends about $50 billion per year on roads and transit, but the gas tax only brings in $34 billion annually at its current rate.  The time has come to change the status quo, look outside the box and figure out innovated alternatives for the additional revenue needed to maintain and preserve our infrastructure.
That's where the private sector could support the increased funding needed. They have the resources to help fill this gap and modernize America's infrastructure.  The highway bill could propose reauthorization plans that include a greater role for the private sector in surface transportation.
States not waiting for long term increased federal funding and creating voting propositions or other methods of funding for highways voted on by tax payers.
Another consideration could be shifting responsibility for the provision of transportation infrastructure back to cities and states. Local DOTs and government municipalities are more in tune with the needs and possible resolution. A one-size-fits-all approach is not going to bring the change and solutions needed to solve the ongoing problem. 
Ishee, AEMA: Prioritizing the distribution of current tax revenues with a greater understanding of, and emphasis on, the importance that the transportation system has on the economic well being would help. What better way to spend revenue than in a manner that assures future revenue? With a decrease in our ability to efficiently move our citizens and our products from point A to B, tax revenues fall with measurable certainty.
TRENDS TO WATCH IN 2016
Q: What will the asphalt road building market be talking about in 2016? What are some important trends that asphalt contractors need to be aware of?
Acott, NAPA: Quality and performance are likely to be leading topics for 2016. As an industry, we invest heavily in research and education to improve our materials, practices, and products. With DOTs facing a backlog of projects and tight budgets, ensuring value and performance are going to be a top priority for road owners and builders alike.
We are also likely to see continued growth in the use of recycled materials in asphalt pavements with new focus and attention on ensuring mix designs are optimized to perform well with higher levels of recycled materials.
You will also see the introduction of an environmental product declaration (EPD) program for asphalt pavements, which is something our industry needs to meet the demands of green construction codes like LEED. At the state level, asphalt contractors should watch for materials and pavement-type selection issues being pushed by competing materials. In our view, these are engineering decisions that are best left to professional engineers at the state DOTs.
Q: What will pavement preservation contractors be talking about in 2016?
Essex, ARRA:  That there are time proven and innovative engineering processes available that can preserve and extend the life of the nations' pavement infrastructure.  It is paramount that they become commonplace to ensure the most efficient spend of limited infrastructure dollars.
There are both positive and negative trends affecting ARRA contractors. On a positive note there remains growth in innovative thinking amongst Owner agencies that see the incredible benefit of using an asset that they have already bought and paid for: their road. 
This simple approach is not as common as we would like after the years and years and miles and miles of successfully built roads using recycled processes but it is still trending to the positive. The room for growth in use of cold and hot in-place recycling, full depth reclamation and recycled asphalt from cold planing is almost exponential, and each and every process will help stretch transportation budgets across the nation. The negative trend that is affecting our entire industry is still contending with the lack of a long-term transportation plan, funding and commitment.
Price, ISSA: Contractors will be discussing innovated methods to produce quality projects and satisfy customers with the process and preservation products being specified. With budget constraints, agencies are looking to do more with less. Contractors will need to focus on meeting performance expectations, best practices and attention to detail in a competitive environment.
Lack of quantity and quality employees to build the work. The construction industry has been hit hard with lack of consistent work opportunities. This isn't a sexy field to recruit and retain employees in the first place. Lack of consistent and stable funding is a key hurdle to overcome for hiring and retention of qualified employees that are the foundation to building safe, quality and successful projects.
Pavement preservation stakeholders in the U.S. are being affected by the reinterpretation of the Americans with Disabilities Act (ADA) last year by the U.S. Department of Justice (DOJ) and U.S. DOT. This may lead to disruption of low-cost pavement preservation programs in this country. Projects now deemed to be alterations must include curb ramps within the scope of a project versus projects deemed to be maintenance and exempt from curb ramps needs to be reevaluated.
Education, training and building awareness that preserving what we have is smart business. The condition of the nation's roadways should be kept at a safe and acceptable level. This infrastructure is a valuable asset and should be preserved. This will give taxpayers the best bang for their buck.
Ishee, AEMA: Funding, as is always the case, but there are changes already underway affecting the preservation industry. Recycling on multiple levels, from the materials used to processes employed, indicate "sustainability" has become more than a buzzword. Technology is advancing at an astounding rate, contractors looking to become more efficient at providing quality work will be looking in this area for an edge.
2016 OUTLOOK
Q: Generally speaking, what will 2016 look like for asphalt highway contractors and producers?
Acott, NAPA: Much depends upon the fate of the highway bill. If a fully funded, multiyear bill does pass, I think we can expect a very positive year. If not, improving economic conditions and the need to fix and repair older roads will support some growth in the asphalt pavement industry.
The housing sector will continue to grow and demand for asphalt pavements should rise; the commercial sector is also rebounding strongly, which should continue in 2016.
I think the biggest surprise will be the number of states that will increase funding for their highway programs. Since 2012, 21 states have done their part and increased investments in the infrastructure programs. State funding for highways will continue to grow in 2016.
Premo Black, ARTBA: There will be continued opportunities in some states, but overall market challenges will continue to temper any significant real growth in the asphalt highway market. 
Ishee, AEMA: Regionally, some areas will see better growth than others but there is optimism for passage of a long-term bill. Assuming this happens, the second half of 2016 could begin to reflect the positive impacts that a securely funded program provide. 
Q: What do see you as the biggest hurdles impacting the road building industry as we move into 2016?
Acott, NAPA: Again, the biggest hurdle facing the road building industry is funding. Interest rates remain extremely low, which will sustain continued growth in the housing market. The commercial market is growing as the economy continues to expand.
The key will be whether or not we can break the gridlock in Washington and pass a fully funded, multiyear highway bill. If Congress fails to do its job, growth will be limited due to reluctance by state and local agencies to commit funds for large-scale highway projects. That is the biggest hurdle facing the industry and is why we need the industry to keep the pressure on lawmakers to do the right thing and pass a fully funded, multiyear highway bill.
Premo Black, ARTBA: Politicians unwilling to do what they were elected to do, and that's to make tough policy choices when it comes to transportation investment. Continued uncertainty over the federal aid highway program, state and local finances and sluggish growth in the U.S. economy are also additional hurdles.
Essex, ARRA:  Long-term transportation funding.  Dedicated funds that all levels of government can depend on, can plan on having every year.  This certainty allows for improved planning and overall better maintenance and preservation of the transportation network.
Ishee, AEMA: The failure to pass a long term funding bill would be by far the biggest hurdle the industry would face. 
A Look Ahead: Technology
By Kevin Garcia, Business Area Manager – Paving and Specialty Construction for Trimble's Heavy Civil Construction Division
In 2016, I anticipate that we will continue to see increasing use of intelligent compaction nationally, especially as the Veta software from The Transtec Group continues to develop and add functionality that makes intelligent compaction data analysis easier and more robust.
There's no question that contractors are seeing the benefits of intelligent compaction within their workflows, especially when it comes to helping inexperienced roller operators and minimizing uncompacted areas. However, the big driver is  –  and will continue to be  –  various authorities mandating the use of intelligent compaction on their projects.
Intelligent compaction technology provides owners the verification of proper work practices that they're looking for these days, and regardless of whether it is mandated on a specific project, contractors that are using intelligent compaction technology have a distinct competitive advantage over those that are not.
Tracking the entire process
We are also starting to see a lot more interest around tracking the entire asphalt paving process, from plant production through final compaction. The technology now exists to know exactly what's happening on the paving train at any given point to improve logistics, efficiency and quality of paved surfaces.
I anticipate that we'll see increasing demand for end-to-end technology solutions that help track and manage the full project lifecycle. This can include everything from tracking delivery trucks and plant tonnage produced; to loaded, delivered and placed temperatures; to planning and scheduling.
We are also seeing increasing demand for managing digital construction sites. More and more, contractors are moving their project plans to the cloud and are gaining approvals, building models, sharing files and moving jobs through the system electronically from beginning to end. Paperless projects are the way of the future.
Highway funding and its affect
I predict that some contractors will cut back on technology spending while highway funding is reduced and jobs are fewer and further between, but I think many will see this as the perfect time to invest in technology to maximize efficiency, production and profit margin. Those who are willing to take a hard look at their business and apply technology to address shortcomings will gain a competitive edge and end up ahead in the end.
I also anticipate that we'll see owners asking technology providers for additional solutions to help them solve their problems and make paved surfaces last longer. Increasingly, we need to find ways to make our highway dollars go further. Technology is the way to do that. By employing technology, we can make sure we're doing a better job so that roads last longer.
Connected worksites
In 2016 and beyond, we will continue to see a move toward more visibility and connectivity across a project. The "connected" worksite continues to develop throughout the entire construction workflow. We now have the power to process construction models digitally and in real time, update the office and project managers, make on the fly adjustments and deliver "just in time" materials.
This is all due to the ever-growing capabilities of connecting the office and the field. This technology gets more powerful and faster every year, and it will become the way we do work in the future. The days of paper plans and grade stakes are coming to an end. We'll soon have a total picture of what's happening on a project, no matter where we are in the world.
I also think we will start to see more education and training on construction technology earlier in the career path. Construction management programs are starting to become more involved in technology training and education, technology manufacturers are implementing educational outreach programs, and people entering the construction industry at all levels are more aware of the impact of technology on their jobs than ever before.
A Look Ahead: Mix Design
By Heather Dolan, Global Product Manager, Asphalt, Ingevity, makers of Evotherm
There are three predictions when it comes to where mix design will be trending in 2016.
More utilization of recycled materials
Contractors look to maximize the value of their mix designs by using an assortment of recycled materials in a sustainable manner. These include reclaimed asphalt pavement (RAP), recycled asphalt shingles (RAS) and crumb rubber. 
Why is this happening? We're seeing both a mandate by governments and local agencies exploring cost-effective mix designs as the reason. Agencies are encouraging this by drafting specifications that allow higher recycled binder contents. In some states, such as Florida and Pennsylvania, agencies are either mandating the use of rubber modified binders or are letting jobs which specify higher amounts of recycled content.
Will the amount of recycled materials increase in mix designs? There is a lot of research being conducted to determine how much recycled content can be used. Roads with high recycled content must meet the performance requirements desired. This means that one size doesn't fit all. A low-traffic, residential road may be able to incorporate higher amounts of recycled material that a high-ESAL interstate. There are also new additives coming out, such as our Evoflex products, that can assist contractors in using more recycled content for both types of roadways.
There has also been significant new focus on utilizing crumb rubber/rubberized asphalt. While commonplace in California and Arizona, this year Florida and Pennsylvania have launched their own strategic efforts.
 Improved industry understanding of performance of additives
This will be achieved through collaborations between research institutions such as NCAT, national and local contractor associations, and additive suppliers. Contractors learn about performance characteristics from asphalt and additive suppliers as well as through industry resources such as the Asphalt Institute and trade publications.
Contractors can work to educate their customers to the financial and environmental benefits that additives can offer by sharing performance testing data and case study successes.
Warm mix implementation
Warm mix asphalt (WMA) has certainly come a long way. We're losing track of how many times Evotherm has "paved around the world!" We see it as evolution of asphalt paving technology.
There are virtually no limits on WMA. Some aggregates can be more challenging for WMA, although new chemistries are being created to meet these demands. As those get addressed, there really isn't any reason for every ton of asphalt to not be warm mix. With adoption happening so rapidly now, WMA could dominate the industry within 5 years.