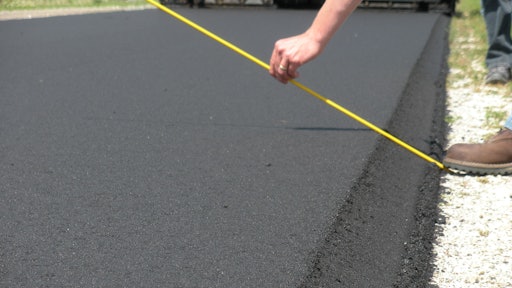 It's been five years since the Federal Highway Administration (FHWA) implemented its Safety Edge initiative and, according to the numbers, it looks like it's a success.
First, a brief history of the Safety Edge program. Following years of studies by the U.S. Department of Transportation (USDOT), the Federal Highway Administration (FHWA), State Departments of Transportation and industry groups, a correlation emerged between the amount of roadway accident and fatalities due to the departure of the vehicle from the roadway.
A major contributor to these accidents was the existence of pavement drop-offs left by conventional paving methods. These drop-offs created dangerous conditions when attempting to re-enter the roadway, resulting in injuries and fatalities that could otherwise be preventable.
A solution to combat this problem came in the form of the Safety Edge. The Safety Edge is an uncomplicated and effective solution to mitigate pavement edge-related crashes. When done correctly, simply shaping the edge of the pavement to 30 degrees can eliminate the problem of vertical drop-off.
Shape matters
Research has shown this shape is considered conservative in that the transition from on-roadway surface to shoulder and back is so smooth it defies assignment of any degree of severity, except when the elevation change from pavement to shoulder causes a noticeable tilt in the vehicle.
The Safety Edge provides a strong, durable transition for all vehicles that are particularly vulnerable, such as smaller, lighter cars or motorcycles. Even at relatively high speeds, vehicles can return to the paved road smoothly and easily.
As with conventional paving, the graded material adjacent to the Safety Edge should be brought flush with the top of the pavement following paving. The Safety Edge concept is that when drop-offs recur, they will not be vertical, but a shape that will not induce tire scrubbing, which results from the tire rubbing intensely against the vertical edge, causing friction between the wheel and the pavement.
By the numbers
Roadway Departure fatalities have dropped 23% in the last 10 years (from 23,702 in 2004 to 18,257 in 2013). Various infrastructure improvement efforts, such as the Safety Edge, along with increased vehicle safety, have contributed to the decline in the number of lives lost every year on our nation's highways.
"The Safety Edge program has definitely been a success," says Cathy Satterfield, P.E., Transportation Specialist with the FHWA Office of Safety. "The research done prior to our implementation efforts with Every Day Counts (EDC) showed that it would reduce the loss of control by the driver in cases where they encountered vertical (or near vertical) pavement edge drop-off.
"We also consider it an implementation success – typically it takes many years to see the adoption of a new process in the highway industry," she continues. "As a result of FHWA's EDC initiative, we saw widespread adoption in 3 years (40 DOTs) by December 2012."
In regard to the number of lives saved, FHWA says it hopes to be able to estimate that once the data analysis mentioned previously is complete.  "However, it will only be an estimate, as we do not track every Safety Edge paving project," says Satterfield.
As Frank Julian, Highway Safety Engineer with the FHWA Safety and Design Technical Services team explains, Safety Edge is a true systemic safety countermeasure that will reap benefits anywhere it is applied. 
"As is often the case with this type of safety treatment, the crash reduction in any one corridor is relatively small," he says. "Evaluation with a small sample of projects constructed in 2005 indicated about 6% reduction in all crash types and benefit-cost ratios ranging from 4 to 63. 
"We are now working on a larger scale study that is anticipated to have more reliable results," says Dr. Carol Tan, PhD, Team Leader, Safety Data & Analysis with the FHWA Office of Safety Research & Development says. "We typically need crash data for three years before and after construction of a safety improvement to develop accurate safety performance functions (SPFs) and crash modification factors (CMFs)."
An SPF is an equation used to predict the average number of crashes per year at allocation as a function of exposure and, in some cases, roadway characteristics (e.g. number of lanes).  A CMF is a measure of the safety effectiveness of a particular treatment. 
"Since we did not have adequate mileage of construction until 2011, we are just now completing the data collection and will soon begin analysis to calculate statistically significant CMFs," says Tan.
Contractor adoption
Fortunately, the Safety Edge requires only a very small change to the paving process. Attaching and removing the devices typically takes less than five minutes after the initial installation, so this has not been an issue. 
Some of the available devices are even simpler, as they come attached and only need to be raised and lowered to change from locations with the Safety Edge to those without.  The device does need to be monitored and occasionally needs to be adjusted. 
"This varies from project to project, but we have never seen a project where this requires extra personnel, as it can be monitored and tweaked as needed by the operator as the paver moves down the road," says Christopher Wagner, P.E., Team Leader with the FHWA Pavement and Materials Design Technical Services Team.
Most of the concerns raised by the contracting community typically occur before they actually install a pavement with the Safety Edge.  This has occasionally led to states limiting the use of the Safety Edge to those with the most need for the safety treatment (very narrow pavements) or those where it is easiest to install (thicker applications). 
"We believe this will change over time, however, as the contracting community gains more experience with the Safety Edge," says Wagner. "Several contractors have commented on how they prefer including the Safety Edge because it reduces the amount of corrective work needed from construction vehicles traversing the edge of the mat before it cools. Additionally, they see a safety benefit of the tapered edge during the construction process while traffic is exposed to the edge."
Safety Edge devices
The availability of a number of commercially available products has definitely been part of the successful implementation of the Safety Edge treatment. 
Many states were interested in building their own device initially, but most agencies have learned that their projects are more successful with a manufactured device, says Andy Mergenmeier, P.E., Senior Pavement and Materials Engineer with the FHWA Pavement and Materials Design Technical Services Team. 
"FHWA has assisted with field evaluation of the devices," he says. "Continued innovation by the industry has made the construction of the Safety Edge better and easier."
Some of the devices have certain features that make them more attractive for certain paving equipment, such as the ability to quickly and easily adjust the angle to accommodate different mixtures or field conditions, the ability to disengage and re-engage while paving at driveways or curb and gutter locations.
Some project personnel have tinkered with the devices to make their own improvements, as well, says Mergenmeier. And new devices continue to become available. 
"We've heard no complaints from contractors," says Jeff Cranson, TITLE, with the Michigan Department of Transportation (MDOT). "They've had to make modifications to some of their paving equipment in order to properly construct the Safety Edge. They've either purchased a device or made modifications to their current equipment. They understand the importance of safety and have complied."
Michigan's Local Technical Assistance Program (LTAP) has a paving shoe available to loan to local agencies. "This was part of an early demo project," says Cranson. "Since that time, contractors have responded by purchasing their own equipment."
Furthering the program
At the end of the initial EDC effort where Safety Edge was an initiative, most state DOTs had developed standard drawings and contract language to implement the Safety Edge on their paving projects. A few local agencies had also adopted Safety Edge as a practice. 
"Our focus in the last couple years has been on increasing use on the local road system, where the paved width is typically very narrow, and therefore the Safety Edge will have great benefit," says Satterfield.  "As with the state DOTs, we have found that 'seeing is believing,' so we have been hosting a number of open houses and demonstrations through the Local Technical Assistance Program (LTAP) Centers in each state."
In the last two years, FHWA has had demonstrations in Wisconsin, California, Tennessee and Alabama. "We plan to continue these as resources allow over the next year and make an extra effort to make local agencies aware of their state DOT's drawings and contract language," says Satterfield. "We also will conduct additional webinars once the crash modification factors are available."
Cranson says the open houses and demonstrations have aided in the development of MDOT guidance as well as acceptance of the initiative by MDOT and local agencies.
"Paving agencies have been very receptive to this potentially life-saving feature," he says. "The additional costs are minor when considering the feature adds safety to our roads and our 'Towards Zero Death' initiative."