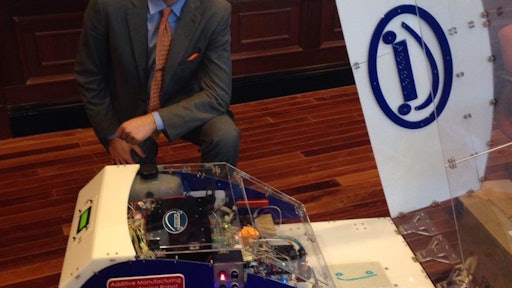 There's no doubt you've heard of the 3D printing revolution. These devices are being used to create anything from artificial organs to skyscrapers, and the technology is only advancing in its capabilities.
3D printers however tend to be large and heavy, which makes moving them around say, a construction site or roadway, unrealistic.
The bigger ones have to be rigged from a gantry and outfitted with a large reservoir to hold the printing material — materials like concrete if it's a construction job.
Robert Flitsch, a recent engineering graduate from Harvard University, was unhappy about the fact 3D printers are rarely portable. So Flitsch devised a compact model that has wheels. He's built four prototypes so far, and launched a start-up called Addibots that will produce and sell the little robots when they're ready for market sometime in the next two or three years.
What, you might ask, does this have to do with the road building industry? Well if your job requires crackfilling or pothole repair, Flitsch and his Addibots are here to help.
Mr. Roboto
In the simplest of terms, an Addibot is a combination of a 3D printer mounted onto a moving robot. This achieves a mobile interface for additive manufacturing (AM). Although a very simple concept in these terms, this "mobile AM interface," or the ability to move AM implements to any desired location or space, solves the issues and mobile limitations of large-scale 3D printing technologies and methods.
Many constructed surfaces exist in our world and these surfaces are subject to wear and may suffer damage over their lifetime that causes defects. Many methods that exist for repairing surface defects within road repair specifically. Flitsch asked how these repairs could be completed more quickly and precisely.
"Coupling computer vision capabilities with high resolution and precision AM implements, an Addibot is the perfect tool for many resurfacing applications, to either improve upon the methods or results of existing resurfacing applications, or to make new applications possible," Flitsch says. "With road repair for example, Addibots can drive down a road and sense cracks or pot holes while laying down material to fill and repair these defects at a constant driving speed. As well, with the same overall additive methods, Addibots are also able to construct entirely new surfaces, rather than just repairing them."
Flitsch and his team believe that Addibots will help contractors and state DOTs complete more work faster, not replace members of the workforce.
"In many areas of the world, the amount of necessary repair and construction tasks typically exceeds the bandwidth of the workforce employed to complete them," Flitsch says. "When these tasks take too long to be completed because of a lack of bandwidth, the condition of the roads being un-repaired further deteriorates, making each task even more costly and time consuming by the time it can be resolved, thus further limiting the budget and bandwidth of the workforce; with these inefficiencies causing further inefficiencies, the positive-feedback cycle continues, resulting in a poor road quality and higher cost of repairs for a given job.
"One of the main ways Addibots will solve these significant problems for firms within this market space, is by allowing for a drastic improvement in their bandwidth with respect to completing repair and construction."
A Safe Solution
Flitsch's first prototype was used to fill in cracks on ice surfaces that had been scraped by ice skates. That prototype carries a tank of water that had been pre-cooled to just above the freezing mark, then laid along cracks in the ice. This was important as a proof of concept for Flitsch.
Flitsch hopes his new models might be used for filling cracks or potholes in roadways. Like earlier prototypes, this one will have a series of printerheads attached to the undercarriage and will be able to print, in a range of materials, directly onto the ground upon which it drives. He sees his machine as a tool that would assist, rather than replace, road workers, while putting down a sealcoat, or filling in cracks, or, yes, even filling potholes.
The little bots will use the raw material — hot mix — to build up surfaces layer by layer, much like a desktop 3D printer would, but without the same space constraints.
Flitsch says that space is one of the main limitations that 3D printers have.
"You have to be printing inside this box, and you can really only print objects of the size of the workspace you're printing in," he says.
With his little robots, the world can be your workspace. Since his Addibots run on wheels, they could be used for any number of tasks connected with maintenance of road surfaces, including repairs on busy highways where workers are exposed to the most risk.
"Addibots would be a great way to move workers out of danger," Flitsch says. "It's envisioned that some Addibot unit types (particularly for operation on high-speed roadways) will be larger enough for operators to sit inside of during operation. In these cases, the operator will be better protected from the dangerous traffic speeding by while they conduct repairs or construction."