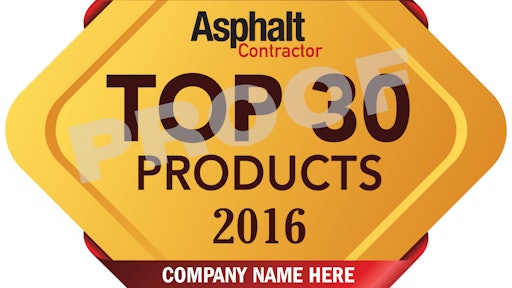 Your equipment fleet is one of the most important tools you have to manage every day. It's the lifeblood of your business and making the right equipment choices can mean the difference between a profit or a loss on any given project.
With that in mind, the editorial staff of Asphalt Contractor compiled a list of products they felt featured characteristics of durability, increased productivity, innovation, ease of use — and sometimes all of the above. All of these products are designed to help you get the job done faster, better, easier, safer and more profitably.
This is the third year Asphalt Contractor's editorial staff has chosen its Top 30 products, and as usual, the equipment and products chosen for this honor is a mix of the tried-and-true and the brand new. We scoured through the New Products section of past issues, talked to contractors, and also took into account how much interest these products received on the Buyer's Guide at ForConstructionPros.com/Asphalt. There were a lot of great product introductions in the last 12 months, and you guys took note by requesting additional information on those products at the website.
The asphalt industry continues to innovate with new technology. As you browse the next few pages, you can see each product's top features and benefits. For more information on any of these products, including videos, brochures and more, please click on their links below.
Atlas Copco Dyn@lyzer intelligent compaction system
Bergkamp MAXX surface treatment applicators
BOMAG BW206AD roller
Case 621F & 721F wheel loaders
Caterpillar B Series rollers
Carlson LED Blade Light Platform
Chicago Pneumatic LED light tower
Elevance Clean 1000 degreaser
Hamm GRW280i pneumatic roller
Invarion Rapid Plan traffic control software
Heatec Recon monitor
KPI-JCI/AMS Wizard Touch Automation System
Process Heating Co. Ridgid Tubular tank heaters
Road Science ArrMuls 1315 emulsifier
Sakai GW750-2 pneumatic roller
Soilworks Durasoil dust suppressant
Superior Industries Level Assist
Systems Material Temperature Capture
Volvo P7110B & P7170B pavers
Wirtgen America W100Fi, W120Fi, W130Fi cold mills