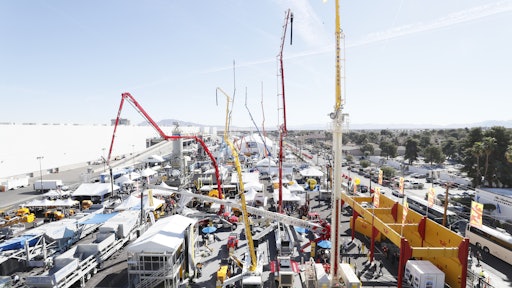 CONEXPO-CON/AGG
Every three years, North America hosts CONEXPO-CON/AGG in Las Vegas; and every three years, Asphalt Contractor Magazine pulls together a massive show issue filled with the news, products and technologies that have been announced thus far for the road building industry.
CONEXPO pre-show coverage can be found throughout this issue, with new product releases, education session previews covering paving technology and asphalt production, and the Road Builders Guide to CONEXPO map showcasing exhibitors tailored to our industry.
The map is designed to help attendees navigate the indoor exhibition space, plus the massive outdoor lot locations in a way that makes the most sense for their business. Asphalt contractors don't necessarily want to walk into a hall filled with engine components, so use the map as your guide to the exhibitors that will be most relevant to you.
One side of the map features an extensive layout of the halls with highlighted logos of manufacturers specific to the road building industry. The flip side of the map lists road building exhibitors in alphabetical order so you can pinpoint the specific companies you're looking for and find their location easily.
Be sure to stop by the Asphalt Contractor booth, located at N10565 in the North Hall, to watch exclusive show coverage and analysis of what's happening at the show. We will be broadcasting live with experts about the latest technology and trends we're seeing live at the event and discussing potential impacts for contractors.
Miss the Show? That's Ok!
In the case of CONEXPO, everything that happens in Vegas, doesn't stay there.
If you can't make it to the show, bookmark ForConstructionPros.com/ to get up to-the-minute show coverage plus post-show announcements and analysis of the show. Make sure you're also following us on Facebook as we'll be sharing live video from the show floor featuring exclusive interviews with product experts on what's being unveiled in Las Vegas.
We will also have a full CONEXPO show report in our March/April issue with the post-show coverage and product launches you missed so subscribe today at https://www.forconstructionpros.com/subscribe/print/acon.
As always, you can reach me at jlombardo@acbusinessmedia.com before, during and after the show to share what you'd like us to cover more of in the magazine. CONEXPO presents a huge opportunity for contractors to grow their business and we want to help any way we can.