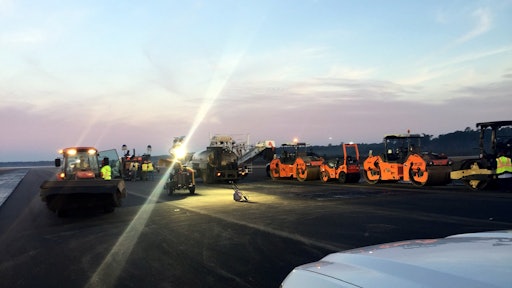 While the highway community's top priority is a safe surface transportation system, with budget constraints at all levels of government, it's also imperative to get the greatest value for every transportation dollar the American people invest in our roadways. In order to achieve this moving forward, there needs to be a nationwide focus on innovation in pavement design and construction.
"States right now only have so many dollars for road repairs and they have to stretch those dollars as far as they can," Ben Worel, operations engineer at the MnROAD pavement test track says. "One way of doing this is through innovation and the creation of industry partnerships to push the industry forward. And states need to do that because there's too much work to do and not enough money to do it if we keep doing things the same way we've always done them."
To accomplish this, many government agencies are starting to experiment with new techniques on their construction projects. Contractors working on these jobs know there's no shortage of opportunities to push their company and crew to try something new, whether they like it or not. While this can initially present challenges for your construction business, it also creates opportunities.
"Innovation in general allows the agency, along with the contractor, to really challenge the status quo out there in pavement design and really drive continuous improvement in our industry to advance the performance of our pavements," Justin Black, global category leader, road building, at Cargill says.  "With the low bid market contractors face today, innovative materials and practices allow contractors to find unique ways to lower costs, to be positioned as an industry leader and ultimately better compete in this kind of environment."
Finding a way to stretch your dollars and improve pavement performance is what innovation is all about and contractors should start taking ownership of introducing these new products and practices to the asphalt paving industry.
Who is Responsible for Innovation?
It's no secret that paving contractors are averse to change. As agencies begin to require new technologies or use of a different mix design than contractors are used to, you're likely to hear grumbles from the crew.
"Innovation does come with risk," Worel says. "States typically have very prescriptive language on how to build things and adding innovation on top of that which requires new materials and testing of those materials adds a risk for the contractor. Many times they aren't willing to bid on these projects if they think these new innovations will jeopardize their normal production, density or bonus incentives."
Once properly trained and acclimated to the materials however, contractors recognize the benefits of these innovations and are happy to implement changes that make their jobs easier while also enabling them to achieve a higher quality result.
"When contractors don't have a good handle on something new, like a new mix design, they tend to be risk averse and are reluctant to implement or try to bid on projects utilizing that technology," Black adds. "But bringing those ideas to the table first, before they are mandated, is what will set them apart from other bidders."
Worel with MnROAD agrees.
We created the MnROAD test track not only to move road design and innovation forward, but also to help create open partnerships working together on common goals," he says. "These projects allow contractors to construct innovative pavements in an environment where a true partnership understands both failures and successes and the sections performance is documented and shared with a wider audience compared to a normal project that has limited participation. Having an open communication/partnership working towards common goals also helps lessen the risk for manufacturers and contractors who want to get involved."  
This means contractors need to be proactive in seeking out innovation for their projects and that starts with research and ultimately choosing the right people to partner with.
"Change is tough but it's important for contractors to understand there is a risk and a reward for these projects." Black continues. "If you are the one going to the agency with a new proposal or idea for their project, then you're one step ahead of everyone else."
Find the Right Partner for Every Job
The construction industry is full of people who are working hard to make our roads last longer and perform better for less money. Turn to these suppliers and manufacturers to help your company gain an advantage and to help you understand any risk you may be worried about.
The National Center for Asphalt Technology and the National Road Research Alliance (NRRA) are two partners that can help contractors educate themselves on the innovations that may be coming down the pipeline for our industry and help foster partnerships with the right people.
"The NRRA was designed to foster innovation and to help develop implementable products for road owners," Worel says. "Our research partnership expands across ten agency members and approximately 60 associate members made up of academia, contractors, consultants, materials suppliers and associations. This ensures high quality, relevant research that is based on the latest technology."
To advance pavement innovation further, the NRRA recently put out a call of innovation where suppliers and manufacturers alike could present their ideas and potentially receive research funding. Five projects were awarded funding to address industry needs.
"What this does is creates a streamlined process for agencies, suppliers and contractors to form partnerships around innovation instead of innovation being forced upon either party," Worel adds. "Not only does this push innovation in the industry, it also means the industry is going to receive proven products or techniques that extend pavement life."
Contractors who choose to partner on these projects should also proactively work with both the agency and the supplier to continue moving that innovation forward. That might be having pre-bid or pre-construction meetings to define and understand the technology and its benefits, define who is responsible for what on the project and to also ensure it's the right partnership for the project.
"By working with your supplier and the agency up front to push innovation forward, it gives contractors the opportunity to optimize their raw materials and optimize their designs and selection," Black says. "If they can do that, then they are able to provide the most cost effective and high performing pavement, which will benefit both the agency and the traveling public."
Don't Be Left Behind
Working with a new technology or mix design might not be on your radar today, but maybe it should be. Contractors who are continually pushing the industry forward through innovation and new construction practices will only see benefits to their business in the future.
This means contractors need to think more long term than short term when it comes to being innovative. If contractors are avoiding these types of projects long term, they're not going to fully understand the technology to be able to capitalize on new projects, meaning they may not be positioned well for future growth. If contractors start gaining knowledge of these technologies now however, when specifications inevitably change within a given agency, whether it be a state, county or city, contractors are then better positioned to execute and capture those dollars.
" We all can get caught up in the short-term needs of our business, but we should look at innovation with a long-term view," Black adds. 
Above all else, asphalt contractors need to be open and ready for change so that our industry continues to be seen as a leader in road design and construction.
"We need to push for innovation and challenge the status quo to continuously improve our practices," Black says. "This will extend the performance of our pavements and so we make sure we're building longer lasting, more sustainable roads. Not only that, we need to continue to innovate and push the performance criteria to position asphalt as the preferred pavement of choice by agencies."
Change is going to happen. There are challenges within our industry that need to be fixed and we need to push for innovation in our specifications to move the industry forward and contractors need to be ready for that. Why not start today? 
Companies in this article