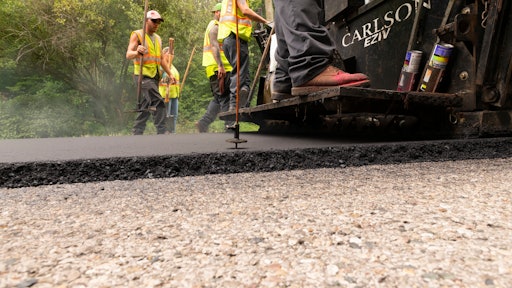 The use of recycled materials in asphalt has been an ongoing topic of conversation in our industry. On the one hand, recycled materials can benefit both our roadways and the environment if done correctly and with the proper research. On the other hand, the push to implement materials before thorough research is conducted is never advised.
In late 2018, media reports and social networks began generating an interest in the possibility of using recycled plastic waste in asphalt mixtures. The idea was marketed as an opportunity to simultaneously improve the quality of asphalt pavements and help address the issue of waste plastic in cities and towns across the U.S.
Dow has been the champion of using recycled plastics in asphalt pavements and have worked to install their product in several parking lots and roads around the country. We talked with C.J. DuBois, asphalt paving application development leader at Dow to learn more.
Question: Where did the idea to use plastics in asphalt come from? How did researchers know these materials would perform in asphalt mixtures?
Answer: Dow is committed to creating demand for recycled materials by diversifying markets and applications that will contribute to a global circular economy for plastics. That includes creating new technologies and initiatives that can transform used plastics into functional and valuable solutions. Asphalt is a sustainability success story as recycled asphalt pavement (RAP) and recycled tire rubber are commonly used materials today.
One of Dow's 2030 Sustainability Goals is Advancing a Circular Economy. This project is a great example of how Dow uses its technology and innovations to develop end markets, like recycled plastic modified asphalt (RPMA) for paving. Dow has asphalt binder labs in Texas and the Czech Republic. Additionally, Dow has partnered with key industry influencers, such as NCAT and NAPA, to demonstrate that these materials could meet current Performance Grade specifications.
Q: How long has Dow been introducing plastics in to asphalt mixtures?
A: Before our projects in the U.S., we began in Depok City, Indonesia, in 2017, when we partnered with the Indonesian government to help further its goal of reducing plastic waste in the ocean by 70% by 2025.
In early 2019, we completed our first U.S. pilot project of two RPMA roads at Dow's Freeport, TX site, incorporating 1,686 pounds of used plastic — the equivalent weight of 120,000 plastic grocery bags. Additional projects have taken place in Texas and Michigan. Dow has now incorporated recycled plastic into over 150 km of roads and parking lots around the world in Europe, Latin America, North America and Asia Pacific.
Before Dow began pilot projects that incorporate recycled plastic into asphalt roads, ELVALOY™ Reactive Elastomeric Terpolymer (RET) has been enhancing polymer modified asphalt (PMA) for over 30 years to improve the performance of asphalt roads. That's more than three decades of excellent performance, long service life and lower life cycle costs compared to conventional, neat asphalt.
Q: Why is using this product in roads beneficial? How many tons of materials can be recycled this way?
A: Third-party research shows that PMA roads are more durable than unmodified asphalt roads. Based upon accelerated lab testing, the use of recycled plastic alongside an elastomeric compatibilizer such as RET is expected to reduce life cycle cost, reduce resurfacing frequency (which can lead to less traffic interruption), increase safety for construction workers and the public, reduce energy consumption, and lower greenhouse gas emissions. Dow continues to monitor field sections containing recycled plastic to demonstrate use in roads is beneficial.
Q: What is the learning curve to using these mixes from a contractor perspective? Does the mix cool faster? Is it harder to compact? Or are the mix qualities similar to a hot mix asphalt?
A: Our experience with RPMA has taught us that the handling of mixes is similar to traditional polymer modified products. The mixes cool at the same rate and have similar compacting experiences.
On the Michigan paving projects, paving contractor Central Asphalt noted that the binder was a little heavier than they typically use on a parking lot and the PG 64-28 produces a little stiffer mix than they would typically use on a parking lot. The team indicated there was a little bit less time for handwork and for rolling to achieve the density they needed. However, the paving team was easily able to achieve the density without too much trouble since they were aware of the differences in advance and the rest of the paving was business as usual.
Q: How will asphalt mix producers need to modify their production process to accommodate these materials?
A: We do not expect any modification of production processes. PMA suppliers can expect faster processing time, lower temperature requirements, reduced H2S emissions, less odor and no separation issues. In fact, we've received feedback from partners who use ELVALOY™ RET in their asphalt mix that they're happy with the ease of processing and have not had to make any special changes to the process.
Again for the Michigan projects, K-Tech Specialty Coatings Inc., Ashley, IN, was used to blend the plastic into a PG 64-28 binder. K-Tech then delivered the liquid already blended to Central Asphalt.
The binder was stored on site for 20 days with no problem and the producer was able to meter the material and pump it into the mix just like they would do with regular asphalt.
Q: There has been a large push to use plastics in asphalt from sustainability leaders, while this is seen as a win-win from an outsider's perspective, many in the asphalt industry are concerned about the long-term quality of these plastic roadways. What is Dow doing to ensure the long-term success of these roads?
A: From a performance perspective, roads using PMA have been shown to be longer-lasting and more durable than conventional roads built with neat asphalt. Using the combination of RET and recycled polymers can meet industry specifications, per data generated so far from our projects.
Asphalt roads are inherently sustainable. End-of-life pavement is commonly recycled and reused in new pavement. Now, we're making these roads even more sustainable by adding used plastic to the asphalt mix to divert it from landfills. We're encouraged by the positive results we're seeing from these roads in North America and across the world. We continue to perform extensive road testing and monitoring to evaluate and optimize the technology so it can be adopted by regulating bodies and transport authorities in the future.
Dow believes that plastic waste has value and can be transformed into new products and energy. Dow is also at the forefront of developing and scaling chemical recycling technology to take recycled plastic waste back to feedstock for the creation of new products. By reimagining new ways to reuse, recycle and repurpose plastic waste, Dow and its partners are leading the way in the development of innovative circular economy solutions.