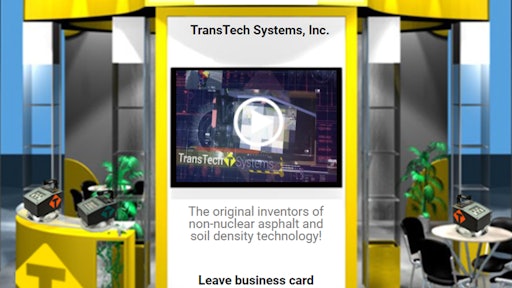 Spring is officially tradeshow season. We attend many industry events from January-April and always bring back the latest news and equipment introductions for the asphalt industry to showcase to our readers. That is of course not the case in 2021. 
While we can't wait to get back out there and travel, the industry in the meantime has been forced to figure out how to continue to move forward while much of the world stands still. 
Education Still Important
While live exhibit hall events aren't taking place, there are more virtual events taking place than ever before. This is a bonus to many in the industry who may have been unable to attend in-person events but can now attend from their home and offices instead of having to travel. 
Industry associations were the first to lead the charge with these type of events, stressing the importance of member meet-ups to keep conversations going about adapting to COVID. There have been countless association meetings held virtually with opportunities for members to network with each other to continue to grow their business even during these uncertain times.
In addition to association meetings, national industry events like World of Asphalt and the National Pavement Expo held virtual conference sessions this year. Many speakers who were scheduled to appear in-person agreed to adapt their presentations to a virtual platform allowing attendees to still gain the industry knowledge they need to drive their business in the new year. 
Industry Innovations
Then there's the iron. Boy do we miss being able to kick some tires. But that doesn't mean companies have stopped innovating. 
And because opportunities haven't stopped as a result of the pandemic, many construction companies are still in buying mode, looking to purchase the equipment and technology they need to keep their businesses moving forward.
The online events have given construction equipment manufacturers the opportunity to network with contractors through virtual tradeshow booths. These online tradeshows give contractors a chance to connect with a company that creates a product they need or potentially learn about a new product they weren't aware of. 
While nothing will replace an in-person networking event, these types of virtual booths give contractors the opportunity to learn more about a product without having to talk to a company representative at a booth. Attendees can speak to someone virtually if they wish or just drop a "business card" to be contacted at a later date to learn more. 
Did you pick up a new skill during the pandemic because you had time on your hands? Maybe your favorite piece of machinery did too. Equipment manufacturers are continuing to create and unveil new equipment. As they should since contractors still want and need the best technology and iron that's available to them. 
Be sure to follow Asphalt Contractor on social media where we'll be highlighting new equipment throughout the month. Don't let this pandemic put your company behind the competition. Continue to learn, grow, innovate and adapt. We'll all come out of this stronger than ever.
Stay safe out there.