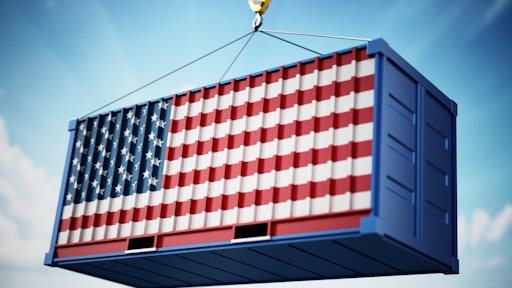 Adobe Stock/Destina
Recently, the "Endless Frontier Act" (S. 1260) passed in the Senate. The largely umbrella bill assembled by Majority Leader Charles Schumer (D-NJ) addresses a lot of issues about U.S. economic competitiveness, particularly with China. 
The bill also includes a comprehensive overhaul of "Buy America" rules from the Homeland Security and Governmental Affairs that would require a wide variety of "construction materials" such as asphalt cement, binder, stone and gravel used in federally funded projects to be made in America. While the industry supports utilizing American labor and materials, when possible, these provisions would make it much more difficult for the construction industry to use basic construction materials not sourced in the USA.
The waiver process for Buy America, which would be applicable to each federally-funded project, would create a bureaucratic and overly burdensome process that would require thousands of waivers on Federal Highways projects alone.
The U.S. Department of Transportation (DOT) has issued only five Buy America waivers in four years. If Buy America is expanded to include construction materials, state DOTs and contractors will bear the burden of filing thousands of waivers to use imported asphalt— with no guarantee or track record of approval. 
Asphalt Industry Impacts
While the goal of the Endless Frontier Act is to increase U.S. competitiveness with China, limiting supplies could end up leading to serious cost issues and
U.S. Energy Information Administration consequences for the construction industry. Most binder used in the U.S. is already produced in the U.S., but according to the National Asphalt Pavement Association (NAPA), there are four refineries (two of which are very small) on the East Coast that produced about 2.2 million (MM) tons of asphalt binder in 2020. At 5.9 MM tons, asphalt binder demand in that region was almost 170 percent more than available supply. 
As a result, about 12 percent of binder materials are imported, and 88 percent of that comes from Canada. "Those imports would be subject to Buy America restrictions and could not be used in federally funded projects without applying for project-based waivers, which are difficult to obtain," NAPA says. "Due to refinery and transportation logistics, meeting the current asphalt demand from other U.S. regions is not enough to fill the gap between supply and demand." 
In an effort to help legislators grasp the very real and negative impacts of these proposals on the asphalt pavement industry and the federal government's vast investment in infrastructure, NAPA has developed an issue brief to address concerns for the asphalt industry. 
If passed, costs to build and maintain U.S. highways—especially in regions like New England, East Coast and Midwest—would skyrocket. With the federal government on the precipice of major investment in infrastructure NAPA says that investment would not go as far, especially for states in impacted regions if these provisions are passed.
Aggregate Supplies Also Impacted 
According to United States Geological Survey (USGS), 30 million tons of aggregate were imported into the US in 2019. Around 50 percent of these imported aggregates are used in state department of transportation projects. Aggregates are limited by geology in coastal states and the supply chain in states and are supplemented with aggregates from Western Hemisphere countries like Canada, Mexico and Caribbean nations.
In a letter sent to Congress, 13 industry associations expressed their concern over the Buy America provisions in S. 1260 for the aggregate industry. Areas light in rock supply obviously have to get aggregate from rock-dense areas. With rocks being so heavy and bulky, transporting them long distances via truck, over the roadways, quickly gets prohibitively expensive, and also does disproportionate damages to roads.
"By including aggregates under Buy America, Congress is disrupting the materials supply chain and increasing the cost of construction. As a result, coastal states like Alabama, California, Florida, Louisiana, Michigan, New York, Oregon, South Carolina, Texas and Washington will have a diminished return on their infrastructure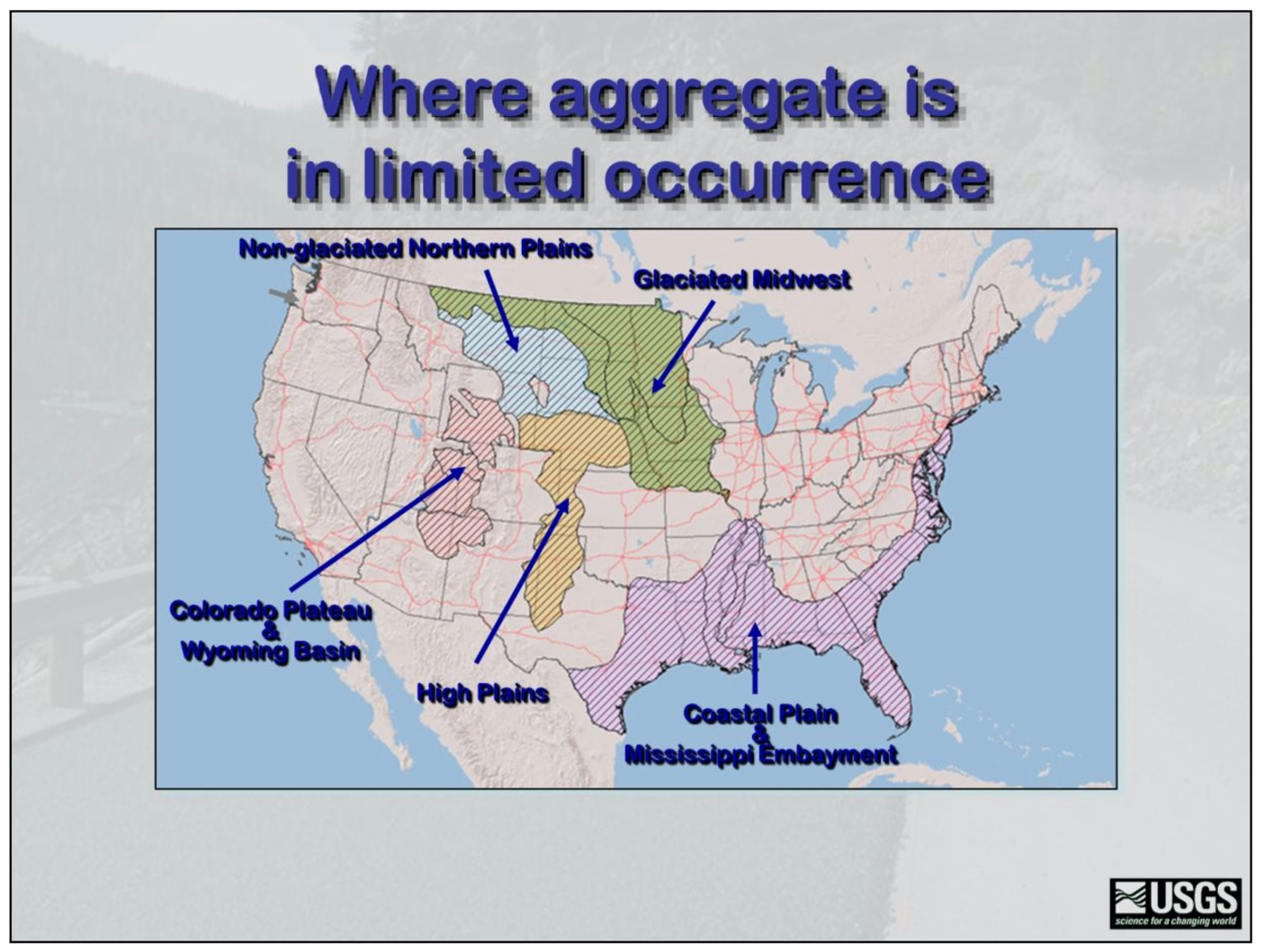 United States Geological Surveyinvestments, because the price of raw materials will be higher," the letter said. "For inland states, as aggregates prices inland increase, overall construction costs will similarly increase and will reverberate across countless public work projects."
According to the National Stone, Sand & Gravel Association (NSSGA), unintended consequences of adding aggregates to the Buy America provision include:
Additional cost of $6-$10 per ton in transportation costs (1 ton of aggregates currently costs ~ $10) or 30-50 percent increase from sourcing aggregates from locations within the U.S.
Adding an additional 116,350 truckloads of aggregates into NYC 
Straining domestic quarries and inflating prices due to decreased supply availability 
Eliminating limestone in GA because there are no economically competitive sources
Extensive project delays
Increased road wear-and-tear due to added heavy trucks
Increased GHG: 1 barge vessel of aggregate replaces 625 40-ton trucks 


Equipment Industry Concerns
The construction equipment industry has similar concerns with the expanded Buy America provisions that have been proposed. Construction equipment, machinery, and related supplies vital to build and repair the nation's infrastructure are sourced from global supply chains.
Domestic content requirements and similar restrictions on equipment used on road and bridge projects are detrimental to equipment dealers, manufacturers and contractors working to rebuild America. And expansion of Buy America could actually suppress domestic manufacturing activities.
The Solution
Sen. Bill Hagerty (R-TN) and seven other Republicans introduced an amendment to the pending substitute (S. Amdt. 1885 – text is on page S3295 of the Record, here). The Hagerty amendment would strike all references to "construction materials" from the proposed new Buy America rule.
Legislation was also proposed to exclude cement and cementitious materials and aggregates such as stone, sand, or gravel. NAPA says that expanding this exemption to include the following text will allow the continued use of imported high-quality liquid asphalt binder, mostly from Canada, in asphalt pavement production:
"Construction materials" shall not include asphalt binders, emulsions, asphalt additives, or other petroleum products required in the production of asphalt pavements.
As the House and Senate take up bills to fund and reauthorize the Federal-Aid Highway program, legislative text needs to be developed and fully evaluated to understand the impacts this legislation would have on suppliers to the publicly funded highway market using federal funds.  The implementation phase of any bill enacted by Congress will be critically important as well.   It is essential to get the legislative text right to minimize unintended consequences and disruptions in the supply chain.