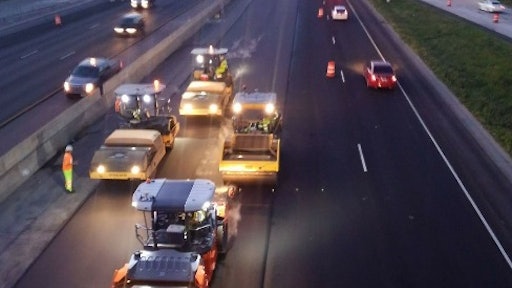 National Work Zone Awareness Week (NWZAW), held April 9-13 2018, attracts national attention to the risks road construction workers face every day while they are just trying to do their jobs. Since 1999, FHWA has worked with the American Association of State Highway and Transportation Officials (AASHTO) and the American Traffic Safety Services Association (ATSSA) to raise awareness to the traveling public about these risks with the hope that they will give work zones their undivided attention and slow down. 
Work zones play a key role in maintaining and upgrading our nation's roadways. Unfortunately, daily changes in traffic patterns, narrowed rights-of-way and other construction activities often create a combination of factors resulting in crashes, injuries and fatalities. Each year, more than 50 highway workers are killed and thousands more injured when struck by vehicles or equipment at road construction site and in In 2016, 764 people lost their lives in roadway work zone accidents. The vast majority of those killed were motorists not paying attention. 
This is proof that work zone incidents impact everyone. In addition to vehicular crashes and fatalities, the leading cause of death in the road and bridge construction sector are run overs, back overs and falls. Simply put: drivers, passengers and construction workers are all at risk. Driving habits can directly help—or harm—the well-being of other motorists, cyclists, workers, and pedestrians, including you.
It's important for everyone to do their part to improve work zone safety which is why the theme of NWZAW for 2018 is: Work zone safety is everybody's responsibility.
Get involved in NWZAW in your state. Find out the events they are hosting here and don't forget to show us your photos wearing orange on Wednesday, April 11th 2018. Submit them to our Facebook page and we'll be sharing them all day long! 
Thanks for helping spread the word about work zone safety. #OrangeLivesMatter.