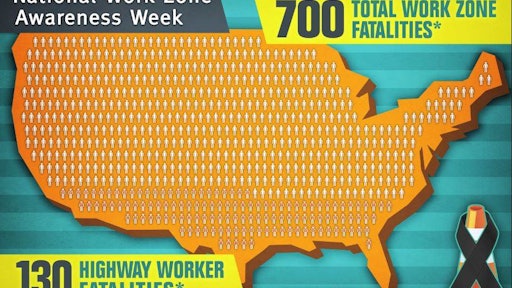 National Work Zone Awareness Week (NWZAW) is an annual spring campaign held at the start of construction season to encourage safe driving through highway work zones. The key message is for drivers to use extra caution in work zones. 
The 2017 version of "Work Zone Awareness Week" – an annual nationwide campaign to focus motorists' on safety risks in roadway work zones – will start April 3 while the South Carolina Department of Transportation is mourning the recent deaths of two employees and injury of another from a hit-and-run crash.
It is just a recent example of the toll in deaths and injuries that work zone crashes produce each year, as drivers rush through the zones and too often lose control of their vehicles. Each year state DOTs and contracting crews suffer losses when drivers strike workers in those zones, while many other work zone crashes kill or maim drivers or their passengers.
A driver struck the three SCDOT workers March 13 in Aiken County as they were reportedly inspecting a roadside ditch while a department truck was parked with flashing lights to warn approaching motorists.
An SCDOT announcement said the deaths and injury occurred "when apparently a motorist left the roadway and struck the crew."
The workers who died were Anthony Redmond and Robert L. Clark, both of whom had long careers in the transportation field. Redmond had worked at the SCDOT for 22 years, the agency said, while Clark had worked at the SCDOT and in the private sector for more than four decades.
South Carolina Transportation Secretary Christy Hall said the department was stunned by the tragedy. "Our SCDOT family has suffered the loss of two of our team members this morning," she said that day, as she also reminded drivers that DOT employees are at grave risk in work zones.
"While we mourn these losses," she said, "I would urge all South Carolinians to be cautious at all times while on the roads, and use extra care when approaching work zones. The men and women of SCDOT are dedicated public servants and we want them all to return home each night to their families."
The National Work Zone Awareness Week – held each spring at the start of road construction season – is organized by an executive committee comprised of representatives from the Federal Highway Administration, American Traffic Safety Services Association and AASHTO. Since 1999 these others have joined the coalition: The Federal Motor Carrier Safety Administration, American Road & Transportation Builders Association, Associated General Contractors and the departments of transportation from Virginia, Maryland and the District of Columbia.
This year's central message to drivers, as a campaign poster says, is that "Work Zone Safety Is In Your Hands." The official campaign week is April 3-7, but some DOTs regularly carry the special messaging effort beyond that period.
Go Orange on Wednesday, April 5th. 
All roadway safety professionals across the country are encouraged to wear orange to proudly show their support of work zone safety.
Go Orange Day and NWZAW is an important time to show your support of the roadway safety industry, especially to the families of victims who have lost their lives in work zones.
This year for Go Orange Day, ATSSA is expanding their focus to not only photos, but also videos. ATSSA wants to see videos of you or a group wearing orange and telling us why you support Go Orange Day and NWZAW, doing something fun, safe and creative.