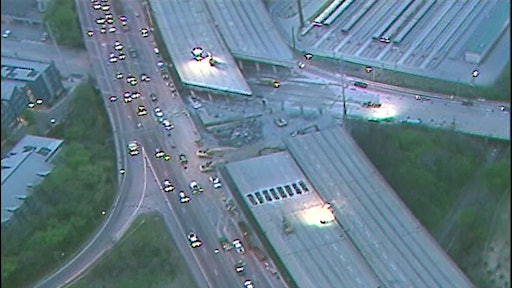 The middle of June is when the Georgia Department of Transportation is expecting the I-85 bridge to be rebuilt. 
The initial timeline given soon after the collapse said the rebuild could take until the end of the year. The department said a combination of factors is why they are able to complete the project within 10 weeks.  
GDOT will use the same beams the interstate is built on and wrap them in new material. They also did not go through the traditional bidding process for contractors.
Demolition of the bridge is expected to be completed Tuesday evening and contractor CW Matthews has been hired for this project. CW Matthews completed other road projects in the state, including work on GA 400.
The contractor has financial incentives to complete the project on time and ahead of time. There are also financial penalties if the project takes longer than projected. GDOT feels confident that the project could be completed safely in those 10 weeks.
Federal emergency dollars were received to help fund the project. The $10 million in emergency federal aid is only the beginning of what it will cost to repair I-85 but it is a start, "We fully expect the first 10 million to make a big difference in the overall cost of this process," McMurray said.
"We do know that there are other federal funds available. This was a quick release of federal funds to get the money quickly." 
The full cost has not been determined but GDOT and federal agencies are conducting different analyses to determine that figure.  It has also not been determined how much money Georgia taxpayers will spend on the reconstruction.