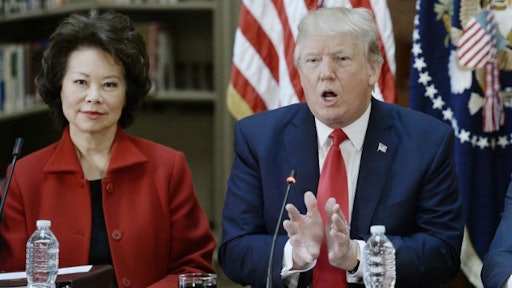 The Department of Transportation (DOT) plans to create new top-level roles and reshuffle other positions in order to put more muscle behind two of President Trump's priorities: infrastructure investment and modernizing the Federal Aviation Administration (FAA).
The realignment was announced during a high-level internal meeting on Tuesday, according to sources close to the meeting, with the goal of putting the agency's top brass in charge of the president's initiatives.
Secretary Elaine Chao intends to appoint James Ray to be a senior adviser on infrastructure. Ray, now a principal at KPMG, previously worked at the Office of Management and Budget and also served as acting administrator of the Federal Highway Administration and general counsel for DOT from 2006 to 2008.
Ray will lead DOT's task force on infrastructure and work closely with the White House as the administration crafts a $1 trillion package to upgrade U.S. roads, bridges and other public works.
More from The Hill.