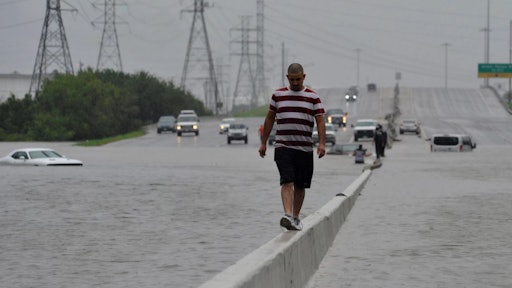 A federal highway agency is providing $25 million in emergency aid for Hurricane Harvey repairs, as Texas grapples with catastrophic flooding that has wreaked havoc on its transportation and infrastructure system.
Transportation Secretary Elaine Chao directed the Federal Highway Administration (FHWA) on Tuesday to immediately release $25 million in emergency relief funds to Texas so the state can start to restore critically damaged roads, bridges and highways.
The approval, which came promptly after Texas requested the emergency funds, comes as local Houston officials have warned that some roads and bridges in the area are starting to buckle under the pressure of floodwaters from Harvey.
"I have mobilized the Department of Transportation to provide whatever assistance Texas requires to restore the state's transportation systems," Chao said in a statement. "The funding provided today will help the state to act immediately and represents the beginning of our commitment to help repair Texas' affected infrastructure."
The federal emergency relief program helps states pay for highway, bridge and other infrastructure repairs in the wake of natural disasters or catastrophic events. 

The FHWA said it will continue to work closely with federal, state and local partners to support the local relief and recovery efforts to Hurricane Harvey.
More from The Hill.