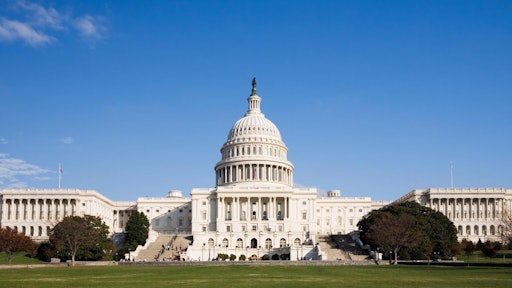 The House Appropriations Committee approved the fiscal year 2019 Transportation, Housing and Urban Development funding bill by voice vote on May 16, which allocates $71.8 billion in discretionary spending to the U.S. Department of Transportation and HUD – $1.5 billion above fiscal year 2018.
"For too long, the transportation infrastructure in our nation has been neglected, which has dampened growth and efficiency. This bill will provide a much-needed boost in funding for improvements in our infrastructure system – whether it is roads, rail, transit systems, or air and waterways," noted Rep. Rodney Frelinghuysen, R-N.J., the committee's chairman, in a statement. "It also supports core community and housing programs to ensure shelter for our most vulnerable citizens, and to provide better opportunity for our local communities to thrive."
This is only the first of several steps in the budgeting process, however – a process that could last through the summer. Once a subcommittee produces and passes an appropriations bill, it gets taken up by the full appropriations committee for a vote, where it may be amended. The process works in identical fashion in both the House and Senate; thus their respective spending bills must then be reconciled. Once that reconciled and passed by both chambers of Congress, spending bills then get signed by the president – usually ahead of the start of the federal government's fiscal year, which begins on Oct. 1.
Specifically for USDOT, the bill includes $27.8 billion in discretionary appropriations for fiscal year 2019, which is $542 million above fiscal year 2018. In total budgetary resources, including the Highway Trust Fund, the bill provides $87.8 billion to USDOT, the committee noted.
Several key provisions of the fiscal year 2019 funding bill, which honor funding levels authorized under the Fixing America's Surface Transportation or "FAST" Act, include:
Some $750 million for the new BUILD grant program, formerly known as TIGER, with language included to ensure a "balanced allocation of funding," with $250 million is set aside for projects in urban areas (areas with a population over 200,000), $250 million is set aside for projects in rural areas (areas with a population under 200,000), and $250 million set aside for port projects.
The Federal Highway Administration gets $45.3 billion for Highway Trust Fund highway programs, which is $1 billion more than fiscal year 2018 and is consistent with the authorized levels of the FAST Act.
In addition, the bill provides $4.1 billion in formula highway funding above the FAST Act levels from the general fund, which is $2 billion higher than similar supplemental funding in fiscal year 2018.
The National Highway Traffic Safety Administration gets $982 million, an increase of $67 million over fiscal year 2018, with $666 million included for the Federal Motor Carrier Safety Administration and some $275 million for the Pipeline and Hazardous Materials Safety Administration, which is an increase of $3 million over fiscal year 2018.
The bill provides "regulatory relief" to certain segments of the trucking industry by extending the prohibition on enforcement of the electronic logging device or ELD regulation in the case of livestock and insect haulers.
Federal investments in rail infrastructure and safety programs are funded at $3.2 billion – some $62.5 million over fiscal year 2018 – with rail safety and research programs getting $262.3 million.
The "State of Good Repair" rail grant program gets $500 million, which is $250 million above fiscal year 2018, to address "critical rail investments nationwide" and on the Northeast Corridor.
The Consolidated Rail Infrastructure and Safety Improvements grant program gets $300 million, a decrease of $292.5 million from fiscal year 2018, which includes $150 million for grants to rail operators to install positive train control (PTC) technologies.
The Federal Transit Agency gets $13.6 billion in total budgetary resources, which is $141 million above fiscal year 2018. Transit formula grants from the HTF total $9.9 billion. Capital Investment Grants receive $2.6 billion from the general fund to support, of which $1 billion is included for current Full Funding Grant Agreements and $1 billion is dedicated to new projects.
To supplement HTF formula dollars, an additional $800 million in transit infrastructure grants from the general fund – $34 million less than fiscal year 2018 – is included as well, with $350 million targeted to "modernizing" bus systems, $250 million in formula grants to assist both rural and urbanized areas invest in transit, and $200 million for capital assistance to transit systems across the country to maintain a state of good repair.
The Maritime Administration gets $830.2 million, which is $149.4 million below fiscal year 2018