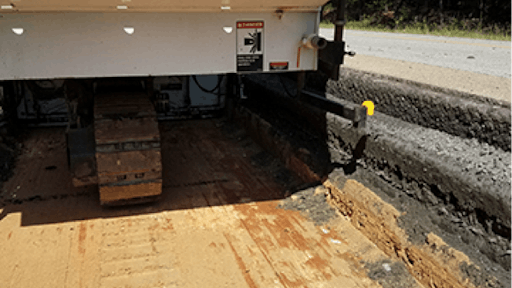 NCAT ​(The National Center for Asphalt Technology) has a 1.7-mile test track used for asphalt pavement testing and research. The facility is so important to the advancement of asphalt technologies that Roadtec donates their time, equipment and personnel to the test track.  
Recently, Charlie Butler, Roadtec's product training manager, and David Bussard, demo specialist, milled a portion of the track with an RX 900E they donated to NCAT. 
Butler and Bussard milled 3/4-in. deep all the way to 42-in. deep. This donated work allows NCAT to put down a new base and new asphalt to facilitate continuous testing of material. 
Every year Roadtec donates their resources to NCAT so that they can support them in their mission to provide research, technology and education that advance safe, durable and sustainable asphalt pavements.
"Without the NCAT test track, our roadways would be where all the experimental asphalt would be tested," Butler says. "The test track is essential to the entire asphalt industry."​
Companies in this article