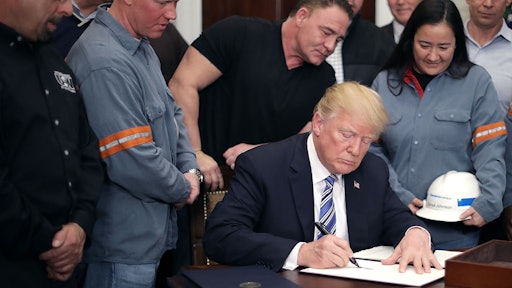 Getty Images
In May, unemployment fell to 3.8 percent—its lowest level in nearly 50 years. There are currently more job openings than unemployed workers in the US, and companies are having a hard time finding enough workers with the right skills. Many new jobs require more than a high school education, but not necessarily a four-year degree.
This high-energy growth environment presents both a challenge and an opportunity. The challenge is that companies must find more workers with specific skill sets to fill an increasing number of open jobs. The opportunity is that with more affordable, relevant training, many American workers will now have the chance to move into better jobs that deliver bigger paychecks.
President Trump promised to make Government work for ordinary Americans, and support for workforce training is key to that vision. 
FedEX, General Motors, Home Depot, IBM, Lockheed Martin, Microsoft, Walmart and 16 other companies and trade groups signed a pledge to expand apprenticeship programs, increase on-the-job training, and educate both students and workers throughout their careers.
The executive order also establishes the National Council for the American Worker, which will consist of cabinet members and senior White House officials. They are charged with developing a national strategy to train Americans for the skills they need to fill open jobs now and in the future.
The order also created the American Workforce Policy Advisory Board that will bring together governors with business executives and educators.
The government currently helps fund 40 job training programs spread across 14 agencies. The White House has proposed a plan to "reorganize and consolidate" the $17 billion it spends on those programs.
Read more from The White House.