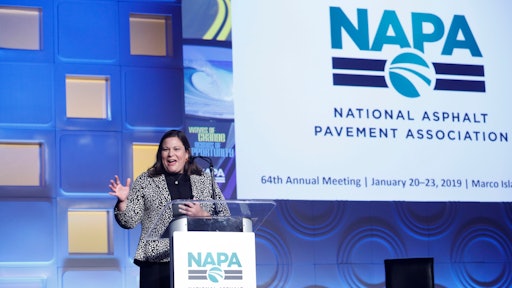 Audrey Copeland, Ph.D., P.E., is the new President & CEO of the National Asphalt Pavement Association (NAPA). She took the association's helm  during a ceremony at the NAPA's 64th Annual Meeting in  Marco Island, FL.
Copeland was named to succeed Mike Acott, who served as NAPA's President since 1992, in September 2018 and has served as NAPA's Chief Operating Officer since then, working with Acott to ensure an orderly transition.
In her address to NAPA members, Copeland pledged to continue NAPA's tradition of working to safeguard the asphalt industry, strengthen alliances and collaborations, and modernize the way the industry and the association do business.
"NAPA is in a position of strength and financially sound, having grown in membership and reputation over the past 30 years," Copeland says, "We will continue to stay focused on delivering value to our members. Our willingness to take on challenges with integrity and a focus on collaboration will not change."
Copeland joined NAPA in 2012 as Vice President for Engineering Research, and Technology. In that role, she has grown NAPA's engineering team and forged strong relationships with the State Asphalt Pavement Associations, Asphalt Pavement Alliance, National Center for Asphalt Technology at Auburn University, the Asphalt Institute, Federal Highway Administration, and other industry professionals and partners. She also served as technical lead for more than $2 million in industry-funded research projects, and secured a cooperative agreement with the Federal Highway Administration that has invested more than $2 million in government funding to advance asphalt technologies.
Prior to NAPA, Copeland served as a highway and materials research engineer with FHWA. She earned her doctorate in Civil Engineering from Vanderbilt University, and holds master's and bachelor's degrees in Civil & Environmental Engineering from Tennessee Technological University. She is a licensed Professional Engineer in Maryland and Virginia.
Harper Selected as 2019 NAPA Chairman
During the annual meeting, John Harper, senior vice president of Construction Partners Inc., was sworn as the 2019 Chairman. As chairman, Harper is responsible for guiding NAPA's efforts to support the asphalt pavement industry.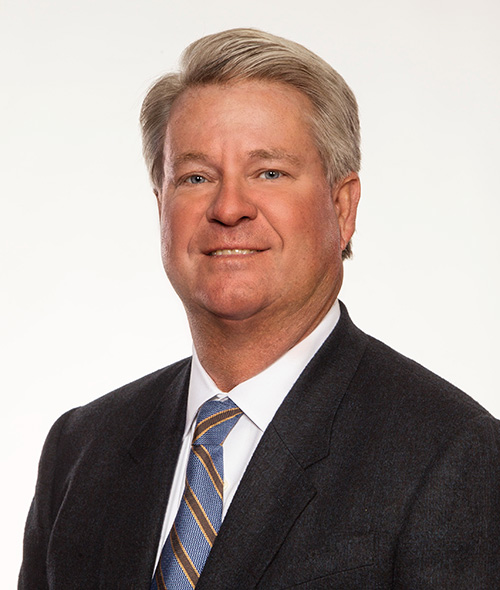 John Harper, senior vice president of Construction Partners Inc., was sworn as the 2019 NAPA Chairman.
Based in Dothan, AL. Construction Partners Inc. (NASDAQ: ROAD) is a fast-growing civil infrastructure company operating 30 asphalt plants and offers paving and related construction services across five southeastern states.
Priorities for Harper's term as NAPA chairman include a focus workforce development. "Like other construction sectors, the asphalt pavement industry offers many rich and rewarding careers. Our challenge is to make young people aware of the good lives they can build for themselves by building America's infrastructure," Harper says. "NAPA is launching an ambitious effort to raise awareness of the opportunities asphalt offers, and we are committed to addressing today's workforce challenges while also positioning the industry for the future."
Harper will also work with NAPA's professional staff on the need for infrastructure investment and a stable funding stream for construction, maintenance, and improvement of the nation's infrastructure.
NAPA Installs 2019 National Officers
Other national officers serving with Harper for 2019 on the NAPA Board of Directors are:
* First Vice Chairman Dr. James Winford Jr., President of Prairie Contractors Inc. in Opelousas, LA;
* Second Vice Chairman James Mitchell, President of Superior Paving Corp. in Gainesville, VA;
* Third Vice Chairman Christian Zimmermann, President of Pike Industries Inc., a CRH Co., in Belmont, NH;
* Secretary Patrick Nelson, President & CEO of Lehman-Roberts Co. in Memphis, TN; and
* Treasurer Robert Doucet, Vice President of Colas Inc. in Morristown, NJ
The NAPA Board of Directors is responsible for the governance and oversight of the operations of the National Asphalt Pavement Association.
Harper has been an active member of NAPA, serving as the State Director for Alabama for five years, as well as chairing the Asphalt Pavement Alliance Deployment Committee and serving on task groups focused on introducing warm-mix asphalt to the United States and increasing the use of reclaimed asphalt pavement.
Companies in this article