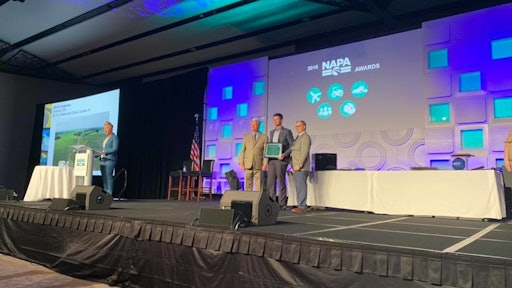 The National Asphalt Pavement Association honors asphalt industry leaders each year at their annual meeting. Join us in congratulation the award winners and finalists in each category. 
NAPA Honors Asphalt Industry Leaders for Operational Excellence
"NAPA members strive for excellence in constructing high-quality asphalt pavements and in every aspect of their operations. The two Operational Excellence Awards categories — Asphalt Operations Safety Innovation and Community Involvement — recognize a company's commitment to operational practices that make them good contractors, good industry ambassadors, and good neighbors," says NAPA Chairman Craig Parker.
The 2018 winners and finalists honored during the ceremony include:
Asphalt Operations Safety Innovation Award Winner:
·     Kokosing Materials Inc. of Fredericktown, OH, for its Field ID Lockout/Tagout Program 
Asphalt Operations Safety Innovation Award Finalists:
·      Allan Myers of Malvern, PA, for its Portable Crusher with Custom Safety Features
·      Lakeside Industries Inc. of Issaquah, WA for the company's Customized Multifunction Safety & Health App 
Community Involvement Award Winners:
·      West Kentucky Strategic Marketing Area Community Involvement at Rogers Group Inc., of Hopkinsville, KY
·      Tilcon Gives Back at Tilcon New York Inc., A CRH Co., of Parsippany, NJ
Community Involvement Award Finalists:
·      Callanan Cares at Callanan Industries Inc., A CRH Co., of Albany, NY
·      Green Team and Volunteer Activity Committee at Des Moines Asphalt & Paving, A CRH Co., of Des Moines, IA
·      Northern Middle Tennessee Strategic Marketing Area at Rogers Group Inc. of Gallatin, TN
Granite Construction Co. Wins National Airport Paving Award
Granite Construction Co. of Buellton, CA, won the 2018 Ray Brown Airport Pavement Award for excellence in construction of an asphalt airport pavement. Granite Construction Co. won the award for its work on Santa Barbara Municipal Airport Runway 7/25.
The project consisted of a 5-in. cold planing of the existing surface on the main runway, followed by a variable thickness leveling course. Due to the grade requirements of the two paving courses, 3D total station paving equipment was used. Proper planning was essential to ensure uninterrupted and continuous operation throughout the shift, and the 3D models were regularly updated to ensure proper grades were obtained.
Working in tight areas with short nightly paving windows were two significant challenges the project posed. Additionally, the runway needed to be cleaned and inspected before opening to aircraft in the morning. This required cold planing and paving operations to be performed in the same shift along with striping operations to replace major runway markings. Proper planning was crucial to ensure the runway was open for normal airport operations without any delay to commercial and private aircraft. Daily communication between the grinding crew, paving crew, asphalt plant, trucking company, sweepers, striping contractor, and airport operations/security was key to the success of the project.
The award is named after Ray Brown, the Director of the National Center for Asphalt Technology from 1991 to 2007. Under Ray's guidance and tenure, the center became renowned for its asphalt pavement research. The award is presented to the highest scoring Quality in Construction — Airport Pavement project.
Asphalt Contractor Announces 2018 Larry H. Lemon Award Winners
The Larry H. Lemon Quality in Construction Award recognizes the 10 highest-scoring projects submitted for a Quality in Construction Award in the General Paving (less than 50,000 tons) category. The award is sponsored by Asphalt Contractor magazine.
"The asphalt pavement industry is committed to building high-quality projects that deliver superior performance to the traveling public. All contractors' projects earning a Quality in Construction award are measured against best practices designed to live up to that commitment," says 2018 NAPA Chairman Craig Parker.
The 2018 winners and their projects, arranged alphabetically, are:
•       APAC-Kansas Inc., A CRH Co., of Hays, Kan., for its work on US 160 in Meade and Clark Counties
•        Delta Cos. Inc. of Cape Girardeau, Mo., for work on various roads in Pemiscot County
•        John R. Jurgensen of Cincinnati, Ohio, for SR 4 in Fairfield, Ohio
•        John R. Jurgensen of Cincinnati, Ohio, for SR 72 in Greene and Clinton Counties
•        Louisville Paving & Construction Co. of Louisville, Ky., for work on Shelbyville Road in Jefferson County
•        Martin Marietta of Lakewood, Colo., for Westmoor Technology Park Parking Lot in Westminster, Colo.
•        Martin Marietta of Lakewood, Colo., for White Deer Drive and Elkhorn Street in Littleton, Colo.
•        P.J. Keating Co., A CRH Co., of Lunenburg, Mass., for work on various roads in Portsmouth, R.I.
Dr. Jim Melius's Legacy Honored with Kenyon Award for Research and Education
James (Jim) M. Melius, M.D., DrPH, has been honored with the Ronald D. Kenyon Award for Research and Education. The Ronald D. Kenyon Award for Research and Education is awarded by NAPAREF to recognize outstanding contributions to research and education surrounding asphalt pavement technology; environmental, health, and safety; and asphalt pavement sustainability.
Dr. Melius, who passed away in January 2018, was an occupational physician and a national and international leader in occupational medicine and epidemiology. He earned the Kenyon Award for his life's work of improving the health and safety of workers, including his efforts to build industry–labor–government partnerships focused on developing collaborative solutions that improved worker safety. In particular, Dr. Melius's work with the National Construction Safety and Health Research Program, the Asphalt Paving Machine Engineering Controls Initiative, and the Silica/Asphalt Milling Machine Partnership have had a long-lasting positive impact upon the asphalt pavement industry.
"Jim was an unfailing support of NAPA's efforts to bring sound science to environmental, health and safety issues associated with the asphalt industry," said Peter Wilson, Chairman of the NAPAREF Board of Trustees and President & CEO of Barriere Construction Co. in Metairie, La. "Over a period of about 20 years, Jim made many trips and invested countless hours in NAPA's partnership efforts seeking engineering solutions to ensure worker health and safety."
The Kenyon Award is named after past NAPAREF Chairman Ronald Kenyon who was the driving force behind the establishment of the National Center for Asphalt Technology at Auburn University. Since 1991, the Kenyon Award has honored those deserving individuals whose work and leadership have made a significant contribution to the advancement of the asphalt pavement industry.
NAPA Announces Winner, Finalists for Top National Award for Quality in Asphalt Paving
The 2018 Sheldon G. Hayes Award for excellence in construction of an asphalt pavement has been bestowed annually since 1971 and recognizes the country's highest quality highway pavements.
Lindy Paving and the Pennsylvania Department of Transportation were named the winner of the 2018 Sheldon G. Hayes Award. Lindy Paving won for its work on I-79 in Butler County.
Finalists for the award were APAC-Central Inc., A CRH Co., and the Missouri Department of Transportation for work on Route 60 in Mansfield, Mo.; and S.T. Wooten Corp. and the North Carolina Department of Transportation for US 64 in Nash County.
The Sheldon G. Hayes Award winner and finalists are determined through a two-year evaluation process. All highway pavement projects using more than 50,000 tons of asphalt are eligible for consideration. Initially, the project must win a Quality in Construction (QIC) Award, which is determined by numerical scores given by an independent pavement engineers on the basis of how well the contractor met specifications and achieved density on the finished pavement. All the pavements that meet a benchmark figure earn the QIC Award.
The year after a project wins a QIC Award, it is eligible for consideration for the Sheldon G. Hayes Award. The top-ranked projects from each year are tested for smoothness, and then visually inspected by an independent pavement consultant with many years of experience in the industry. This year, the evaluator praised all the candidates for their high-quality construction practices, which resulted in smooth, safe, and durable pavements.
The NAPA Awards Program recognizes and encourages continuous improvement in all aspects of paving and asphalt operations. The 2019 NAPA Awards program will begin accepting nominations on April 1. Quality in Construction Award nominations and Operational Excellence Award nominations are due by Oct. 3.