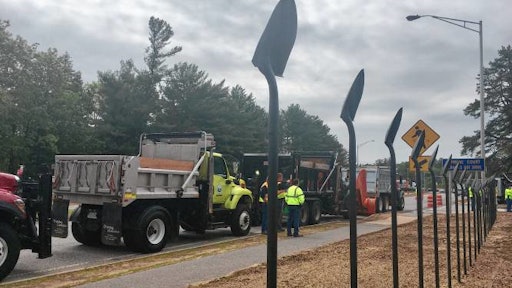 Ethan DeWitt / Concord Monitor
Gov. Chris Sununu and Department of Transportation Commissioner Victoria Sheehan recently unveiled a monument to fallen workers at the department's Concord, NH headquarters, capping a decade-long effort to design and raise money for the effort.
The monument, positioned on the DOT grounds along Hazen DR, is impossible to pass by. Flowers and greens sprout from a circular mound around 30 feet in diameter; at the helm stands an outline of the state of New Hampshire in marble. Along the front are 24 inverted shovels – one for each hour in the day public works officers may be called upon. In the back are the plaques and the names.
It also features a walkway and reflection garden surrounded by four gray granite benches representing the four seasons during which public works employees are on call. Four large black granite monuments bear the names of those who died on duty, and a black granite sign welcomes visitors.
Wednesday's ceremony brought out state leaders and transportation, each praising sacrifices made by public roadside employees. During the ceremony, 37 names were read out loud - each having died in the course of work on state projects.
"A lot of the individuals who have names on here today, they could have done something else," Sununu said in a speech. "They could have worked in the private sector, construction, whatever it might have been. They all chose a path. And they chose a path of service and public works. They chose a path of service to their communities."
But the monument didn't come together without significant, protracted effort. The project kicked off in 2009, when Gov. John Lynch signed legislation creating a committee to oversee its design and construction. By 2011, the committee had selected a design from Colby Sawyer student Kelsie Lee. Yet for years, it struggled to find funding, amassing only $37,700 of a total needed $100,000 in funds as of June 2018.