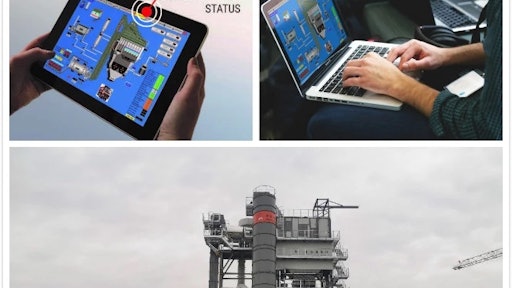 D&G Machinery
Connectivity and automation are increasing the demand for a network that can reliably handle vast amounts of data while being able to connect a rapidly growing number of equipment. The integration of 5G and the industrial internet is starting to accelerate the building of a digital world and a smart society.
D&G Machinery has announced the operation of the first "5G+ Industrial Internet" asphalt mixing plant in the industry. The company officially launched the DGR4000 plant in Huangshi, Hubei Province, China. This project is the first demonstration case that D&G Machinery applied "G+ Industrial Internet to the asphalt mixing plant field.
D&G Machinery successfully developed "5G+ Industrial Internet" asphalt mixing plant technology in 2020. It is not only able to achieve the functions of remote maintenance, data services, network management and mobile data services, but can also realize real-time control and monitoring from thousands of kilometers away to the project site.
5G Will Change the Industry
Remote operation of equipment is stalled many times due to latency or delay from the time a signal is sent to the time it is received by the machine. The delay due to latency makes it very difficult to control a machine with any speed or precision.
This is where 5G enters the picture, offering speeds up to 10 times faster than 4G. 5G promises an ultra-low latency of 1 millisecond at up to 500-km/hour (310 mph) speed bringing equipment control that much closer to realtime operation.
But 5G is more than just a faster 4G. It has the potential to bring significantly more devices onto the network. Security is also improved since 5G can allow for stronger over-the-air encryption, subscriber identity protection and reduced risk of eavesdropping.
Currently, 5G is only available in limited U.S. regions, and the ruggedized 5G components necessary to work in construction environments are hard to source. Expect 5G to gain traction as it is rolled out to more of the country and hardware becomes more readily accessible.