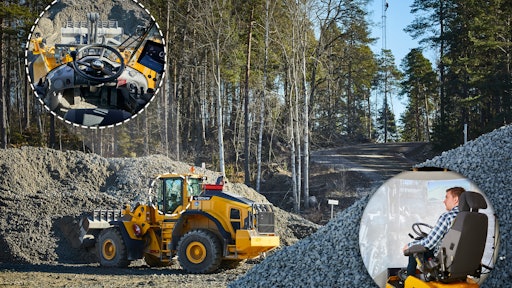 Volvo Construction Equipment
Construction equipment is becoming increasingly dependent on connectivity as the industry advances toward autonomous solutions. One of the barriers holding back faster advancement of such technologies is the current limitations of the 4G cellular network. 
Machine connectivity and automation are increasing the demand for a network that can reliably handle vast amounts of data while being able to connect a rapidly growing number of machines. Some of the more important considerations with the cellular network is the latency (delay from the time a signal is sent to the time it is received by the machine); reliability and speed of the exchange of information between two or more vehicles; the coverage; and data security.
Latency is currently a limiting factor with remote control. The delay due to latency makes it very difficult to control a machine with any speed or precision.
This is where 5G enters the picture, offering speeds up to 10 times faster than 4G. 5G promises an ultra-low latency of 1 millisecond at up to 500-km/hour (310 mph) speed; a high peak data rate of 20 Gbps at up to 500-km/hour speed; and extreme density that can handle multiple connected vehicles and devices at once.
But 5G is more than just a faster 4G. It has the potential to bring significantly more devices onto the network. Security is also improved since 5G can allow for stronger over-the-air encryption, subscriber identity protection and reduced risk of eavesdropping. 
Doosan Infracore

So what is 5G?
There seems to be some confusion about cellular network terminology. 5G simply stands for fifth-generation cellular technology. Prior to 5G, there was 4G, or fourth-generation cellular technology, 3G or third-generation technology and so on.
The 2G network was developed prior to the mobile web. When 3G came along, it allowed users to surf the Internet on their smartphones. Then 4G came along and increased speeds to where it was possible to stream video and run apps.
The 5G network takes a significant leap forward. It will move remote operation much closer to real-time control. Its ultra-low latency enables systems controlling a vehicle to react sooner, such as when braking or turning, vastly improving safety on the jobsite.
The 5G network also promises to advance artificial intelligence (AI) and virtual reality as well as IoT technologies.
Setting the Stage for Autonomy 
One important aspect of 5G is the possibility to prioritize data transmitted over the network and give critical processes, such as machine autonomy, priority. Construction equipment manufacturers have been heavily investing in autonomous technology that promises to alleviate the impact of the skilled labor shortage.
"A faster, more reliable mobile network will mean we're at the forefront of driving a much faster market implementation of technologies like automation," says Calle Skillsäter, technical specialist for Connected Machines at Volvo Construction Equipment (Volvo CE). 
Volvo CE is one of many equipment manufacturers currently exploring the opportunities of 5G for autonomous vehicles. It is working with Telia and Ericsson to launch Sweden's first 5G network for industrial use at the Volvo CE facility in Eskilstuna, and will become one of the first in the world to use 5G technology to test remote-controlled machines and autonomous solutions.
"Automation has several levels, and having 5G is an important technical support to enable us to drive development in this area. These trials in Eskilstuna will include the remote control of a conventional wheel loader, but also further tests of the HX2 concept load carrier," says Melker Jernberg, president Volvo CE.
"We can see that the industry's interest in 5G is considerable, says Anders Olsson, CEO of Telia Sweden. "Automation of the entire flow will mean new ways of working and greater gains from efficiency. But to connect business-critical machines and vehicles requires a solution that is able to handle the massive amounts of data with guaranteed connection. That is what 5G can give us."
Last fall, Doosan Infracore unveiled Concept-X, an autonomous solution for construction sites. The comprehensive control solution can be used to survey work site topography via 3D drone scanning, establish operational plans based on the topographical data and operate construction equipment such as excavators and wheel loaders without human intervention. It realizes the construction site of the future by having difficult construction work performed solely by equipment, leaving human personnel free to concentrate on more sophisticated analysis and management tasks.
The unmanned construction equipment is operated by the X-Center control center. The solution relies on the 5G network — in 2018, Doosan Infracore, in partnership with LG U+, introduced 5G-based remote control technology.
Doosan Infracore asserts that the Concept-X solution will boost productivity and economic feasibility significantly by reducing the time and costs required for construction equipment operations, while continuing to make work sites safer. The company plans to commercialize the solution by 2025.
Pending its commercialization, Doosan Infracore will individually introduce the technologies involved — including drone surveying, cutting-edge data analysis and unmanned construction equipment operations and control — as soon as they have been fully verified.
Doosan Infracore

Compatibility Concerns
Currently, 5G is only available in limited U.S. regions, and the ruggedized 5G components necessary to work in construction environments are hard to source. Expect 5G to gain traction as it is rolled out to more of the country and hardware becomes more readily accessible.
One of the challenges with advances in cellular networks is that technologies between generations are generally not compatible. 1G was analog cellular. 2G, including CDMA, GSM and TDMA, was the first generation of cellular technology. 3G used EVDO, HSPA and UMTS technologies to increase speeds from 200 kbps and a few megabits per second. 4G uses WiMAX and Long Term Evolution (LTE) technologies that are now producing gigabit-level speeds.
Like its predecessors, 5G won't be accessible via 4G devices. Machines operating on a 5G network will need to be equipped with an onboard 5G-compatible modem configured for the network at the jobsite. Right now, the market for 5G components is increasing, but the number of 5G-compatible components is still low.
Fortunately, unlike with previous generation cellular technologies, 4G is not expected to be phased out. Instead, 4G will continue to improve over time, as well. ET