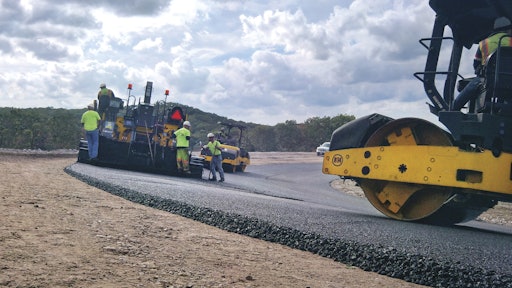 Massachusetts, a state in New England close to the size of Belgium, may be only the seventh smallest state in the U.S. but is home to the oldest university, Harvard, which was founded in 1636. In the next few weeks, it will also become home to an exciting high-quality race track.
In April 2014, the Palmer Motorsports Park project was shown the green flag and construction soon began on the state's first private road racing course. The track will be used for driver training, demonstrations, vehicle testing, a range of motorsports and competitions.
To ensure driver safety, the track must be smooth, even and high quality. EJ Paving Co., a local general paving contractor, is taking the lead in laying the 2.25-mile track using a team of five Volvo machines to do so. Established in 1987 by Tom Evangelista, EJ Paving has worked with Volvo CE pavers for 25 years, and currently owns nine Volvo machines.
"This is a unique job that requires specific paving requirements," says John Sullivan, paving director and general manager at EJ Paving. "We are using a Volvo P7110 and a PF4410 paver to lay the asphalt track, along with three double-drum compactors – two Volvo DD112 machines and one DD14. The P7110 is being used for 90% of the paving work."
The Right Tools to Stay on Track
The Palmer Motorsports Park project is set to be completed by April 2015, and will cover 658 acres on the Palmer-Ware line off West Ware Road in the Thorndike area, a former logging property. The track will feature exciting twists and turns and the topography of the site and surrounding hills creates an ideal acoustic buffer.
EJ Paving has been contracted to complete the track with pits, garage areas and an access road leading to the race course, placing more than 24,000 US tons of asphalt. The project's specifications require a coarse aggregate stone, 2.5 in. thick as a base layer. The top coat is a warm mix of latex modified polymer.
The job presents several challenges due to the unique nature of the track, as the course needs to reach a compaction density of 97%. A transfer machine feeds the paver for the top coat, since a heavy contact between the truck and paver could create surface imperfections on the finished mat.
The 40-ft.-wide track is only allowed one longitudinal joint – right down the middle - which means the pavers have to lay two separate 20-ft. passes, side-by-side. With a maximum paving width of 26 ft., the P7110 easily manages the two passes. In addition, the track features 15 turns, some tight and others steep, up to a 20% incline. The P7110 has rubber tracks and a large surface area, providing the traction and stability required to hold the steep banks without slipping.
"We are impressed with the performance of our Volvo equipment," says William Muse, EJ's on site paving superintendent, with more than 23 years in the industry. "In particular, the operators are satisfied with the visibility the pavers offer, making operation easier and helping to ensure the safety of everyone on site. The machines produce a high-quality mat, and we are happy with the level of customer service we get from our Volvo dealer, Woodco Machinery, that has been associated with Volvo since 1975."