Asphalt pavers are a big investment for your company and their performance helps determine the entire success of a job.
"The paver is the most critical part of an asphalt paving jobsite," Brodie Hutchins, vice president dealer development at Wirtgen Americas says. "Everything revolves around that paver. If it goes down, the plant goes down, the rollers go down, the trucks and mills go down, you have fines that can happen, etc. You need to do everything you can to make sure that paver does not break down."
Machine downtime is not only bad for the life of the roadway, it's extremely bad for your bottom line.
"A lot is on the line every day you go out to pave and down time is extremely expensive," Pete Fredrickson, asphalt product application specialist at Dynapac says. "Consider the in place cost of asphalt far exceeds $100.00 per ton. The average truck holds 20 tons and a contractor will have on average, two to 30 trucks on the road. You can't afford to let a lack of maintenance shut your project down." 
This is why paver manufacturers agree that the best way to ensure you get your money's worth out of your paver while helping to keep it working properly for its full service life, is to be committed to preventive maintenance.
"Performing simple maintenance on any machine can prevent major issues and save major dollars in the long-term," Kyle Neisen, product manager at Roadtec adds. "Beyond the cost of preventable breaks, the downtime that can come from poor upkeep can be a significant cost driver. If a paver goes down when five trucks full of mix are already lined up in front of it, the costs for wasted time and material are into the thousands before your mechanic even starts working."
An Ounce of Prevention
It's important to take the time to make sure your paver is in prime operating condition and your paver operators are the key to this. They know how the machine performs each day and will be paramount to understanding when something isn't right. This is why they should be the ones to perform the daily maintenance checks on the machine.
"Operators have a direct impact on paver condition by relaying information to service personnel about the performance of the machine," Steve Goutermont, training consultant at Caterpillar Inc. says. "Is it running rough, steering erratically, making un-suspected noise?"
And while full daily equipment walk-arounds used to take an operator over an hour to complete, pavers today can basically tell you if something is wrong instead of the operator having to guess.
"Daily checks can basically all be done from the dashboard now when you start up the machine," Hutchins says. "The paver will provide fault codes and let the operator know if coolant, engine oil, hydraulic oil and fuel system levels are low."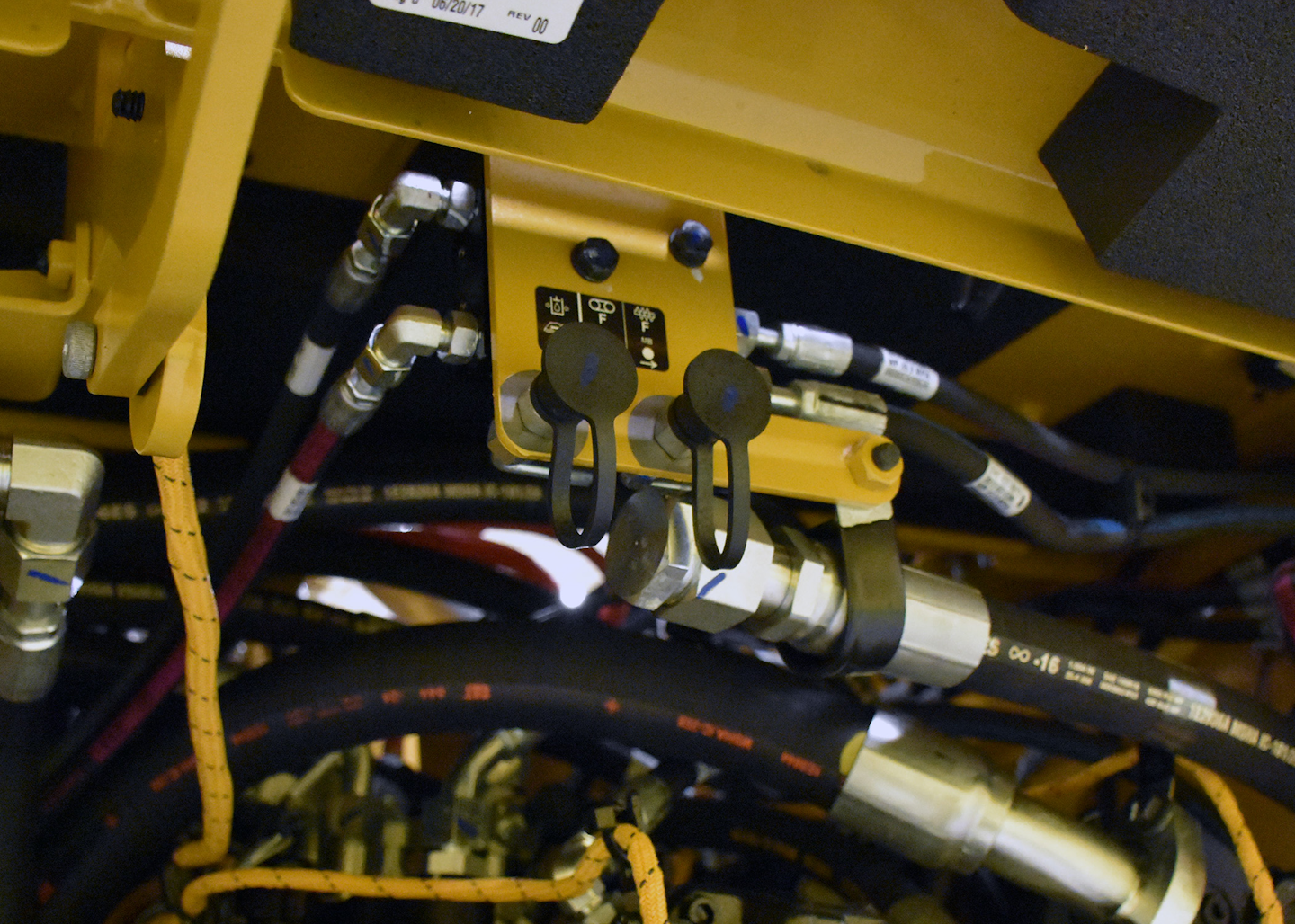 Even still, operators should complete a visual of the inspection of the machine before it leaves the shop for the day.
"A machine walk around should be conducted, looking for loose fasteners, damaged components, oil leaks to name a few things," Goutermont says. "The machine is in an environment where the components are in high heat, working with highly abrasive material and will wear out." 
Operators should also do a visual check of the screed to make sure it's level prior to paving.
"Operators need to make sure the screed is flat and complete extension leveling per manufacturer specifications prior to paving," Tom Travers, sales manager at Carlson Paving says. "If the screed is not level, it's going to impact the quality of the mat you're laying. Making sure the main screed is flat and the extensions are level will help you avoid poor joint quality or an invert or crown in the mat."
Keeping the screed clean is also important.
"You don't want to wait for today's HMA to heat up yesterday's mess you walked away from," Fredrickson says. "With the screed up and supported, run the end gate jacks down and scrape any loose asphalt that might harden and bind them from free floating the next day. Then crank them back up. Power tunnels and screed extensions have been known to not move in the morning if proper steps aren't taken at the end of a day to clean them out. Taking care of them can be as easy as fully extending the extensions all the way in and out a couple of times."
Clean Machine
Cleaning your paver at the end of each day is also imperative in order to maintain a reliable and long lasting piece of equipment. Failure to remove all excess asphalt from your paver will result in premature failure and excessive wear of vital components of your machine's operation and will eventually lead to downtime.
"If the old asphalt is not removed from the machine at the end of the day, it can cause big problems when you start the machine up the next day," Mike Neil, paver technical support specialist at Volvo says. "If you don't clean the old asphalt out, the heat of the new asphalt the next day will loosen up cold chunks causing conveyor chains to jump or even worse break. Once that happens, you could be down for hours."
That's why the number one thing a crew can do at the end of every day is clean the machine.
"Following a strict cleaning routine at the end of every day should be part of the paving job you are completing and added to the time and cost allowed," Ken Graham, product support technician with VT LeeBoy adds. "If the asphalt is not removed you can expect a very high labor charge from your dealer to remove it manually without even starting the necessary repairs or service you brought it in for." 

"A clean machine makes it much more likely to spot issues while they are still small and easily corrected," Niesen adds. "You should also grease the machine at the end of the day. The lube will flow more easily – and get to the right spots – when everything is still warm."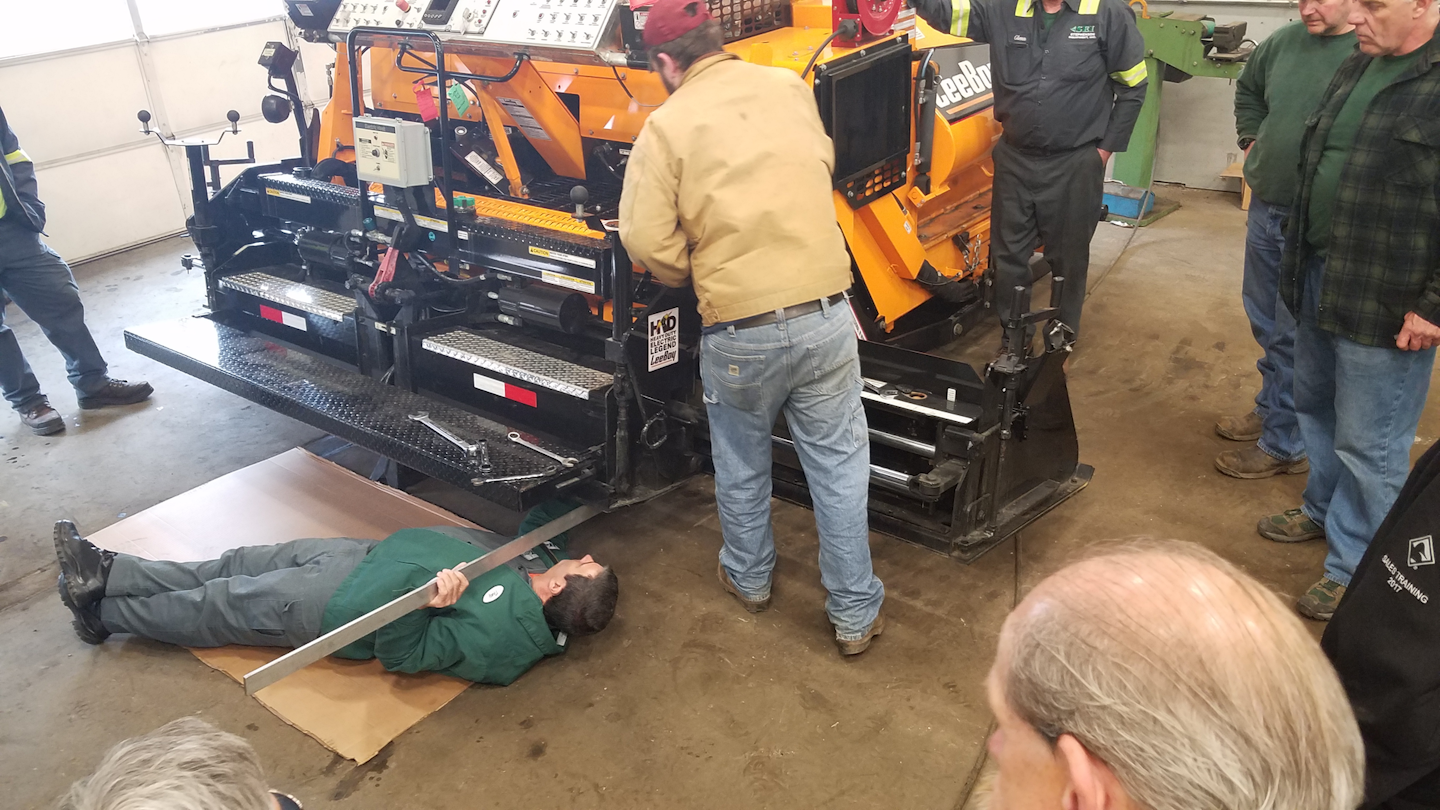 Don't forget about safety: check the seat belts, make sure the screed is level, check any decals that may need to be replaced and walkways that need to be cleaned. Check the backup alarm, switch functions and nights for light paving. It's these things which make the crew and the job successful and it all starts with daily maintenance.
"Abuse and neglect of a machine will always cost you something," Hutchins says. "If all this is done the night before the paver goes out to work, it's going to make that walk-around a lot easier the next day and help ensure that paver isn't going to break down on the job."
Off-Season To-Do List
Right now is the slow season for many of us throughout the country, making it an ideal time to complete those maintenance tasks that may have been put off during the busy summer season.
"At the end of each season you should thoroughly clean the paver removing all covers and guards to gain access to all the fines and hard to reach areas that you cannot get to during your daily cleaning routine," Graham says.  
Neisen agrees, adding that contractors should deep clean the machine when the season is done. "Flush and change hydraulic and coolant systems, gear boxes and other fluids. Inspect the machine frame, conveyors and screed. Adjust all as needed. Screed plates and auger flights may need to be replaced, pending wear patterns," he says.
"A lot of times, the operating crew members are the mechanics," Hutchins adds. "That's an advantage because they know the machine and are invested in making sure that the machine is going to work the way it should."
Manufacturers suggest contractors check augers, auger drive chains, conveyor chains and conveyor drive chains for wear and tension. Also inspect your drive tracks, idler rollers and drive system for wear and operation. The engine and hydraulic coolers should also be inspected and cleaned.
"Due the usage of the on board spray down system and exhaust from the engine when the operator is spraying down the hopper with their release agent, the mist from the nozzles is often drawn into the engine compartment by the cooling fan," Graham says. "This coats the cooling fins on the radiator making a sticky surface for dust to cling to and eventually causes overheating and again more downtime."
Graham says to make sure this area is cleaned out each year and to inspect all flight screws and bearings for play and screed wear plate thickness.
Along with the above list, deflectors on the front of the screed, guards on the conveyors and flashing on the front of the paver should all be checked and replaced if necessary. All these checks can help ensure a reliable start and productive paving season.
"Basically, if you're not confident that something is going to last the whole next season once you put it back to work, you should replace it now," Hutchins adds.
Of course this is assuming your area has a down season, if not, it's your responsibility to schedule downtime to keep that paver properly maintained.
"In the northern states where weather conditions can shorten or stop paving operations, they have the luxury of a rebuild season," Fredrickson says. "In the southern states we see folks paving year-round so they need to take advantage of days not paving to perform routine maintenance and wear part changes. This can include any time it rains or the temperatures are too low and they can't pave."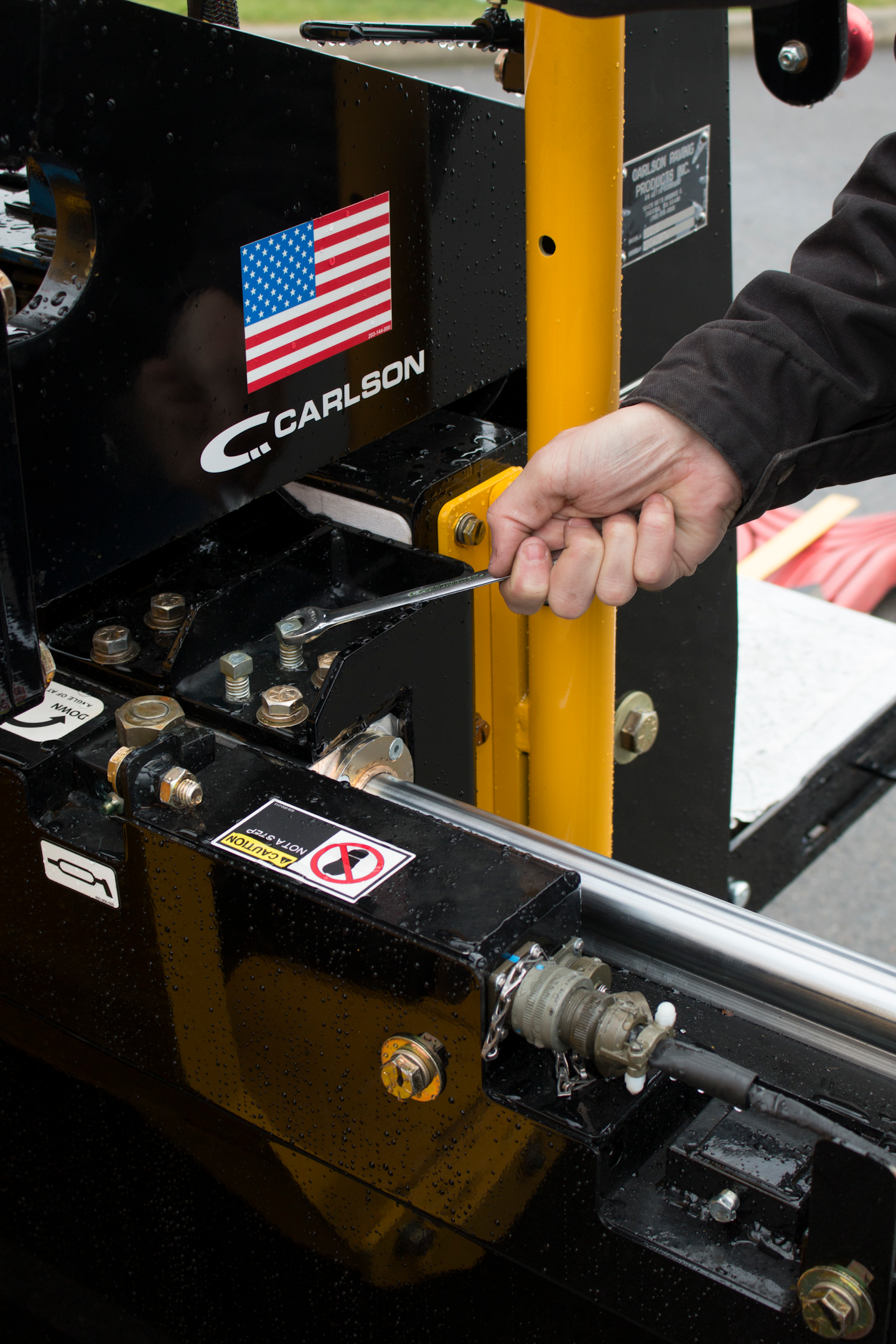 The slide track is what the extension runs in and out of and if it's loose, tighten or replace the bushings so your extensions run properly all season.
Relationships Help Ensure Success
If you let them, your dealer can play a big part in making sure your machines will keep running smoothly all year. Most manufacturers will provide dealers with a maintenance and inspection program that can be deployed during the off season.
"We give our dealers and customers the incentive to have our paving specialists come out during the off season and help customers' complete thorough inspections," Hutchins says. "They help find potential problems they might not know to look for but that we see every day because we designed and built the equipment."
Once these specialists identify problems, many manufacturers offer discounts and incentives for having the parts replaced before the season begins.
Volvo's Mike Neil says they recommended their Winter Rebuild program to contractors to help them ensure everything is running smoothly.
"We go over all their wear parts for material handling like conveyor chains, conveyor floor plates, auger flights, screed plates, etc., and measure them to see how much life is left in them," he says.
They then use these measurements to verify the condition with their wear check manual. "If their floor plates get down to 1/8-in. we will require that the contractors change them because they won't last another season."
Paver specialists can also be deployed at the beginning of each season for a crew refresher course on paving and machine maintenance best practices. Check with your dealer to see what your paver manufacturer provides as many of these services are complimentary.
"If you're ever in doubt about anything on your machine, get a hold of your dealer," Hutchins says. "They can help you make sure everything is 100% before that equipment goes back out to pave again."
And don't forget the main resources that were provided to you with your paver, the manuals.
"One of the most useful tool on a paver is the operators manual but unfortunately it is too often ignored and placed on a shelf or in a desk drawer," Graham says. "There is so much useful information vital to a successful paver operator or service technician and different operation features you may not be aware of. This manual should be read thoroughly prior to operating the paver and left on the machine for future reference. After all, your paver is the backbone of your business and requires the care your customer deserves."