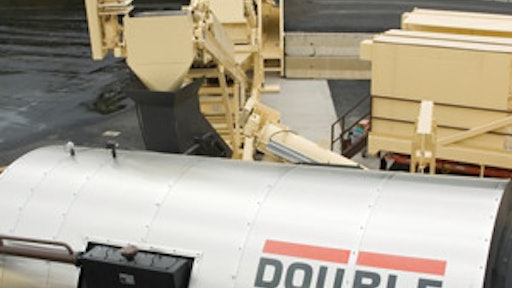 Asphalt producers/paving contractors often agonize over the substantial investment required to add a new production facility or replace an existing one, and for good reason. A new asphalt plant, which carries a multimillion dollar price tag, is the most expensive capital equipment investment a producer or producer/paving contractor will make, and crunching the numbers to determine the return on investment involves many considerations - increased productivity, lower production costs, the ability to produce challenging mix designs, and whether or not there will be sufficient work to keep the plant running more days than not.
The folks at Eubank Asphalt and Sealing, headquartered in Charlotte, TN, consider the substantial investment a competitive investment, and it's not uncommon for the asphalt producer/contractor to trade in a perfectly good plant for one that offers technological improvements.
"I like to trade plants in for new plants," says Michael Eubank, director of field management. "We try to take advantage of current technology whenever we think it can help us improve our production and paving services and achieve a competitive advantage at the same time."
Eubank Paving operates two Barber Greene stationary batch plants and one Astec portable drum plant at its Dickson production facility in North Central Tennessee. The batch plants produce mix the company sells to municipality and county road agencies, as well as other customers. The portable plant is used to support the company's own paving needs, and it's the fourth Astec portable plant Eubank has operated at that location. The company currently operates one main paving crew, but can outfit and support two crews whenever needed. Each plant upgrade, according to Michael Eubank, has advanced the company's production and paving capabilities.
The Clarksville plant
Approximately two years ago, Eubank purchased another portable plant, an Astec Six Pack portable HMA facility, to accommodate two major paving projects near Clarksville, located near Fort Campbell on the Kentucky/Tennessee boarder.
"It just made sense to buy another plant for that location rather than relocating our Dickson portable," Eubank says. "We made sure our new (Clarksville) plant was built identical to our Dickson plant, so that we only had to stock major replacement parts, like drive motors, that could be used on either plant. We didn't want to have to maintain an inventory of major replacement parts at both facilities."
The Clarksville plant is an Astec Six Pack portable with an 8-foot Astec Double Barrel combination dryer/mixer drum capable of producing 400 tons per hour. The drum is fired by Astec Phoenix Talon aggregate drying burner. The Phoenix Talon's premix gas design and air-atomized oil burning technology is equipped with a variable frequency drive, eliminating the need for dampers, which facilitates quiet operation, fuel efficiency and accurate airflow control.
The plant has five 10-foot by 14-foot cold feed bins, a 72,000 CFM horizontal cyclone and a 72,000 CFM baghouse. Eubank opted to replace the two standard self-erecting bins (SEB) used to store mix with two Astec New Generation storage silos for combined storage capacity of 530 tons.
"We wanted the enclosed stationary silos because we're working with a lot of polymer mixes that need protection from outside moisture (rain in particular), and we wanted increased storage capacity for the large projects the plant would support," Eubank says.
The silos are fitted with traverse and drag conveyors, an electric blanket heating system on the cones and a hot oil heating system on the drag conveyor. Asphalt loadout at the silos is accomplished with two 8-ton weigh batchers, one for each silo, in lieu of truck scales to improve the portability of the silo setup.
"Our long range plan is to have two permanent plant locations and that was another reason why we went with the stationary silos," Eubank says. "If we have to move this plant to supply a large project, we'll leave the silos here (Clarksville), buy the SEBs, and then move the plant back to this location when the project is completed. Silos don't show a lot of wear and Tennessee (DOT) is laying a lot of polymer mixes, so investing in the silos just made sense."
Reclaimed asphalt pavement (RAP) is added to the mixes produced at the plant with a recycle system comprised of single RAP bin with return conveyor and Telsmith 3036 horizontal shaft impactor and Diester single-deck scalping screen. Liquid asphalt cement and additive storage is accommodated by a 35,000-gallon Heatec helical coil split AC tank - one 20,000-gallon and one 15,000-gallon compartment. The Heatec liquid additive tank has a 2,000-gallon capacity. The facility also features an Astec Process Mate 96 control system and an Astec Command III control center.
Keeping up with technology
For Eubank Paving, riding the technology bandwagon has proved to be a sound investment.
"The first Astec plant we purchased was great. It met our production needs and delivered a quality mix," Eubank says. "And every time we traded up for the current technology available, it's been an improvement to our operation. The current technology has been an improvement in how we store our AC and additives, with the tanks circulating the liquid. The recycling system for adding RAP has also come a long way from how it was done with previous plant designs."
But what's been most noticeable for Eubank in the technological advancements of today's plants is the operating efficiency. Pollution continues to be a point of contention for asphalt producers operating in urban areas, especially when trying to obtain a permit for a new plant location.
"When you pull up to our new Clarksville facility, you can't even tell that's it running," Eubank says. "There's no smoke and there's virtually no noise coming from the plant. It's a very fuel-efficient plant and it's a very quiet plant. That was an important consideration when selecting this plant for this location because it's important to the community. People are concerned about air and noise pollution, and so you need to address the issue in order to obtain an operating permit. The emissions this plant produces are well below the acceptable output."
For Eubank Paving, the investment in new plant technology has paid dividends well beyond just adding production to allow the contractor to take on more work. Eubank produces over 500,000 tons annually, with 70 percent used to support its own paving projects, but the quality of mix produced and quality of projects constructed have proven to be the real benefits of the company's ongoing plant investments. Recent awards recognizing "top quality" or "smoothest" pavement are testament to the company's ability to produce and place an HMA product that meets or exceeds the expectations of its road agency customers.
"We keep up with technology advancements and we look at how those advancements can help us deliver a better product and be more competitive in the market," Eubank says. "We believe the investments we've made give us an edge over others in the industry and we'll continue to make those investments to stay on the leading edge."