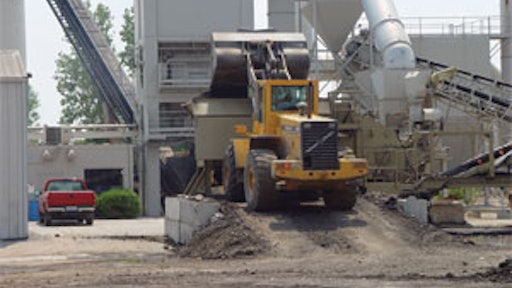 An asphalt producer who can make his own reclaimed asphalt pavement (RAP) is going to have a definite competitive edge over one who must purchase recycled material or contract out the crushing. But it can be tough to justify the initial cost of purchasing a crusher to use on site.
It helps when the producer can see the larger picture, recognizing the additional opportunities provided by a portable recycle plant. Wayne Asphalt in Fort Wayne, IN, recently made an investment in a modern, portable recycle crusher because its president, Jeffrey Walters, and operations manager, Chuck Bunn, were able to see the forest beyond the trees.
Wayne Asphalt, a paving contractor founded in 1958, has leased land for its asphalt plant from the former May Aggregates (now Hanson Aggregates Midwest Inc.'s LHR Quarry) for the past 15 years.
The company handles state, county, city and private paving projects, producing its own asphalt with a 1996 Gencor asphalt plant. Seventy percent of Wayne Asphalt's materials are produced for its own paving jobs, while 30 percent are sold to outside paving contractors.
"We tried both contract crushing and crushing our own recycled material," says Bunn. "We tried hiring a contractor to crush RAP for us during the winter months to get a good stockpile of recycled material come spring — about 60,000 tons. But we found that after we'd use maybe 50 to 60 percent of that material, it had hardened to a point where it was unusable. The stockpile (of recycled material) would also collect moisture, which was a problem with our asphalt plant."
The company tried crushing recycled asphalt with an older impactor plant and ran into problems with gradations. "The crusher we had been using didn't size the material well," Bunn says. "It was a smaller capacity plant, it was hard to control gradations with it, and the material was hard to run through our asphalt plant."
Bunn says what he really wanted was the ability to crush the proper gradations of recycle material to use as base and binder — crushing at a high capacity — and crush what his plant needed, as it was needed.
"Any time you use base or binder in this area, you're going to have recycle in it. And I actually like using recycled material. I think it makes a denser mix than all virgin aggregate," Bunn says. "In Indiana, we are required to use 25 percent recycled material on state jobs. So it just made sense to find a recycle crusher that fit our needs."
Bunn's needs were a little unique in that the size of the plot Wayne Asphalt leases from Hanson is small. The only feasible spot to run a portable crusher lies about 20 feet from the office door and the same distance from the asphalt plant, itself. And Bunn wanted the plant to be portable for flexibility in crushing concrete offsite during the winter months.
"We generate concrete off some of our jobs, and we have several customers who allow us to use crushed concrete as base on their jobs," Bunn explains. "The ability to move the crushing plant to another dump site for crushing recycled concrete was another advantage we were considering in a crusher purchase."
Researching options
Bunn began to research portable crushing plants in the winter of 2002, looking at both impactor and cone plants. Ultimately he chose a Pioneer 4233 HSI Recycler, manufactured by Kolberg-Pioneer Inc. (KPI), an Astec company based in Yankton, SD.
The plant was delivered and began producing recycle in April 2003. Bunn chose the 4233 because of its small footprint, high capacity, the quality of the product it makes and flexibility in crushing asphalt or concrete. "Having a local dealer also meant something to us," Bunn says. "We were glad to support a local dealer, and also we simply felt better that parts and service support was close at hand."
The Pioneer 4233 HSI Recycler is a horizontal shaft impact crusher with a 42-inch by 33-inch three-bar maximum productivity (MPR) rotor, developed especially for recycling applications. This rotor design delivers the strength of a solid rotor design with the features of an open rotor design. The crusher housing or chamber hydraulically opens past center for easy maintenance access. A 36-inch-high by 33-inch-wide feed opening allows a maximum feed size of 24-by-24-by-12 inches for recycle (8 to 10 inches for limestone and 6 to 8 inches for hard rock). Production capacity reaches 100 to 200 tph, depending on the application. With a 13-foot 2 1/2-inch travel height and a tandem axle, the 4233 is portable without permits in the continental United States and Hawaii. It can be set up, ready to crush, in less than two hours.
Because of its low feed height — the same as its travel height — the 4233 does not need a ramp to load the hopper. In addition, it has the highest discharge height in the industry — 11 foot 1 1/2 inch — allowing for stockpiling directly under the discharge conveyor. The 4233 Recycler is ideal for tight workspaces, with an operating length of just 41 feet 7 3/4 inches. Other unique features of the 4233 include hydraulic adjustment for upper and lower aprons and an upper cover that opens past center for easy access to the impactor.
Customization
Bunn also required some customizations added to the Pioneer 4233. For instance, he chose to install a perforated plate on the grizzly, instead of the traditional grizzly bars. "The grizzly bars on the 4233 as standard have a 2-inch opening, and we liked the idea of a 1- by 4-inch perforated plate," Bunn says. "A lot of our material is 1 inch minus to begin with, and we wanted to shake out the fines because there's less wear on the blow bars inside the impactor that way."
Bunn says the hydraulic jacks and hydraulic fold on the feeder were options he chose for the 4233 Recycler for easier teardown and setup when moving to a different location. "It takes us 1 1/2 hours and we're ready to go," he says. "We get to our other location, it's another 1 1/2 hours, and we're set up and crushing again. We also chose to go with hydraulic controls, so we're not relying on a generator to run it." A dust suppression system was also added as a custom option.
Wayne Asphalt's Pioneer 4233 Recycler is run in an open circuit and has a production capacity of 140 tph. The 4233 is loaded with a wheel loader. The HSI is set at a 1-inch closed-side setting (CSS), but because Bunn has also set it to run faster, there is about 10 percent carryover of larger material.
An 80-foot stacker takes the material coming off the discharge conveyor to a stockpile, which loads to the farthest bin at the Gencor Asphalt plant. A single-deck screen at the asphalt plant catches overs from a 1 1/4 inch screen top size. These overs are picked up again with the loader and taken back to the 4233 for recrushing.
"We're very pleased with the Pioneer 4233," Bunn says. "We're crushing recycle as we need it, and crushing a usable product. The material we crush is not sitting in a stockpile for days on end, so moisture in the material is no longer an issue. It's drier material that runs through our asphalt plant better. When the asphalt plant is shut down this winter, we're using it to crush concrete at another dump site.
"We're extremely happy with the plant," Bunn says. "I realize it may be hard for an owner to lay out the money to buy a plant like this if he can't see the return on his investment right away. I feel lucky that Jeff (Walters) had the confidence in us to buy the 4233. We were spending $3 per ton when we contracted out the crushing, and some of that material we couldn't use. Now we're saving that $3 per ton, with the exception of maintenance."