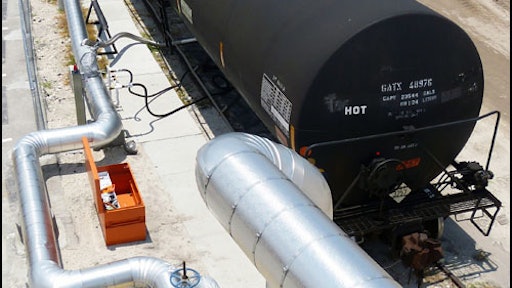 South Florida Materials' first delivery of liquid asphalt by railcar arrived at the Port of Palm Beach at the end of May.
The newly built infrastructure can accommodate eight railcars at a time and connects to 600 feet of rail-side pipeline for offloading to South Florida Material's heated storage tanks, which hold 200,000 barrels of asphalt.
A unit of Vecenergy, the Vecellio Group's energy division, South Florida Materials can also receive asphalt by tanker ship docked at the Port. Adding railcar facilities provided the terminal with an additional source of supply.
After the liquid asphalt is received, it is distributed via tanker trucks to South Florida asphalt contractors, where it is used as a binder in asphalt pavement mixes.
"With this addition, railcar deliveries can be scheduled in addition to the larger, but less frequent, tanker shipments," said James Barlow, South Florida Materials' director of asphalt marketing and business development.
The delivery marks the completion of a six-month project to add the asphalt line along a spur of rail track on the Port of Palm Beach property that connects to the Florida East Coast Railway.
"The approval and completion of this project exemplifies how the Port of Palm Beach is willing to work with a valuable tenant to help increase its business," said Port Commission Chairman Wayne M. Richards.
Vecellio Group opened the South Florida Materials terminal at the Port of Palm Beach in 2004. In addition to its liquid asphalt terminal, which also produces polymer- and rubber-modified asphalt products, South Florida Materials operates a diesel fuel terminal, with two diesel tanks totaling 150,000 barrels of capacity.
Headquartered in West Palm Beach, the Vecellio Group is a privately held, American-owned and operated business with heavy/highway, mining and petroleum operations located in multiple U.S. states, with international interests as well.