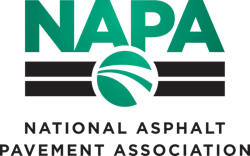 With tight budgets and competitive markets, everyone is looking for ways to reduce costs and maintain or improve the performance of pavements. It is widely recognized that using reclaimed asphalt pavements (RAP) in mixes will reduce costs and improve the environmental sustainability of asphalt pavements. However, the effect of RAP on pavement performance is not widely understood.
Questions are often asked about:
How much RAP can I add before changing binder grade?
How will this affect the performance of the pavements?
Is there something else I can do to improve the performance?
This webinar will show you how Indiana partnered with the industry on research to answer these questions, which resulted in increasing the amount of reclaimed asphalt pavement (RAP) that can be added to asphalt mixes. You will learn:
What research was conducted to characterize plant produced mixes at different percentages of RAP
The results of this research
How the Indiana DOT implemented this research
Webinar Date: November 15
Webinar Time: 2 p.m. EST
Fees: $75 for NAPA Members; $135 for Non-Members
Registration: Click here to register