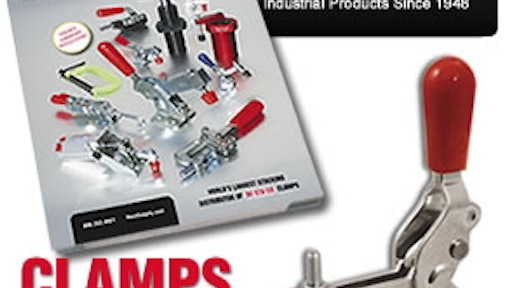 Reid Supply Company announced today the launching of its new Clamps and Workholding mini-catalog that highlights new product additions. The 96-page Clamps and Workholding mini-catalog offers new products that do not appear in the Clamps and Workholding section of its 900-page full-line catalog that launched in January 2012.
"We wanted to provide our customers with an easy-to-use catalog that features one of our most popular product lines," says John Carrier, president of Reid Supply Company.
Clamps and workholding products including:
Toggle clamps
Hold-down clamps
Pull-action latch clamps
Straight-line action clamps
Squeeze-action plier clamps
Economy clamps
Pneumatic clamps
Hydraulic power workholding
Clamping systems
Clamp assemblies
Grippers
Vices and work positioners
C-clamps and bar clamps
Customers can order the free Clamps and Workholding mini-catalog by calling (800) 253-0421 or by visiting ReidSupply.com and clicking on the mini-catalog banner on the home page.