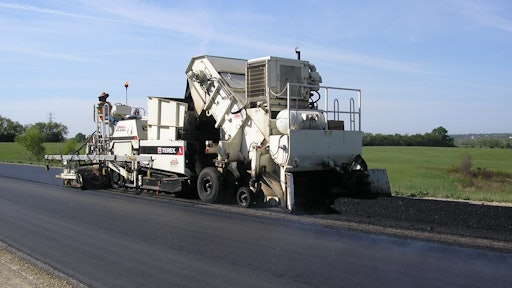 Terex has appointed Valley Equipment Company, Inc. as an authorized Terex Roadbuilding asphalt paving equipment distributor for the states of Hawaii, Oregon and Washington and all counties north of and including Idaho County in Idaho. With headquarters in Salem, OR, Valley Equipment offers comprehensive sales, parts and service support for asphalt pavers and material transfer vehicles and devices. The company's branch offices in Spokane and Seattle, WA, and future branch in Kona, HI, improve the local support efforts for its customers.
"Valley Equipment is a supportive distributor who knows our asphalt customer base through its complementary product lines, such as asphalt distribution equipment and Terex Mineral Processing Systems' crushing and screening equipment offering," says Mike Rodriguez, district manager for Terex Roadbuilding. "They know the market well and have the right people in place to help paving contractors be more successful."
"Terex has a premium product in its CR Series pavers," says Roger Jensen, president of Valley Equipment. "There is good market potential for the paving equipment, and we look forward to hitting the ground running to show our customers the equipment and give them more options to build better asphalt pavements."
With locations throughout Oregon and Washington and planned offices in Hawaii to offer its customers exceptional personalized service and customized solutions, Valley Equipment understands the importance of having the right equipment for the job and the need for it to be up and running with as little downtime as possible. "For nearly 60 years, we have specialized in providing our customers good road building and aggregate equipment," says Jensen.
A top customer service provider in the markets it serves, Valley Equipment has experienced, factory trained service technicians with the knowledge to keep the equipment running at peak efficiency and a sizable on-hand parts inventory, so customers have the right part when it's needed. "We have tripled the size of our parts department over the past two years," Jensen adds. "Our customers know that we are the ones to call for getting the job done."