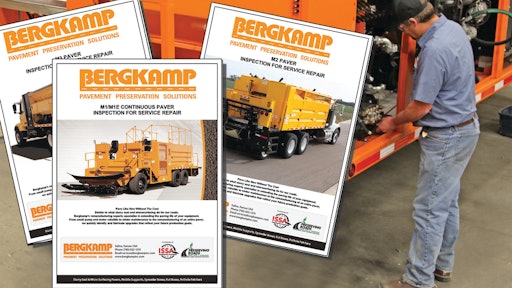 The Bergkamp Inspection, Maintenance & Upgrade Program provides a wide range of services—from helping contractors identify small maintenance issues with their pavers to conducting a full remanufacture of a unit.
The program is designed to keep customers' slurry seal and micro surfacing pavers running at peak performance, so crews can minimize downtime and maintain the highest productivity. Its factory trained technicians can inspect pavers at a customer's shop, the job site or Bergkamp's Service Shop and perform a comprehensive diagnosis that clearly identifies problem areas and/or wear items that need attention. In addition, factory technicians can identify any upgrades available so customers can take advantage of the company's latest product advancements. Customers can then use the inspection report information to conduct the maintenance and repairs themselves or have Bergkamp's dedicated team complete the work for them—to factory specifications and with original factory-grade parts. Depending on the maintenance, repairs and updates required, the company can perform the work at the customers' location or at Bergkamp's headquarters in Salina, KS.
To learn more about the Bergkamp Inspection, Maintenance & Upgrade Program or Remanufacturing Program, contact the service department at 785-825-1375 or email [email protected].
Companies in this article