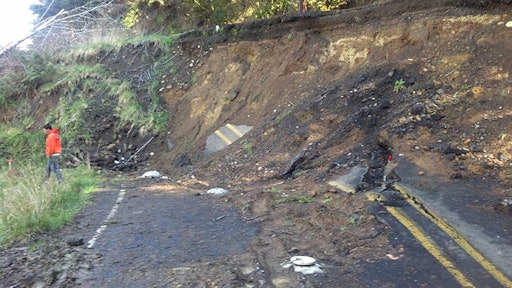 West Coast Contractors has been employed by the Lincoln County Public Works Department to begin road work on Old River Road in the city of Siletz, located in the Coast Range of Lincoln County, Oregon. A 500-foot section of Old River Road running along the Siletz River has slipped due to years of erosion and heavy rains last winter, rendering it impassable. With over 50 years of project experience, WCC will be deploying their extensive line of heavy equipment to repair the slide and permanently stabilize the hillside below the road.
A marine and heavy construction company in the Pacific Northwest region, West Coast Contractors is currently in the planning phase of this $1.8-million project and will begin work in July 2013. WCC is pleased to announce that the Old River Road project will be led by Superintendant Dennis Graham, who has been hired on for the job. Graham is familiar with projects of this kind, and has led a number of other slide repair projects in the area. Four to six of WCC's skilled crew members are expected to work with Graham on the job.
Because the portion of Old River Road runs tightly against the bank and is on a steep incline, this creates an extra challenge for the crew and equipment as the narrow workspace will make it difficult for the heavy equipment to maneuver. The section of roadway will require shoring and filling and a two-tiered, soldier-pile retaining wall consisting of over 100 H-Piles and pre-stressed concrete lagging panels will be constructed to stabilize the slide. WCC is partnering with Malcolm Drilling, a foundation contractor, to drill into the rock to anchor the piling and tie-backs, giving the area of road the support needed to prevent slides in the future.