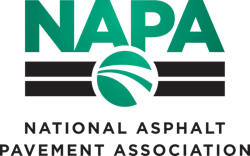 William C. Ensor III was inducted as the 2014 Chairman of the National Asphalt Pavement Association (NAPA) at a ceremony during the association's 59th Annual Meeting. As chairman, Ensor is responsible for guiding NAPA's efforts to support the asphalt pavement industry.
Ensor is president of Maryland Paving Inc., based in Timonium, Md. The company operates five asphalt plants across north-central Maryland. Ensor is also on the management team of Maryland Paving's sister company, Gray & Son, which handles paving operations throughout the Greater Baltimore area.
Ensor assumes the NAPA chairmanship as multiple industry research and promotion initiatives converge to quantify and deploy the high-performance attributes of asphalt pavements.
"It is an honor and a privilege to be chosen at this point in time to help lead NAPA and our industry forward. We have big initiatives ahead of us; I want to make sure they are properly implemented and kept moving," Ensor said.
Ensor has a strong voice for the asphalt pavement industry at the state and national levels for decades.
He has been an active member of NAPA since the early 1980s, serving on multiple committees. During the 2014 Annual Meeting he was recognized for his service as chair of the Engineering Advisory Council (EAC), which works to identify key engineering issues for the industry and to advance the implementation of solutions and technologies that improve pavement quality, performance, cost effectiveness, and sustainability. Ensor served as chair of the EAC and its predecessor from 2006 through 2013. Ensor has worked on multiple NAPA task forces dealing with recycling, warm mix, and energy use over the years, and he led the development of the Diamond Quality Commendation program.
"Dedication to continuous improvement and superior quality is paramount to the success of our individual companies, NAPA, and our industry as a whole," Ensor said.
At the state level, Ensor served on the board of directors of The Maryland Asphalt Association (MAA) from 1990 to 2011 and was the MAA chairman for 1999–2000.
During the NAPA Annual Meeting, Ensor was also honored with the Asphalt Ambassador commendation for his engagement with state and federal lawmakers on behalf of the industry.
Ensor will be at the NAPA booth (No. 20063) during CONEXPO-CON/AGG, March 4–8, 2014, in Las Vegas, to meet with those interested in learning more about the association or the asphalt pavement industry.