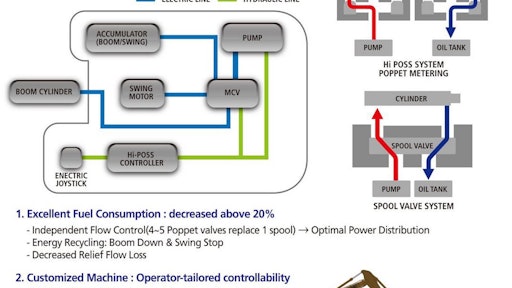 Hyundai will show its R220-LC Hi-POSS prototype hybrid excavator at CONEXPO.
The Hi-POSS (Hyundai Intelligent Power Optimal Sharing & Energy Saving) hydraulic system is developed to maximize energy utilization. Multiple and parallel control systems measure the required hydraulic pressure for each machine function.
The central control unit controls the electric pumps, the electric-controlled valves, the engine power output and the high capacity accumulator. The hydraulic system reuses energy from the accumulator to achieve what Hyundai claims is a fuel savings of 20 percent or greater and more-precise machine operation.
Hyundai says that eventually, all its machines will be outfitted with the Hi-POSS electro-hydraulic hybrid system.
Video: Hyundai's Unique Hydraulic Hybrid Aims to Cut Fuel Use 20%