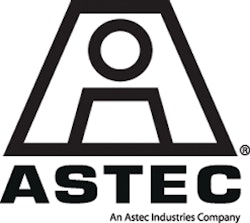 Astec Industries Inc, is showcasing 45 pieces of equipment – the vast majority of which will be new to the industry – at the 2014 ConExpo-Con/Agg trade show March 4-8 in Las Vegas, NV. 
Twelve Astec Industries subsidiaries from around the globe will exhibit their new innovations in Booth C-50327 Central Hall. Companies include Astec Inc., Breaker Technology, Carlson Paving Products, CEI Enterprises, GEFCO, Heatec, KPI-JCI and Astec Mobile Screens, Peterson Pacific Corporation, Roadtec and Telsmith. 
Astec Industries, Inc. is a global leader in the manufacturing of equipment used for asphalt road building, aggregate processing, oil, gas and water well drilling, and wood processing. The corporation was founded in 1972 with the vision to apply creative thinking and state-of-the-art technology to traditionally low-tech industries, bolstered by a corporate culture renowned for putting customer service first. Astec Industries manufactures more than 200 products, from rock crushing and screening plants, to hot mix asphalt facilities, concrete plants, water, gas and oil drilling rigs, geothermal drills, milling machines, asphalt pavers, material transfer vehicles, and wood processing equipment.  
Ben Brock, CEO and President of Astec Industries, said Astec strives to be the most innovative company in the industry by offering the world's most advanced, productive, durable and environmentally-friendly products. 
"No other company in the world competes with Astec in all or even most of its product lines," Brock said. "Astec's innovative products have led to a continuous stream of new patents. The Astec companies have become leaders in their respective markets by giving Astec customers the means to be more productive and profitable." 
For more information about Astec Industries, please visit www.astecindustries.com.