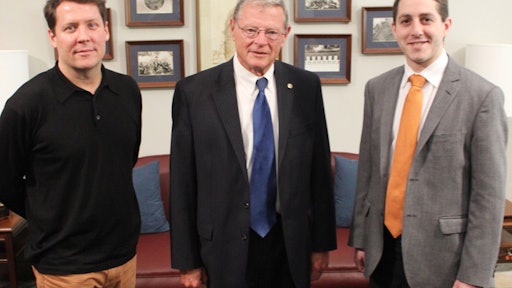 Case Construction Equipment brought the Dire States tour to Washington D.C. for Infrastructure Week 2014, a series of events designed to "explore emerging solutions, innovative approaches and best practices being developed nationwide to modernize aging infrastructure." Held May 12-16, the weeklong events were planned and organized by a coalition of organizations that includes the Metropolitan Policy Program at Brookings, the U.S. Chamber of Commerce, the National Association of Manufacturers (NAM), Building America's Future and the Council on Competitiveness. The week coincided with the rollout of the U.S. Senate's Committee on Environment & Public Works' MAP-21 Reauthorization Act and the U.S. Chamber's Business Plan for Infrastructure.
"Enacting long-term federal funding is critical and we support these efforts on a national level to enact a bill that ensures that the Highway Trust Fund remains funded," says Jim Hasler, vice president – CASE Construction Equipment, North America. "It's equally important that we work with and identify new methods for state and local governments to fund important transportation, public works, energy, utility and highway projects. National Infrastructure Week reflects that spirit and has helped amplify the groundswell of support for infrastructure funding and development."
The first wave of the Dire States tour featured author and infrastructure expert Dan McNichol traveling the country in a '49 Hudson that is as "old, rusty and energy defunct" as America's infrastructure to raise awareness to the issue. Moving forward, Dire States will work on specific initiatives throughout the country aimed at bolstering local infrastructure development.
"That was an important part of our time in Washington DC – identifying new ways that we can energize the discussion at the local level while also supporting the need to fix the Highway Trust Fund," says Brian Weisbaum, project manager for Dire States and dealer marketing manager, CASE Construction Equipment. "State and local governments can complement federal funding with initiatives of their own to not only maintain the existing infrastructure that is in place, but also take it to the next level and build infrastructure that has a positive impact on the community."