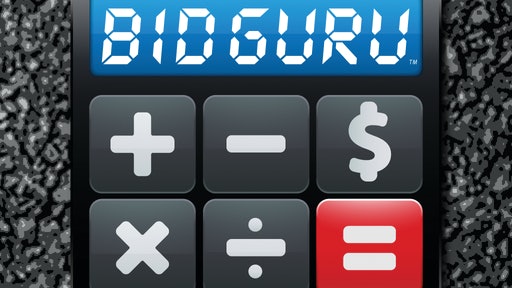 A few years ago, as it became clear contractors were incorporating mobile devices into their sales and bidding process, Pavement Maintenance & Reconstruction began investigating how it could provide a service that would take advantage of mobile technology and provide a real value to the contractor.
The result is BidGuru, a free app that streamlines the bidding process for paving and pavement maintenance contractors, enabling them to provide an estimate to prospects immediately – without having to wait to crunch numbers back at the office.
Available starting last January, BidGuru can be downloaded for free (because it's sponsored by Crafco Inc.) for any mobile device and it's compatible with both android and Apple technologies. More than a year in development and testing, BidGuru enables contractors to create accurate, professional-looking electronic bids for asphalt overlays, sealcoating, cracksealing and other pavement maintenance work. It can be used for bidding parking lot work, on-road work and driveway jobs.
BidGuru is designed to help contractors take their customer service to the next level by enabling the contractor to provide an accurate bid on the spot, which saves time and provides the customer and immediate quote.
Contractors customize the BidGuru app for their own business by pre-programming it with their own material costs, labor costs, general overhead and profit margin. Once on a bid site the contactor enters the job-specific information such as measurements, anticipated equipment use, material requirements and labor. Using a pre-programmed algorithm BidGuru automatically generates a quote, which can be e-mailed directly to the customer and saved on the device for later reference.
To download the free app search BidGuru on your Smart phone, tablet or apple mobile device.