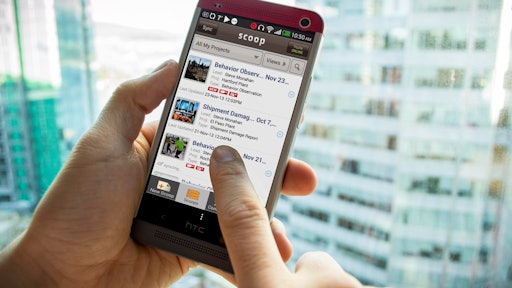 Mobile app: Scoop MAE Platform
Developer:  Trusterra Technologies Inc.
Cost: Free to users with a Scoop account
Available on: Apple and Android devices
The Scoop MAE (mobile awareness and engagement) mobile app is designed to replace paper checklists and enables the entire company, from management to in-field teams, to capture on-site data, gather more intel and give a complete picture of what is happening at a jobsite. It is an all-in-one, mobile cloud software for enterprise field data collection, collaboration and reporting, according to the app developer Trusterra Technologies Inc.
Video: Overview of the Scoop MAE Mobile Awareness & Engagement Field App
Hosted on Amazon Cloud Servers, the app uses mobile, social and cloud technologies to keep all team members aware of issues and engage in solving them in real time. The app captures both form-based and multimedia data and can organize the information in central dashboards, analytics and reports.
When a user sees an issue, they can use the Scoop app to fill out the customized form or checklist, add photos or videos from the field and then notify the right people who need to be involved.
The Scoop app is available on iOS and Android devices, but users must have a Scoop account to use the app.
App features:
Eliminate paper forms and manual steps
Capture data in real time
Track field activities across locations
Centralize and analyze data to spot trends
Access the central platform from in-app or on the web
Create statistical reports
Discover recurring issues, top time-wasters or hazards
Easy to design checklists and form templates
Work offline with full access to mobile data
Automatically create PDF reports
Map inspections, observations, checklist and more
Track submissions by region or person
On-screen markup to point out details
Get updates with email or mobile push
Multi-criteria filtering and keyword search
Custom category definition for issue grouping
Convenient issue lead, due date and status fields for progress tracking
Lead role assignment to enable easy delegation
Automatic 2-way data synchronization
Picture annotation with text or voice
"New item" visual alerts on mobile and web