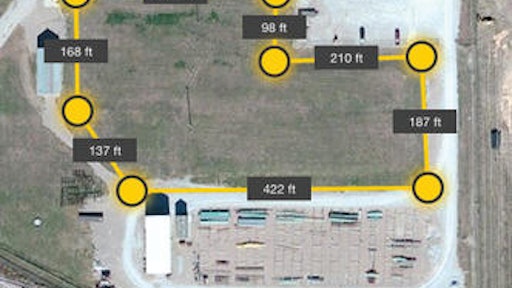 Gone are the days of waiting to get the information you need. Mobile technology has had a huge impact on the way the construction industry manages on- and off-site projects. By streamlining your processes and projects, mobile devices can improve efficiency and productivity at the job site and in the back office. Below are a few apps that can help you work smarter from the moment you wake up in the morning all the way until your work day is done. These smartphone or tablet apps have been recommended by workers in the field, our Pavement readers and Facebook fans.
Before the Job:
The beginning of your day is a great time to set the tone for how the workday is going to go. You check your job list for the day, the weather, the news, etc. All of these things can be done before you even get out of bed. Grab your phone and these apps to make sure you're ready for what the day brings.
OSHA's Heat Safety App: Is it going to be too hot for your employees to work today? According to OSHA, the "heat index" is a single value that takes both temperature and humidity into account. The higher the heat index, the hotter the weather feels. The heat index is a better measure than air temperature alone for estimating the risk to workers from environmental heat sources.
The app combines heat index data from the U.S. National Oceanic and Atmospheric Administration with the user's location to determine necessary protective measures. Based on the risk level of the heat index, the app provides users with information about precautions they may take, such as drinking fluids, taking rest breaks and adjusting work operations. Users also can review the signs and symptoms of heat stroke, heat exhaustion and other heat-related illnesses, and learn about first aid steps to take in an emergency. Information for supervisors is also available through the app on how to train employees on heat illness signs and symptoms. Additionally, users can contact OSHA directly through the app.
Find it: Search "OSHA Heat Safety" in the Play Store on Android Devices (https://play.google.com/store/apps/details?id=com.erg.heatindex&hl=en) or in the Apple App Store (https://itunes.apple.com/us/app/osha-heat-safety-tool/id469229784?mt=8)
Construction Punch List: This App allows the user to manage their project punch list from a smartphone or tablet. Before you begin your day, see what your task list is and make priorities for you and your team. No more taking notes, typing it up later, and then emailing it out from a computer. Your project team can communicate faster and more effectively from anywhere on the go. It is a great tool for the design team, general contractor and subcontractors. Use it to keep track of your own open items or use it to manage other trades.
Features:
Manage multiple projects
Email as a PDF with picture included
Email as a spreadsheet (CSV file) without a picture
Customizable to include company info on PDF
Sort spreadsheet by item number or status
Attach picture from camera or phone
Add comments as needed to each item
Find it: Search "Construction Punch List" in the Play Store on Android Devices (https://play.google.com/store/apps/details?id=com.Technosoft.PunchList) or in the Apple App Store (https://itunes.apple.com/us/app/construction-punch-list/id539394805?mt=8)
INRIX Traffic App: What if your employees were never late again because of traffic? Get them do download this app! Your time is precious, don't waste it stuck in traffic. With INRIX Traffic you have greater control over your drive to work or jobsites, with insights that allow you to discover the best route so you can save time and fuel.
INRIX Traffic takes into account every traffic factor, including traffic congestion, road construction, accidents, events, police activity and historical traffic patterns to give you the most complete traffic data available.
Features:
Traffic News: Personalize and see all news relevant to your commute on one screen. Never be surprised by event traffic again.
Traffic Map: See current traffic conditions, incidents, construction, events, police and road closures.
Fastest Routes: See and compare the fastest routes to your top destinations.
New Search: Now you can search for temporary places right from the map and share your arrival time.
Share Arrival Times: One click to text or email your arrival time to friends and family.
Report Incidents: Be a part of a community. Help your fellow drivers by sharing incidents you encounter along your route.
Departure Alerts: Notifications for when to leave for an on-time arrival.
Traffic Cameras: See even more detail with traffic cameras along your route.
Traffic Alerts: Receive live traffic alerts about traffic delays, based on your location and preferences.
Cloud Sync: See your saved places and routes on multiple devices.
Find it: Search "Inrix Traffic App" in the Play Store on Android Devices (https://play.google.com/store/apps/details?id=inrix.android.ui&hl=en ) or in the Apple App Store (https://itunes.apple.com/app/inrix-traffic-leading-real/id324384027?mt=8)
Dodge BidPro: BidPro is a bidding alert dashboard that lets you access customized, relevant projects from one screen, so you spend less time searching and more time bidding and winning work. Plus, with simple tools and the mobile app, you can get leads sent right to your phone. It's your in-the-office or on-the-go solution for finding, qualifying, estimating and bidding projects.
Features:
Push notifications for all new and updated projects matching your profile
Real-time alerts on all your tracked projects
Access all your tracked projects
Search for projects in your area
Detailed descriptions of all projects including Bidders list, project bid dates and key contact information with 1-tap connect to phone and email
Track projects from your device
Share projects with colleagues
Map view of a project
Find it: Search "Dodge BidPro" in the Play Store on Android Devices (https://play.google.com/store/apps/details?id=com.mhconstruction.bidpro&hl=en) or in the Apple App Store (https://itunes.apple.com/us/app/construction-bidpro/id579415487?mt=8)
On the Job:
When you're on a big job, the last thing you want to worry about is waiting on information or the things you need to get the job done on time. When you're nowhere near the office, you need ways to communicate with your staff about the status of a project, as well as access information on-site for your crew. These are just a few apps that can make your work day roll along smoothly.
iConstruct Safe: iConstructSafe is a mobile app great for jobsite or office safety meetings. The app was designed for workers to review safety information right before they use a tool. Users of the app have access to 2 to 3 minute safety reminder videos without needing Wi-Fi to view the videos. Video topics include power, hand, air, gas and other powered tools as well as PPE, preventing falls, ergonomics and more. The app and its videos can be viewed on an iPhone, iTouch or iPad. In addition, the app offers foreman's tips on "toolbox talks" and ideas for running monthly or quarterly safety and productivity meetings.
The app's videos are meant to be used as reminders and not training videos. The app includes monthly video updates which can be accessed with Wi-fi.
Find it: Search "iConstruct Safe" in Apple App Store (https://itunes.apple.com/us/app/iconstructsafe/id549574287?mt=8&ign-mpt=uo%3D4)
MUTCD: Recommended by a contractor on the Pavement Magazine Facebook page, the MUTCD app is the unofficial version of the 2009 Federal Manual on Uniform Traffic Control Devices. The latest version (version 1.4) was released in November 2012 and is compatible with the iPhone (optimized for iPhone 5), iPod Touch and the iPad.
Features:
Drill-down tables to find text, individual signs, figures and tables with hyperlinks provided in text to all corresponding figures and tables
Text based search for Chapters, Sections, Signs, Tables and Figure titles. Find all traffic signs by keyword or MUTCD code.
The sign tab includes a copyrighted, sign index with high-resolution graphics. Federal MUTCD signs are shown that allow one to touch the sign to reveal the relevant section. You can visually search by sign type or show all MUTCD signs in the same drill-down table. Over 800+ signs are available.
Find it: Search "MUTCD" in the Apple App Store (https://itunes.apple.com/us/app/mutcd-app/id473553101?mt=8)
Bid Guru:  The Bid Guru App creates immediate, custom quotes for sealcoating, asphalt overlays, cracksealing and other pavement maintenance and enables salespeople and estimators to plug in measurements and specs right at the prospective jobsite and generate a quote. The quote can be shared with the client, emailed to the office to finalize for presentation, and saved for future reference. 
The contractor customizes the app for his or her own business by pre-programming material costs, labor costs, general overhead and profit margin. On the jobsite, the contractor enters job-specific information such as measurements, equipment usage, material requirements and labor. The app's calculator automatically generates a quote. Bids can be saved within the app to reference and modify, all in one concise application
IT'S FAST. EASY. FREE.
Download the app to your mobile device
Pre-load your costs and profit margin
Enter job-specific details
Press one-button to calculate the quote
Email the quote and save for reference
Find it: Visit ForConstructionPros.com/bidguru for details and download link. Search "BidGuru" in the Play Store on Android Devices? (https://play.google.com/store/apps/details?id=com.hardinDD.bidguru&hl=en) 
Measure Map: Measure Map lets you quickly and easily measure distances, perimeters and areas with laser sharp precision. It even takes into account the curvature of the earth's surface. Use it for small areas or large, then share your findings via email. Just drag the cross-hair, plunk pins in to mark the area you want measured and you're done.
Features:
Easy navigation and use
Portrait or landscape orientation
Operations: Add, delete intermediate pins, insert between pins, move pins, get info
Undo and redo operations as needed
Search for current location, text (villages, places of interest, etc.) or an area or route 
Works for Metric and Imperial measurements
Export and import of surfaces and routes via e-mail, iTunes and Dropbox. 
Save to photo album
Download surfaces and routes from the Internet. 
Find it: Search "Measure Map" in the Apple App Store (https://itunes.apple.com/us/app/measure-map/id417622293 )
AsphaltPro: Designed for professional asphalt contractors and inspectors, the Asphalt Pro mobile app includes the usual material and cost estimator but goes steps further than other mobile apps by including a comprehensive suite of tools for use in the field.
Tools to match workflow and inspection practices in the field include: mix yield underrun/overrun calculators; tack and seal distance calculators and rate validators; and visualizers to balance plant, truck, paver and roller capacities. All functions, including the project documentation feature, can be emailed back to the office or your supervisor as part of the project records. The biggest benefits asphalt contractors can achieve when using this app include ease of use, mobility and time savings.
Features:
Cost Estimator for small projects, parking lots and change orders
Calculate Mix Yield and compare that yield to project estimates to help keep track of overruns or underruns
Calculate Tack and Seal distances to assist in application operations, and verify rates for inspection duties
Make adjustments to any parameters to optimize production, maximize efficiency and reduce constraints
Capture, organize and share digital images of issues that occur on the project as they happen - all with GPS and time coding
Includes six conversion calculators with units for every value a contractor and inspector would need in the field, in both US and Metric
All calculator results can be emailed back to the office - for archiving, updating supervisors or for general project record keeping
Cost Estimator for small projects, parking lots and change orders 
Find it: Search "Asphalt Pro" in the Apple App Store (https://itunes.apple.com/us/app/asphalt-pro/id688350313?mt=8 )
Light Tower App: The best way to light a construction site, which is ideal for our readers who work at night. Ever wonder how many light towers you need to illuminate your construction site? Not sure the best placement for the light towers on the jobsite? The new Allmand mobile app is designed to help solve those problems.
How the app works:
Locate the area that needs to be lit on a satellite image
Define the boundaries of the area
Virtually setup portable light towers to determine placement, quantity and light configuration that most efficiently illuminates the worksite to the desired level of illumination
The app can be used to help set up 1000- or 1250-watt metal halide light towers from almost any manufacturer. Users can visually compare using 1000-watt versus 1250-watt light towers on the jobsite as well as set up a number of lamp configurations such as four 1000-watt lamps aimed straight ahead, six 1250-watt lamps aimed 45 degrees apart, etc.
Find it: Search "Light Tower App" in the Apple App Store (https://itunes.apple.com/us/app/allmand/id650594866?mt=8)
Field Supervisor:
Field Supervisor provides construction field workers with onsite views, personalized for their specific project roles, into multiple project data, ensuring real-time decisions are made using the most relevant and current information. At the same time, it eliminates the risk of relying on potentially outdated printed materials. The app's ability connects to multiple project data sources enables users to directly and securely access electronic documents - such as engineering documents, models or Microsoft Office documents - for reference during, for example, inspections. Field Supervisor provides both online and offline access so construction workers in the field are viewing the same information as employees in the office.
Find it: Search "Field Supervisor" in the Apple App Store (https://itunes.apple.com/us/app/field-supervisor/id644302779?ls=1&mt=8)
End of Day:
After a long day on the job, the last thing you want to worry about is dealing with more paperwork and problems. These apps can help ease any end of the day frustrations and help you unwind.
CamScanner: CamScanner was another app recommended by fans on our Pavement Facebook page. This app lets you turn any smartphone or tablet into a scanner with the ability to manage the documents. It is the perfect fit for those who want to scan, sync, edit, share and manage various contents on all devices. This app is a great tool to scan in and send receipts to the office, share projects plans, etc.
Features:
Access Documents from the Web: log in to your account at www.camscanner.net and edit file name, add tag, add notes; manage documents and share document via copying the link or social media.
Quickly Scan Documents: Use your phone camera to SCAN (take a picture of) all kinds of paper documents: receipts, notes, invoices, whiteboard discussions, business cards, certificates, etc. Batch Scan Mode saves you even more time. It auto detects and adjusts the document orientation.
Easy Search Document: Find any documents within seconds. OCR for Search allows you to easily find keywords within PDF files, saving you the trouble of browsing among tons of documents.
Advanced Document Editing: CamScanner enables you to edit document name, add notes, customize watermark and make annotations on your mobile. 

Find it: Search "CamScanner" in the Play Store on Android Devices (https://play.google.com/store/apps/details?id=com.intsig.camscanner) or in the Apple App Store (https://itunes.apple.com/us/app/camscanner-free/id388627783)
Evernote: Did you work on a unique job today that you want to take photos of and share to your business Facebook followers? This app is a great way to do that and stay organized, save your ideas and improve productivity. Evernote lets you take notes, capture photos, create to-do lists, record voice reminders--and makes these notes completely searchable, whether you are at home, at work, or on the go.
Features:
Works with Evernote Business: Capture, browse, search, and share Business Notes and Business Notebooks from your smartphone or tablet.
Sync all of your notes across the computers and devices you use
Create and edit text notes, to-dos and task lists 
Save, sync and share files 
Search for text inside images
Organize notes by notebooks and tags
Email notes and save tweets to your Evernote account
Connect Evernote to other apps and products you use
Share notes with friends and colleagues via Facebook and Twitter
Find it: Search "Evernote" in the Play Store on Android Devices (https://play.google.com/store/apps/details?id=com.evernote) or in the Apple App Store (https://itunes.apple.com/us/app/evernote/id281796108)
ENR Construction News:
Unwind after a long day by catching up on the latest news in the industry. ENR Mobile News provides award-winning news and analysis geared for construction professionals in the AEC industry. This app provides industry essentials, such as tips on new projects, people news and more.
Features: 
ENR's Top News stories updated every day 
ENR stories by section (Equipment, Buildings, Business Management, Infrastructure, Policy, People, Tech and Opinion) 
News by Geographic Region (California, Midwest, Mountain States, New York, Southeast, Southwest, TX & LA) 
Compelling video, delivered right in the app 
Real-time Twitter feed with the latest news and Tweets from ENR's editors 
Share articles to Facebook or Twitter, or send via e-mail to yourself or a friend
Find it: Search "ENR Constructions News" in the Play Store on Android Devices (https://play.google.com/store/apps/details?id=com.mhconstruction.ENRNews) or in the Apple App Store (https://itunes.apple.com/us/app/enr-mobile-news/id534032447?ls=1&mt=8)
Do you use and app that's not listed here? Let us know at www.facebook.com/PavementMagazine