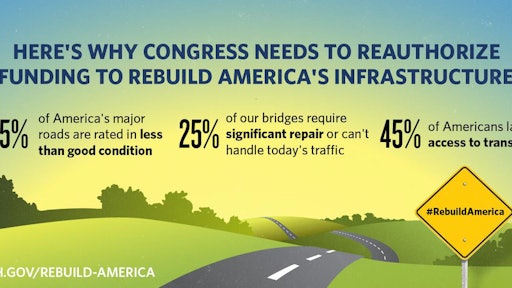 President Obama has been very clear that we need to do more to improve our infrastructure in order to create jobs, provide certainty to states and communities, help American businesses, and grow our economy. With the GROW AMERICA Act we sent to Congress in May, we've presented a concrete, long-term proposal that would do just that and pay for it by closing unfair tax loopholes and making common-sense, pro-business tax reforms.
While we wait for Congress to take action, the President will continue to use all the tools at the Administration's disposal to protect our nation's long-term economic security where we can. And there is no question that America's transportation infrastructure is one area where we have both the need and the opportunity to make a significant and lasting impact.
That's why today, under a failed bridge on I-495 in Delaware, the President announced the Build America Investment Initiative, a government-wide initiative to increase infrastructure investment and economic growth by engaging with state and local governments as well as private sector investors to encourage collaboration, expand the market for public-private partnerships (PPPs) and get more out of existing federal programs that provide financing options to qualified projects. In addition to making government programs more accessible to project sponsors, this initiative will harness the potential of private capital to complement government funding.
One part of that initiative that we're particularly proud of at DOT is the Build America Transportation Investment Center, our new one-stop shop for state and local governments, public and private developers, and investors seeking financing strategies for transportation infrastructure projects.
The center will provide:
'One-Stop Shopping' for the Public and Private Sector: Offering hands-on support for states and local governments trying to access DOT programs and assemble public-private funding packages. Also offering tools and resources for private sector developers and infrastructure investors.
Improved Access to DOT Credit Programs: Focusing on key DOT programs that leverage credit to generate further financing, including TIFIA, Private Activity Bonds (PABs), and Railroad Rehabilitation and Improvement Financing (RRIF) loans. 
Technical Assistance: Sharing best practices from states that are leading the way on private investment with states that have not yet adopted innovative financing strategies.
Information to Reduce Uncertainty and Delays: Partnering with the DOT Infrastructure Permitting Improvement Center to help local and state governments, project sponsors, and investors ensure that projects are designed and financed to move expeditiously through permitting requirements. 
See full article here on the U.S. Department of Transportation website.