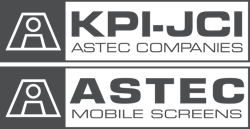 KPI-JCI & Astec Mobile Screens will offer a three-day course in August that will give attendees an in-depth understanding of the KPI-JCI and Astec Mobile Screens track-mounted equipment lines. Fifty percent of the course will be in classroom and the rest will be hands on with wiring boards that duplicate the wiring harnesses on all track mounts.
Attendees will be expected to participate in troubleshooting a bugged wiring harness and resolve the problem. The class will also have extensive schematic reading on both hydraulic and electrical schematics along with proper orientation and nomenclature of the pumps and motors they will be working on in the field. Attendees will also learn the navigation of the controls on all equipment. 
PRO Service Training - Advanced Track School
August 19-21, 2014   
Scheduled start:  7 a.m.
Early Bird Registration Deadline: August 1, 2014
Save $100 with Early Bird Registration
Early Bird Registration Cost: $299 per attendee 
Cost after August 1: $399 per attendee     
 Location: Kolberg-Pioneer, Inc., Yankton, SD