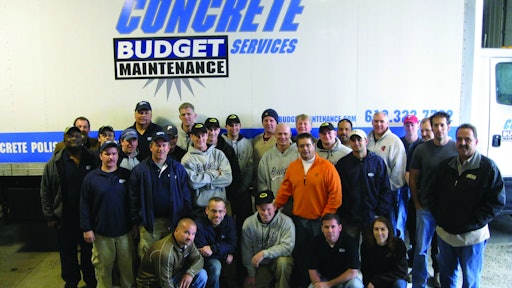 John Jones, owner of Budget Maintenance Concrete Services, Inc. located in Pottstown, Pa., got into polished concrete more than a decade ago. "Back in 2000 there were still a lot of urethanes and epoxies on warehouse floors. We found a niche in removing them and installing a chemical hardener on them," Jones explains. That lead Budget Maintenance to offer a new service for its customers — polished concrete.
Today Budget Maintenance still offers services from chemical hardener and epoxy applications to crack and joint filling in addition to polished concrete. And recently the company expanded to install polishing for retail stores.
As an early member of the CPAA and a current board member for the association, Jones recognizes the importance of training to achieve success in polished concrete. That's why he not only put himself through the CPAA's accreditation course but invited an association trainer to come to his facility to educate his entire crew on how to properly install polished concrete floors.
Recently, CPAA President Brad Burns held an onsite CPAA accreditation session for Budget Maintenance's 25 lead mechanics. "My goal was to learn how to hold an onsite session for large companies with a lot of guys," Jones says. "Brad came to our facility so we didn't have to send that many guys out of town and not get any other work accomplished."
After completing the two and a half days training session, Jones and his lead mechanics are now CPAA Accredited Craftsmen. Jones believes this first onsite training session for his company was very successful, and will open up other opportunities for contractors across the country to get their crews accredited through the CPAA. "By trying this we have figured out a better way to tweak the course and make it friendlier for bigger companies," Jones says.
In a twist from the standard CPAA training, Jones also invited representatives from several manufacturers including L&M Construction Chemicals, Prosoco, Metzger McGuire and SASE to hold sessions with his crew. "We brought in the other manufacturers as a refresher on some of the equipment and products to make sure we are doing everything correct," Jones says. "It's not a bad thing to bring people in to help you out."
In an effort to encourage other large companies to become CPAA accredited, Jones invited Jeff McCool, owner of JEFFCO Concrete Contractors, to attend the training sessions at Budget Maintenance. By inviting other contractors to attend the onsite sessions, Jones hopes they will be interested in hosting similar onsite CPAA training programs with their employees.
After the successful accreditation of his crew members, Jones now includes language in his proposals about his CPAA Craftsmen. He believes this additional training is something potential clients will find credible and help set his company above his competition.
Why join the CPAA?
Consistency is one of the many reasons Jones joined the CPAA. "I feel that if we don't get this right and we don't have more consistency [in installations] it's going to go away," Jones says of polished concrete. Quality of work is essential to Jones, and he believes ongoing training is necessary to be successful in the industry.
Through the CPAA, Jones believes contractors can join together to learn how to produce successful end products. "We are trying to get as many people on board with doing this the right way, as far as grinding and polishing techniques, so that it is uniform across the country," he says. "We are trying introduce the industry to a higher standard, from equipment to diamonds — everything."
Jones believes the training provided by the CPAA helps lead the concrete polishing industry in the right direction. "We need to keep this an art," he says.